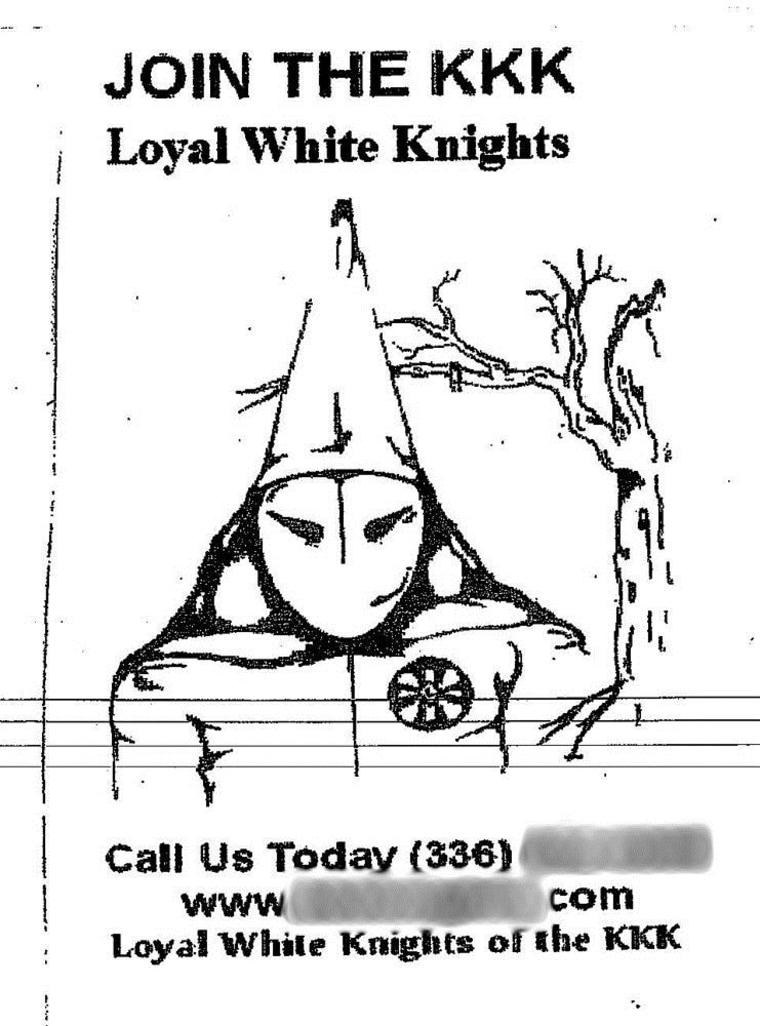 Dozens of people in a Georgia subdivision had something unusual in the driveway where the daily paper might be -- invitations to join the Ku Klux Klan.
Sheriff's officials in Newton County, outside Atlanta, picked up more than 30 KKK recruitment fliers on Monday, said Jeff Alexander, a sheriff's investigator and spokesman. Monday was the national holiday honoring Martin Luther King Jr.
Authorities collected four versions of the flier, all of them depicting a Klansman in a hooded robe. "Help Save Our Race," one reads.
A local newspaper, The Rockdale Citizen, reported that the fliers were left in plastic sandwich bags and weighed down by rocks.
Alexander told NBC News that the fliers appeared to be from a group in North Carolina, and that there was no known active KKK division in Newton County.
A call to the phone number on the flier from NBC News was not immediately returned.
Alexander described the subdivision as racially diverse and similar to others in the county.
He said sheriff's officials had determined that there was no threat in the fliers and that no laws had been broken.
"We collected the fliers," he said. "That doesn't mean they won't be distributed again."
Local news reports in recent months have said that similar fliers turned up in neighborhoods in Virginia and Tennessee, and Alexander said there were reports of other fliers being left in neighborhoods along the East Coast on Monday.