A San Francisco media consultant being sought by the FBI for allegedly having explosive materials has an active Twitter account, where someone posted Monday morning that "nothing they're reporting is true."
Ryan Kelly Chamberlain II, 42, also seems to have posted a suicide note titled "Goodbye" to his Facebook page, which has not been independently verified by NBC Bay Area or the FBI. The three-page note talks about his depression, his mother, whom he called a "religious addict," and a time in 2003 when he was "left out" of getting any credit for helping Calif. Lt. Gov Gavin Newsom win his San Francisco mayoral seat in 2003.
The letter also discussed his two needs in life: "A person and a purpose." "All I ever wanted was someone to be madly in love with," the letter states. "Everyone wants that. Lots of people get it. But it always eluded me."
The letter states that if anyone was reading the note, which he said was posted on Hootsuite delay, "that means we probably don't know each other anymore, and I owe everyone an explanation.
The FBI has been looking for Chamberlain II since Saturday and called him "armed and dangerous." But on Monday, two sources familiar with the investigation told NBC News that at this point, they don't believe that Chamberlain presents an immediate threat to public safety. In an abundance of caution the sources said the FBI issued a nationwide alert to federal, state and local law enforcement to make sure officers are aware of and take a "defensive posture" in dealing with him given the explosive materials that were recovered from his San Francisco residence.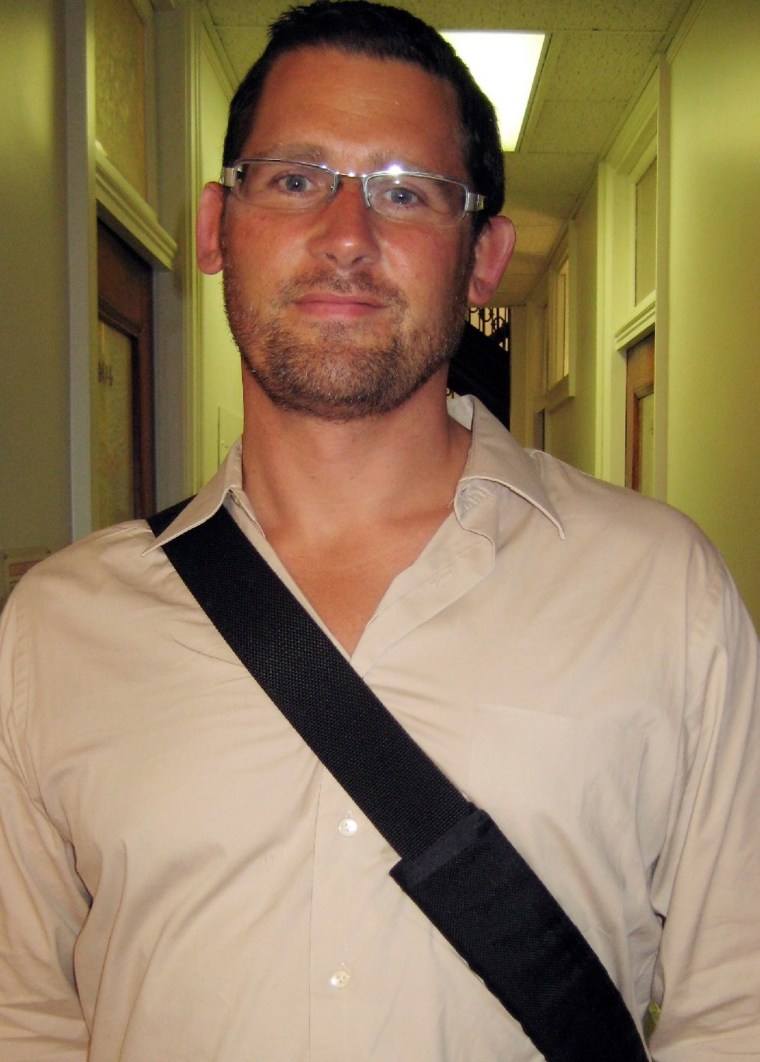 In addition, the sources told NBC News that Chamberlin has family in multiple states so they wanted to cast a broad net. The bet is that he is likely still in Northern California.
At a Sunday news conference, FBI spokesman Peter Lee said Chamberlain is wanted in connection for allegedly possessing explosives in his Russian Hill apartment on Polk Street, which were found on Saturday.
Trying to dispell some rumors, Lee said agents did not find any ricin or other chemical or biological threats in the residence. But, Lee said, "He did possess explosives at his residence."
An FBI source told NBC Bay Area that crews found a chemical in the apartment that, if not handled correctly, can kill. The person may have bought the chemical -- which is often used in assisted suicide situations -- on the Internet, according to the source.
The FBI declined further comment on the intent or motive behind the explosive material in light of the ongoing investigation.
Chamberlain is 6' 3" tall, weighs 225 lbs and has blue eyes and brown hair, according to Lee. He was last seen south of San Francisco Sunday, driving a white 2008 Nissan Altima with a California or Texas license plates of either 7FQY085 or BX9M042. The FBI also provided a photo of Chamberlain.
Mark Mosher, creative director of San Francisco consulting firm BMWL, told the San Francisco Chroniclethat Chamberlain was hired by almost every local political consulting firm at one point or another. As recently as Friday, he was chiming in on Mosher's Facebook feed about gun control and mental health.
Chamberlain, a Bay Area native, attended the University of Iowa before embarking on a career as a music journalist in Des Moines, according to his online resume. He later moved to San Francisco, and at age 30, made a bid for a spot on the Republican Party County Central Committee in San Francisco, an organization that governs the local party and doles out critical endorsements.
The past chair of the San Francisco Republican Party, Howard Epstein, has confirmed Chamberlain served on the Republican Central Committee in San Francisco before switching over to the Democratic Party.
Epstein said he was absolutely stunned.
"To have the explosives and all that is just totally mind-boggling to me," Epstein said. "Well, I'm hoping that he turns himself in. I hope he doesn't get into any more trouble. I don't know what he's thinking. I don't know what he's been doing the last few years, what's going on in his head. I'm just hoping that this all comes out and nobody gets hurt."
During the 2012 NFL season, Chamberlain was an independent contractor for The Chronicle and tweeted and posted links to Facebook to boost coverage for the San Francisco 49ers Insider iPad app, according to the Chronicle.
Most recently, he worked in public relations for several Bay Area tech, apparel and marketing companies.