The warden of the federal lockup where accused sex trafficker Jeffrey Epstein apparently took his own life has been temporarily reassigned and two guards tasked with watching the financier have been placed on leave, Department of Justice officials said Tuesday.
The move to reassign the warden, Lamine N'Diaye, came three days after Epstein was found unresponsive at the Metropolitan Correctional Center in Manhattan.
"Today, the Attorney General directed the Bureau of Prisons to temporarily assign the warden at the Metropolitan Correctional Center in New York to the Bureau's Northeast Regional Office pending the outcome of the FBI and OIG investigations into the apparent suicide of Jeffrey Epstein, a former MCC inmate," according to a statement by Department of Justice spokesperson Kerri Kupec.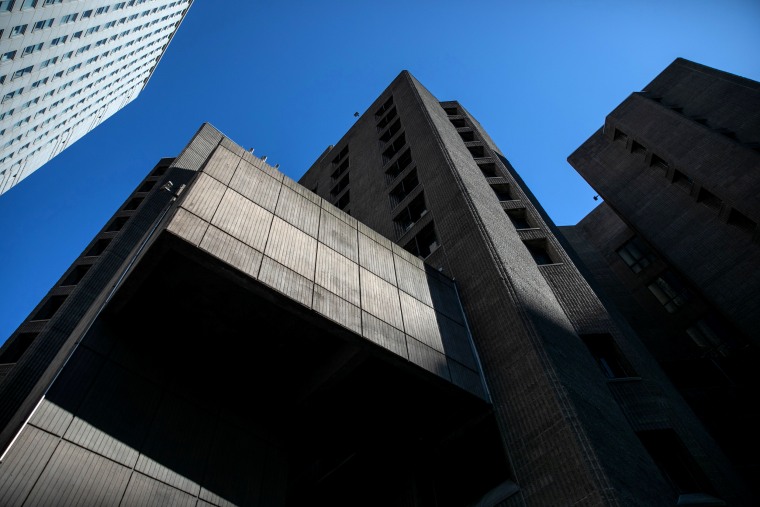 "FCI Otisville Warden James Petrucci has been named Acting Warden of the MCC New York. The Bureau of Prisons also placed on administrative leave two MCC staff assigned to Mr. Epstein's unit pending the outcome of the investigations. Additional actions may be taken as the circumstances warrant."
A representative for the Bureau of Prisons said Tuesday that N'Diaye would not be made available for comment.
Download the NBC News app for breaking news and politics
FBI and Justice Department investigators probing Epstein's death are being stymied by some federal employees who are "lawyering up," an administration source told NBC News on Tuesday.
While Justice Department rules say all employees "have a duty to, and shall, cooperate fully" with the investigation, some employees have been reluctant to cooperate.
Of course, any government employee can decline to answer questions on Fifth Amendment grounds. The official did not say whether any Metropolitan Correctional Center employees in Manhattan have declined on those grounds.
The official says, so far, some people whom the FBI and the Justice Department's inspector general want to question about Epstein's death are reluctant to cooperate.
Lawmakers and administration officials alike are furious that Epstein could have possibly killed himself under the noses of jailers. The disgraced financier was taken off suicide watch even though he had reportedly tried to take his own life last month, officials said.
Former wardens and veterans of the federal prison system were baffled why Epstein wasn't under near-constant guard.
CORRECTION (Aug. 13, 2019, 4:14 p.m. ET) An earlier version of this article misidentified the warden of the Metropolitan Correctional Center. It is Lamine N'Diaye, not Shirley Skipper-Scott.