Most of California's Yosemite Valley will close to visitors this week, and Iowa's third-largest city was bracing for possible major flooding in part because of warmer weather and snowmelt, officials said.
Davenport, Iowa, a city of around 100,000 on the Mississippi River, installed barriers. Some roads along the riverfront were closed because of high water Tuesday.
"We have floods every year — it's whether it's going to be a major flood," Mayor Mike Matson said Tuesday.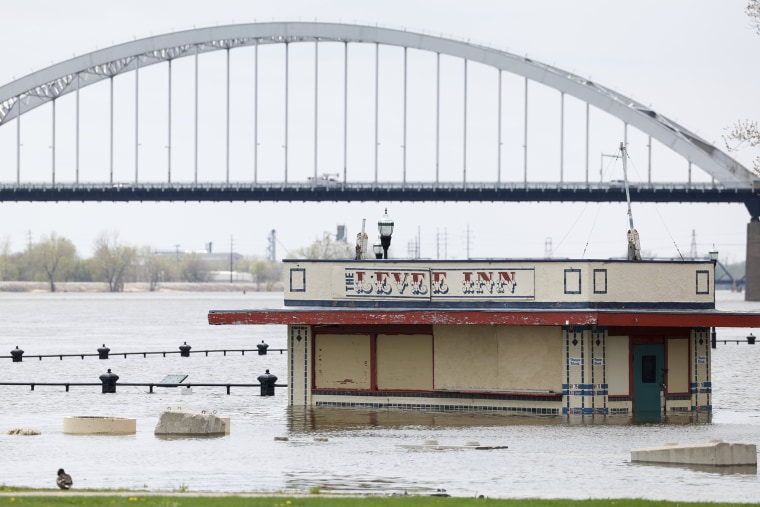 Davenport experienced flooding from a record flood level in 2019, when the river gauge at Rock Island Lock and Dam recorded a flood crest of 22.70 feet, according to the National Weather Service. The earlier record was set in 1993.
On Tuesday, the city's Public Works Department announced a detour to River Drive and urged residents to be careful as river levels rise.
More than 20 million people are under severe storms Wednesday across the southern Plains and Florida. The main concern across the southern Plains are golf ball to softball-sized hail and strong tornadoes.
A rare large hail threat is possible in Florida, and in the Texas cities of Dallas, Fort Worth, Wichita Falls, Waco, and Abilene, there is a tornado risk between 6 and 9 pm local time.
The National Weather Service in Fort Worth cautioned in a tweet that residents should "stay weather-aware and have multiple ways to receive warnings!"
On Thursday, six million people will be at risk for possible tornadoes and high winds across the Gulf Coast, including the metro areas of New Orleans and Mobile, Alabama.
The "2023 Spring snowmelt flood" will work its way down the river over the next couple of weeks, the weather service for the Quad Cities region of Iowa and Illinois said in a forecast discussion. Flooding was occurring from Dubuque, Iowa, to Illinois City, Illinois, it said.
In California, where a series of "atmospheric rivers" drenched the state and covered higher elevations in feet of snow, Yosemite National Park announced plans Tuesday to close to visitors.
Most of the Yosemite Valley will be closed Friday and at least until May 3 because forecast flooding of the Merced River, the national park of the same name said. The weather service said higher temperatures with higher rates of snowmelt were the cause.
In California's Central Valley, Gov. Gavin Newsom toured damage caused by existing floods in Kings and Tulare counties Tuesday, and he pledged that the state would monitor the situation and be there to help.
Homes have been gutted and floods have made lands in the agricultural region "unharvestable," Tulare County Supervisor Eddie Valero said, and the snowmelt will make its way to the Valley floor in the months ahead.
Karla Nemeth, the director of California's Water Resources Department, said the area faces a "historic snowmelt season."
She said officials will work with the federal government in the coming weeks to divert as much floodwater as possible before it reaches the region.
Newsom, standing on a clear day near flooded areas with equipment still in water, said that more water is on the way and that it is rising incrementally every day. He said snowpack in nearby parts of the Sierra Nevada are 320% of average.
"You can look at a scene like this and think the worst is going to recede, that the worst is behind us," he said. "When, in fact, quite the contrary."