The Trump administration faced continued criticism over possible ethics violations Thursday after a White House official promoted Ivanka Trump's clothing line in a television interview.
"Go buy Ivanka's stuff," Kellyanne Conway, counselor to President Trump, told Fox & Friends co-host Steve Doocy.
Ivanka Trump has a "wonderful line," Conway added. "I own some of it. I fully, I'm gonna just going to give a free commercial here. Go buy it today everybody. You can find it online."
Related: Nordstrom Says It Told Ivanka Trump Last Month Her Line Would Be Dropped
Conway was immediately accused of breaking federal ethics rules.
House Oversight and Government Reform Chairman Jason Chaffetz sharply criticized Conway for her remarks.
"That was wrong, wrong, wrong. It is wholly unacceptable — no if, ands or buts about it," the chairman told NBC News by phone.
Related: Federal Ethics Agency Site Crashes on Day Trump Adviser Plugs Ivanka's Duds
Chaffetz, R-Utah, and the committee's ranking Democrat, Elijah Cummings of Maryland, are "jointly going to send a letter to the White House and Office of Government Ethics for a referral. Earlier in the day, Cummings asked the congressional panel to review Conway's actions.
"It should have never happened, and they better learn this lesson very quick," Chaffetz said.
Chaffetz said he is not sure what the remedy is or whether his committee will have a hearing looking into the matter, but this letter and referral is a first step.
Two watchdogs groups, Public Citizen and Citizens for Responsibility and Ethics in Washington, have also asked the Office of Government Ethics to investigate.
Both cited regulations that say: "An employee shall not use his public office for his own private gain, for the endorsement of any product, service or enterprise, or for the private gain of friends, relatives, or persons with whom the employee is affiliated in a nongovernmental capacity."
Robert Weissman, president of Public Citizen, said that Conway's statement could not be misinterpreted as anything but a violation.
"Since she said it was an advertisement, that both eliminates any question about whether outsiders are unfairly reading into what's being said, and two, it makes clear that wasn't an inadvertent remark," Weissman said.
Weissman said Conway's remark was "yet more evidence" that Trump's earlier assertion that he'd separate his family's business interests from White House activities "was untrue."
CREW said in a letter to the Office of Government Ethics that it was "concerned about what appears to be a pattern developing of the use of official offices, particularly the White House and the Executive Office of the President, to benefit business interests of relatives and supporters of the president."
Conway was responding to the outcry over Trump's criticism of Nordstrom for dropping his daughter's line. In a tweet on Wednesday, the president accused the retailer of treating his daughter "unfairly."
Asked about Conway's comments during Thursday's White House press briefing, Sean Spicer said she "has been counseled on that subject, and that's all."
A spokesperson for Ivanka Trump has told NBC News that the brand had been selling well and that the move was in response to pressure from advocacy groups. Nordstrom has denied that.
Nordstrom stock ticked up a bit on Wednesday and Thursday.
Norm Eisen, former special counsel on ethics for Obama, told MSNBC that Trump's tweet was an abuse of power.
"He's putting the bully in the bully pulpit to attack this company on dubious factual assertions in order to promote his daughter," Eisen said.
Eisen pointed out that it remains unclear if the president has any financial stake in his daughter's business, and that there are a number of questions about his links to other parts of his family's empire.
"Literally everything he does has this miasma of conflict around it," Eisen said.
Related: Nordstrom Drops Ivanka Trump Line, Citing Poor 'Performance'
Eisen also said Trump's tweet gave Nordstrom grounds to sue.
"This is unfair business practices," he said. "There's a serious legal question. There are statutes across the country, including a very tough one in California."
But lawyer Maxwell Blecher, who specializes in unfair competition and antitrust cases, said Nordstrom did not have basis to sue under the California law.
"It's an expression of opinion," Blecher said. "It is not defamatory and it is not an unfair business act."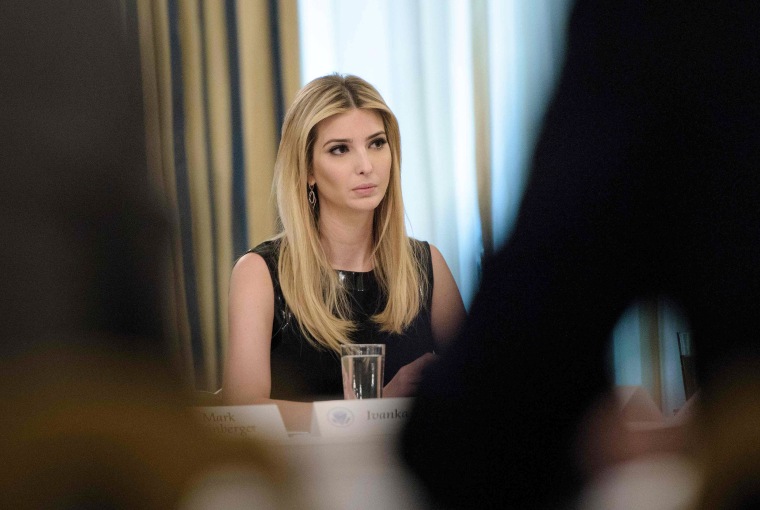 Then came Conway's Thursday morning plug on Fox.
Eisen returned to MSNBC to echo Lu's accusation of an ethical breach.
"It is not allowed for a government employee to use your public office for private gain," he said. "And by doing this ad, I have never seen anything like it. It's a violation of the rule. Pure and simple."