A weeklong search in Oregon for a suspect who kidnapped and beat a woman unconscious, and used dating apps while on the run to potentially target more victims, has raised questions about the online platforms and how they filter — if at all — domestic abusers and criminals. 
The manhunt for Benjamin Obadiah Foster, wanted in connection with a Jan. 24 kidnapping, culminated Tuesday with the suspect in custody after an hourslong standoff. He fatally shot himself during the standoff, officials said.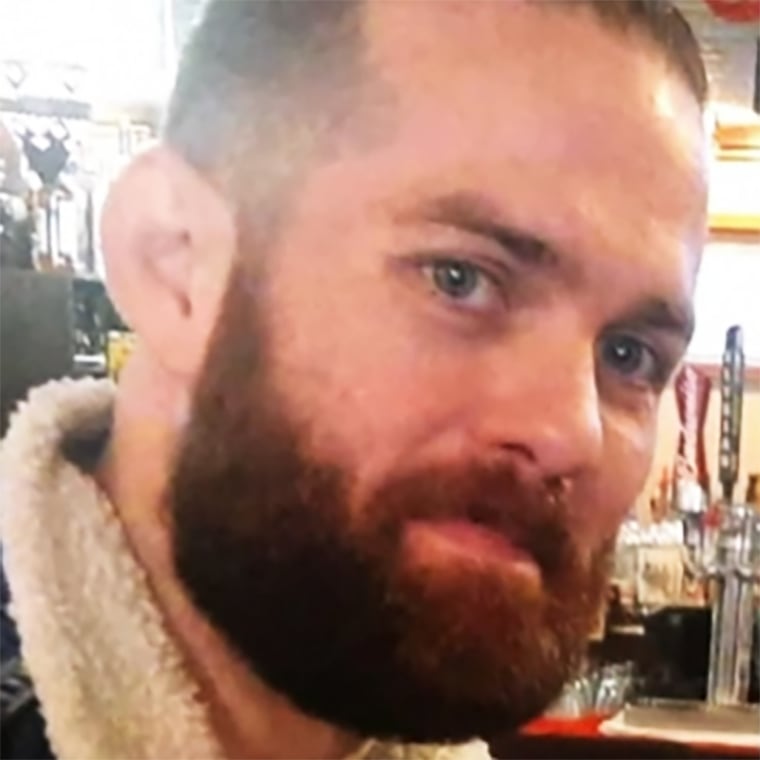 Police said that in the days he was at large, he may have been using online dating apps to "contact unsuspecting individuals" to assist him with his escape or "potentially as additional victims."
Foster was able to make a dating profile despite having a domestic violence case in 2017 and another in 2019 in which he held his then-girlfriend captive for two weeks in her Las Vegas apartment, tied her up and forced her to eat lye.  
Can criminals use dating apps?
Police haven't said which apps Foster was using, but popular platforms had been trying to find his profile.
Grants Pass police spokesperson Jeff Hattersley warned that Foster may have been on the apps looking for assistance in eluding law enforcement.
"His past crimes lead us to believe he enters into dating relationships based on charisma and looks and then becomes controlling and violent," he said.
Bumble, Coffee Meets Bagel and Match Group, the parent company of Match, Tinder, Hinge, OkCupid and Plenty of Fish, said that from what they could tell using public information, Foster was not on their platforms. 
Officials at Bumble said that when they become aware of a media report about a person of concern, "we proactively work to identify if the member is within our community and take swift action against their account."
While it's possible Foster may have used a false name and photos that do not belong to him, dating apps generally do not have a standard way of screening for domestic violence or felony history. 
Most apps don't run criminal background screenings on those who register. But, companies reserve the right to conduct screenings to ensure a profile is following the guidelines.
Coffee Meets Bagel, eHarmony, and Zoosk actually state in their terms of service that those who have felony convictions or are registered sex offenders are not allowed to sign up on their platforms. Match Group says it prohibits anyone convicted of or who pleaded no contest to a felony, violent or sexual crime on its platforms.
Still, they don't screen users outright, meaning people signing up can technically lie.
'Information is power'
Last year, Match Group introduced a way for users to run background checks themselves using the platform Garbo, now offered on Tinder, Match, Plenty of Fish and Stir, a dating service for single parents. 
Garbo touts ethical background searches and pulls records of arrests, convictions and sex offender registries focusing on crimes that "could have a potential impact on someone's safety," such as rape, assault, burglary and financial fraud. The company says it excludes nonviolent arrests and convictions that disproportionately impact marginalized groups, including drug possession and traffic violations. 
"Information is power when it comes to gender-based violence," said Adam Dodge, a special adviser to Garbo and the founder of Ending Tech-Enabled Abuse, a group that raises awareness about online safety.
"The most common refrain you'll hear from survivors is, 'If I had known this person had a history of this, I wouldn't have dated them,'" he said.
Dodge said dating app users should be given the option to conduct background checks because it may not work as a blanket policy. 
"Privacy is such a big deal. Domestic violence is a really complicated thing, very nuanced. Very often, victims are blamed, charged, convicted, have restraining orders issued against them wrongfully," he said. "It's really critical that we be victim-centered in this work and provide users the option, and they can make an informed choice as to whether or not that's something they want to do."
Dodge said dating apps should be doing "everything possible" to ensure users aren't "unknowingly matching with people who have a history of gender-based violence, sexual violence and other types of violence."
There are ways dating apps strive to make their platforms a safe space. 
Tinder also offers ID verification; Match Group and Bumble offer photo verification to prevent catfishing; Match Group has anti-harassment prompts using artificial intelligence to detect harmful language; Bumble has a private detector AI feature to automatically blur potential unsolicited nude images; and most apps have features to block and report matches.
"I would like to see all these things done across the board on all dating platforms and all dating sites, so we can better mitigate image-based sexual abuse, people with violent history or domestic violence histories connecting with users on the app and reduce catfishing," Dodge said.
Erinn Robinson, the director of media relations for the Rape, Abuse and Incest National Network, an anti-sexual assault nonprofit group, said it's also key that when a dating app user reports a match, those reports are followed up with meticulous standards in place to investigate them.
That will "empower users on the platform to block and cut off contact and with harassing users — that goes a long way into giving users a greater sense of safety and online dating."
"Unfortunately, online dating is a place where sexual violence exists. And these platforms are at times being used by predators and by people who don't have the best of intentions," Robinson said, noting that Foster's case is an example of "how these platforms can be used on the bad side."
Both she and Dodge said the best way to ensure a safe experience is for users to be vigilant themselves. They should be mindful about the personal information they are sharing, beware of catfishing, verify a match is who the person claims to be, and be wary of requests for money or pressure to meet in person too quickly.
History of violence and domestic abuse
Before he was wanted on kidnapping, attempted murder and assault charges in the Oregon case, Foster had two separate cases out of Las Vegas.
In December 2017, he was charged with felony battery constituting domestic violence, according to online court records.
Then in 2019, he allegedly held his then-girlfriend captive inside her Las Vegas apartment for two weeks.
The woman suffered seven broken ribs, two black eyes, injuries from being bound with zip ties and duct tape, the Las Vegas police report said. She told officers she was forced to eat lye and was choked to the point of unconsciousness. She was ultimately able to escape during a trip to a store.
Though he was initially charged with five felonies in the kidnapping, he reached a deal in August 2021 that allowed him to plead guilty to one felony count of battery and a misdemeanor count of battery constituting domestic violence.
A judge in Clark County sentenced him to up to 2½ years in prison in prison. The days he spent in jail awaiting trial were factored into his punishment, leaving him with less than 200 days to serve in state custody.
He also accepted a plea deal in the 2017 case and was sentenced to time served, court records show.
On Jan. 24, less than two years after Foster's conviction, Grants Pass police responded to a home in the 2100 block of Shane Way on a report of an assault and found a woman "who had been bound and severely beaten into unconsciousness."
Foster fled the scene before officers arrived, police said.
Charging documents state he "secretly confine(d)" the victim in a place "where she was not likely to be found," and "intentionally tortured" her.
The victim remains in critical condition, police said Tuesday. Authorities said it's not believed Foster used a dating app to target her.
If you or someone you know is facing domestic violence, call the National Domestic Violence hotline for help at (800) 799-SAFE (7233), or go to www.thehotline.org for more. States often have domestic violence hotlines as well.
If you or someone you know is in crisis, call 988 to reach the Suicide and Crisis Lifeline. You can also call the network, previously known as the National Suicide Prevention Lifeline, at 800-273-8255, text HOME to 741741 or visit SpeakingOfSuicide.com/resources for additional resources.