NORTH COVE, Wash. — There's a reason a quiet and desolate strip of sand here is nicknamed Washaway Beach. Coastal erosion has claimed an average of 100 feet of this shoreline every year for the last century, according to Washington's Department of Ecology. That makes North Cove the fastest-eroding place on the West Coast.
Perpetual erosion is threatening a vital highway, the multimillion-dollar cranberry industry, and a community's way of life. For years, residents thought the massive erosion was inevitable, but there's a new approach that has given homeowners and area cranberry farmers hope that they can slow the disappearance of their beach — and their livelihoods.
North Cove became an established community in 1884, as development progressed on Willapa Bay, but since then, dozens of homes, a school house, Coast Guard station, and an entire lighthouse have fallen into the Pacific Ocean. Those structures were victims of the shoreline erosion caused by a high-energy cycle of strong tides and sediment transport, centered at the mouth of Willapa Bay, according to a 1971 U.S. Army Corps of Engineers study.
For more on this story, watch NBC's "Nightly News" tonight at 6:30 p.m. ET.
The strongest waves come during the winter months and that's when the shoreline sees the most erosion. It's also when the few residents who live by the water anxiously await the fate of their homes.
"When you see a home … half on, half off … the beach, it's like, 'Wow, there goes somebody's memories, somebody's family home," said North Cove resident Jayne Peterson. The waves have reached Peterson's front yard, but she plans to hold on as long as she can.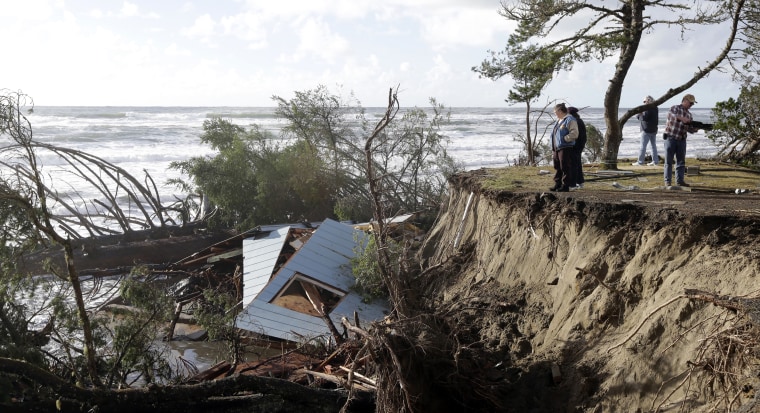 Just a few miles away from Peterson's home, all that separates third-generation cranberry farmer David Cottrell's crop from the saline waters of the Pacific is the strip of State Route 105, which is now in danger of being eroded away.
Cranberries are a freshwater crop and any infiltration of saltwater into a cranberry bog could be catastrophic. Cranberry farming is a $6.2 million industry in Washington, according to the USDA National Agricultural Statistics Service. Pacific County, where North Cove is located, is the largest producer of cranberries in the state.
Two years ago, Cottrell took the lead to employ a temporary solution to strengthen the shoreline. It's known as dynamic revetment and the theory is that a barrier made up of small rocks, known as cobble, driftwood and other small natural materials will break up the energy of the waves and stall sand loss.
"The waves melt, lose the energy and instead of a collision, you get a gradual dissipation of the energy," Cottrell said. "Everybody wants to build like a rip rap wall or a concrete wall, and you can do that, but you're going to get a big collision."
Cottrell said the cobble has proven to be effective over the last two years, reducing but not eliminating shore erosion. He says a long term plan is still needed.
"If [the waves] came through, not only would it be taking out people's houses, which you can rebuild, if you take out these cranberries, it takes years to re-establish the bogs again," Cottrell said.
The ongoing dynamic revetment project is funded by the local community and supported by Washington's Department of Ecology. It's awaiting additional help from the U.S. Army Corps of Engineers.
"Wash Away No More" is a grassroots campaign raising money to keep the cobble project up and running. Business owner Jaenette Hudson has been selling "Wash Away No More" apparel for $15, which helps put two cubic yards of rock on the beach.
"It makes a big difference, believe it or not," Hudson said. "Two cubic yards of rock doesn't sound like much, but it could save someone's home."
The belief that they could at least slow the erosion of the beach has already shifted the attitude of some North Cove residents. Those living along the shore are now talking about making home improvements, and any given day you can find someone walking along the beach.
"There's just so much resilience in a community where everybody knows everybody else and we kind of take care of each other," Cottrell said. "Everything we have is on the line here so you got to play for the win."
Kathy Park reported from Washington and Tonya Bauer reported from New York.