A Washington, D.C., employee was charged with second-degree murder in connection with the fatal shooting of a 13-year-old boy, police said Tuesday.
Jason Lewis, 41, surrendered to police Tuesday morning and was taken into custody, Metropolitan Police Chief Robert J. Contee III said at a news conference.
Lewis was charged with second-degree murder while armed, Contee said. The charges come about three weeks after a man shot and killed Karon Blake, a middle school student, at about 4 a.m. on Jan. 7. Police said the man believed that someone was tampering with vehicles.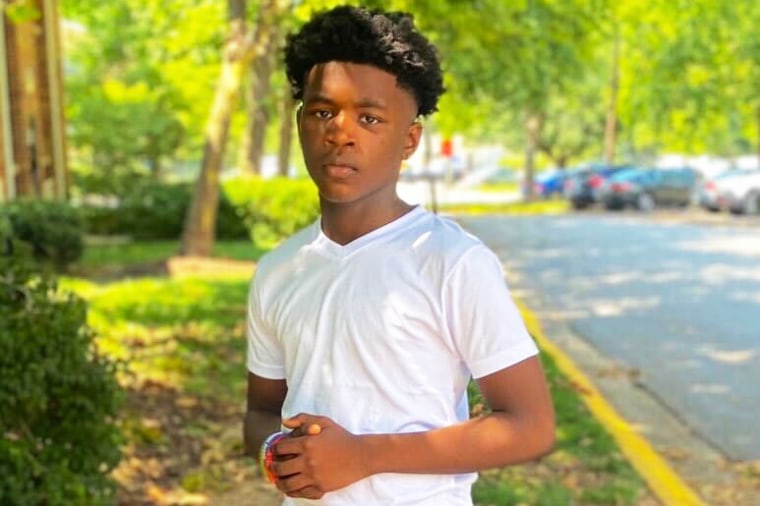 Police and an arrest affidavit provided new details Tuesday about what occurred during the early morning shooting.
Lewis told police he was lying in bed at his home when he heard noises and went downstairs "because he did not know if someone was trying to come into his home," according to the affidavit. He said he saw a car and "youngsters" wearing black and said "Hey! What are y'all doing?"
Lewis, Contee said, remained on his property and fired first at a "getaway vehicle that was parked nearby." Contee said that Karon "and another person who was unidentified began to run. At some point Karon ran toward Mr. Lewis and Mr. Lewis fired a shot, striking Karon and killing him."
Contee said that it appeared Karon was trying to make his way back to the getaway vehicle before he was shot, but the car reversed into an alley and crashed, and Karon ran in a direction toward Lewis. He said he did not know if Karon knew where Lewis was standing.
According to the affidavit, Lewis said that after firing his gun, Karon yelled, "I'm a kid, I'm a kid" and collapsed. Lewis then said he stepped back and called the police.
In recordings of the incident, Karon is seen running near the front of Lewis' home as Lewis "is firing in his direction," the affidavit said.
Karon can be heard yelling "I am sorry" multiple times, followed by "Please don't" and "No," multiple times, according to the affidavit. 
Karon also yells "I am a kid" and "I am only 12" numerous times, according to the affidavit.
Authorities previously said a man had left his home with a registered firearm, got into "an interaction" with Karon and fired his weapon, killing the teenager. Contee said Tuesday that there was "no confrontation" between Lewis and Karon before the teenager was shot.
Two other juveniles who were seen running from the scene have not yet been identified. Contee asked for them to come forward.
"Anytime we have a loss of life, especially that of a child, that's something that really just pierces my soul, to be quite honest with you," Contee said. "Here we have a kid who is dead who shouldn't be. 
"This young man shouldn't be dead. But, he is, and now again we have to go through the course of the judicial process," he said.
The teen's grandfather, Sean Long, said it was heartbreaking to learn that Karon "was begging for his life, and that man just took that away."
"You didn't give a young man a chance to grow," he said, speaking to Lewis.
Long called the murder charge against Lewis "a move towards justice," but said he and his family want a conviction.
"This is just the beginning," he said. "We've got a long, long road ahead of us."
An attorney for Lewis said his client maintains his innocence.
"While this is certainly a tragedy, once all the facts are heard, I believe that a jury will find that there was no crime here," attorney Lee Smith said. "Mr. Lewis has dedicated his career to mentoring and supporting youth in the District of Columbia, which only adds to how distraught he is over the death of Karon Blake. Mr. Lewis and his family offer heartfelt condolences to Karon's family and other loved ones."
The shooting outraged the community; residents pressed the police for answers before Tuesday's announcement of charges. Many said that alleged tampering with material property should not result in a person being killed.
Ward 5 council member Zachary Parker said in a statement Tuesday afternoon that he "continues to have serious questions about the handling of this case."
"It took almost one month to press charges, during which the Ward 5 community was given few answers, allowing misinformation and speculation to spread," he said.
Parker said the community still has questions about whether the investigation would have been handled more swiftly "if Karon's background and circumstances were different or if Jason Lewis was not an employee of the District of Columbia."
Karon, of Northeast Washington, was a student at Brookland Middle School. The school's principal, Kerry Richardson, said in a note to the school's staff, obtained by NBC Washington, that he was a "quiet and inquisitive scholar who loved fashion and football."
"Although he loved his neighborhood, he loved Brookland MS (the faculty & his peers) and the structure it presented to him even more," Richardson wrote.