In a midterm election season packed with talk about jobs, health care, immigration and, especially, the performance of President Donald Trump, there has been little attention paid to what scientists say is humanity's most pressing problem — climate change.
The one exception is the state of Washington, where a ballot measure to impose the nation's first state tax on carbon pollution could create a model for reining in greenhouse gases.
Initiative 1631 has inspired record spending, feisty debate and the intervention of powerful interests — from oil companies to Microsoft co-founder Bill Gates to former New York Mayor Michael Bloomberg.
Two years after Washingtonians rejected a similar measure, an early-October poll showed the new carbon tax standing right at the majority needed for passage. In a Crosscut/Elway Poll completed Oct. 9, Initiative 1631 received support from 50 percent of those surveyed, with 36 percent opposed and 14 percent undecided. Among likely voters, the measure did even better, receiving 57 percent support. The poll had a margin of error of plus or minus 5 points.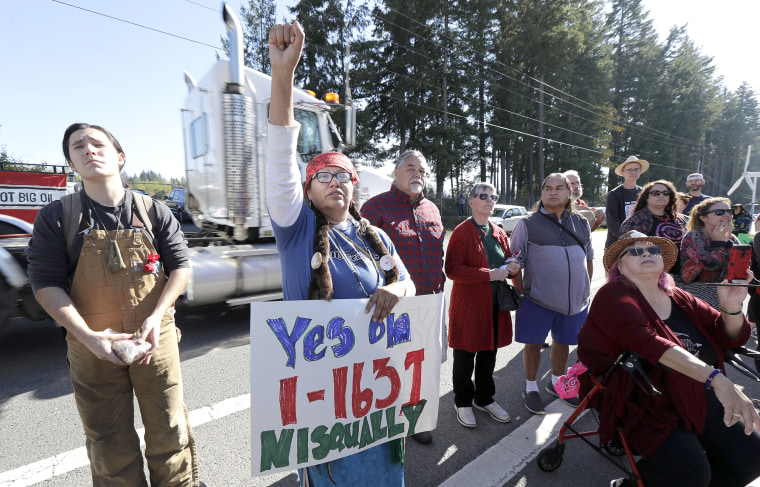 The measure pits most of the state's Democratic establishment, along with environmentalists, many labor unions and Native American tribes, against fossil fuel companies, farmers and some business organizations. The supporters say a tax of $15 per metric ton of carbon pollution — escalating by $2 a year until emissions goals are reached — will drive down pollution and encourage development of clean fuels like wind and solar. Opponents say the charge will be passed through to consumers in the form of higher gas prices and utility bills, causing particular discomfort for low-income residents, with no guaranteed reduction in global warming.
Washington state's vote on a carbon tax comes as some states and cities have pushed for alternatives to coal and other greenhouse-gas producing fuels. They have increased public transit and electrical vehicle fleets and promoted electric production that does not burn fossil fuels.
"With the Trump administration going backwards on fighting climate change, states around the country are taking matters into their own hands," said Michael Brune, executive director of the Sierra Club. "I-1631 holds polluters accountable while investing in clean energy ... It could be a game-changer in the fight against climate change."
A second attempt to tax carbon
The state of Washington last voted on a carbon tax in 2016. But that measure differed in one important way from Initiative 1631. The earlier carbon tax would have been "revenue neutral" — giving residents back money raised with the carbon tax via a 1 percent cut in the sales tax and a tax credit to 460,000 of the poorest households in the state.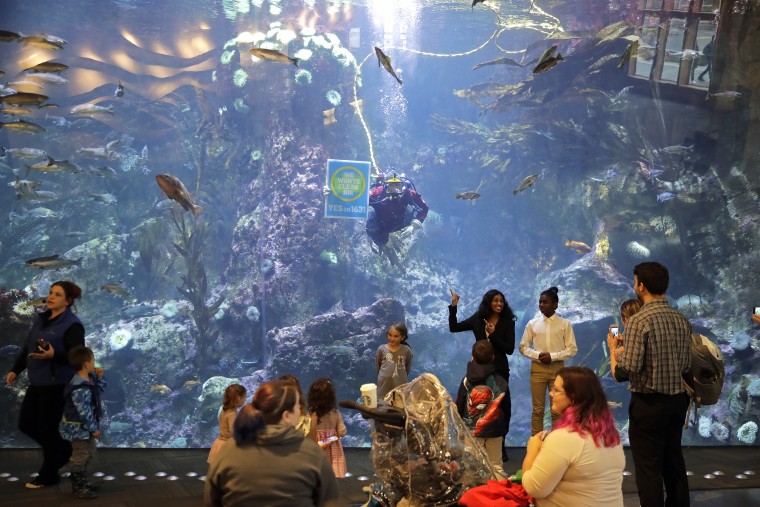 By keeping taxes level overall and not expanding government, backers of the 2016 measure — Initiative 732 — hoped to attract conservative voters. But a poll just before that election showed that the carbon tax drew support from only 19 percent of Republicans.
In seeking the middle path, the backers of the carbon tax lost not only conservatives but their more natural allies on the political left. Groups such as labor unions and Native American tribes complained that they felt left out of the planning, and even core environmental groups like Climate Solutions and the Sierra Club declined to back the measure.
In writing Initiative 1631, backers discarded the notion of revenue neutrality and planned instead to spend the tax's proceeds on programs to lower greenhouse gas emissions and to preserve sensitive environmental habitats. The money would expand electrical vehicle fleets, improve public transit, make buildings more energy efficient and increase the use of clean electricity sources like wind and solar power.
Other funds from the tax, expected to bring in $2.3 billion in the first five years, would protect the state's natural resources, particularly forests, which produce oxygen and soak up Earth-warming carbon dioxide.
Washington previously set a goal of reducing carbon dioxide emissions 27 million tons annually by 2035 and cutting 50 million tons annually by 2050. To make a cut of just 1 million tons would require removing about 216,000 cars from the road.
The tax's costs and benefits
Microsoft's Gates, one of the top donors to the Yes on 1631 campaign, has said that it is not easy to be out in front on an issue. But, in his official endorsement of the measure, he said that leading the nation on taxing carbon pollution will make any sacrifice "worth it."
The proponents of the measure have said it's unclear what, if any, of the taxes levied on oil refineries and other polluters will be passed on to the public. A Seattle Times review of the measure found it initially could cost a suburban family with two cars about $240 a year, mostly from an increase in gas prices and in home cooling and heating expenses. The Washington Policy Center, a free-market think tank, found that the cost could climb to as much as $877 a year after 10 years.
The "Yes" campaign has gathered $15.2 million from donors that include the Nature Conservancy, League of Conservation Voters, Gates and Bloomberg, who is a United Nations special envoy for climate action. The "No" campaign has amassed $31.2 million from the Western States Petroleum Association, BP, Phillips 66 and other fossil fuel companies. The total makes it the most expensive ballot measure in Washington history.
The opponents have focused on the costs Initiative 1631 would pile on residents and the potential that it could drive away business. They have also tried to sow doubt about the 15-member panel, to be appointed by the governor, that will help oversee spending of the carbon tax proceeds.
"This measure is so poorly written, it doesn't have a specific spending plan," No on 1631 spokeswoman Dana Bieber told a group of Seattle voters. "It says 'Just give us the money. We'll figure out how to spend it. Trust us.'"
The opponents have said it would make more sense for the U.S. to develop a national policy on carbon. But there is no sign Congress plans to move any time soon to tax carbon pollution. The House passed a nonbinding measure in July, expressing the opinion that such a tax would be detrimental to the American economy. The measure passed 229-180.