Washington state's governor on Tuesday imposed a ban on carrying out the death penalty, saying its use is "inconsistent and unequal."
"Equal justice under the law is the state's primary responsibility. And in death penalty cases, I'm not convinced equal justice is being served," Gov. Jay Inslee said in a statement. "The use of the death penalty in this state is unequally applied, sometimes dependent on the budget of the county where the crime occurred."
Inslee said he made the decision after months of research, including visiting with the family members of murder victims and touring death row and the executions chambers.
He said if a death penalty case comes to his desk, he will issue a reprieve. "This action does not commute the sentences of those on death row or issue any pardons," he said.
The state has eight convicts on death row at the state penitentiary in Walla Walla.
Since 1904, 78 men — and no women — have been executed in Washington, according to the state's Department of Corrections. Seven men have been put to death since 1960.
According to Inslee, since Washington state's current death penalty law was put in place in 1981, 32 defendants have been sentenced to die, but 18 had their sentences converted to life in prison. One was set free.
"There are too many flaws in the system," he said. "And when the ultimate decision is death there is too much at stake to accept an imperfect system."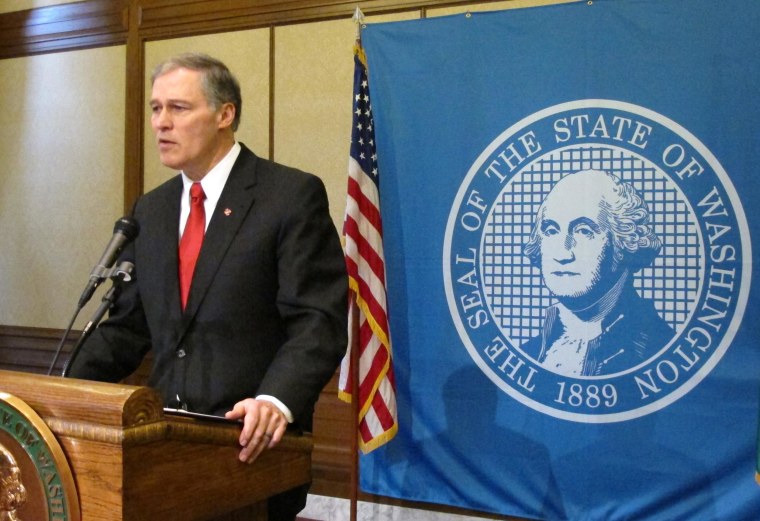 Inslee said he hoped his action will enable officials to "join a growing national conversation about capital punishment."
In an interview with Reuters, Kathleen Taylor, executive director of the American Civil Liberties Union of Washington state, called Inslee's moratorium "a courageous act."
"Who receives the death penalty depends more on geography and economic means more than anything else," she said.
Inslee's move is the latest in a string of similar actions by governors over the past decade, according to the Death Penalty Information Center.
In May 2013, Colorado Gov. John Hickenlooper granted the indefinite stay of an execution of one inmate, calling the state's death penalty system flawed and inequitable.
Oregon Gov. John Kitzhaber put a moratorium on all executions in his state in 2011. And in 2003, Illinois Gov. George Ryan commuted all death penalty cases to life sentences.
In 2013, Maryland became the latest state to end executions with a repeal of its death penalty law.
—Jeff Black