Washington state wildlife officials have been cleared to exterminate a pack of 11 endangered wolves after the animals were determined to have been preying on cows.
There are only 19 confirmed gray wolf packs in all of Washington state, comprising just 90 wolves, according to a June census by the state Department of Fish and Wildlife. Killing the so-called Profanity Peak pack would remove more than 12 percent of the confirmed state population.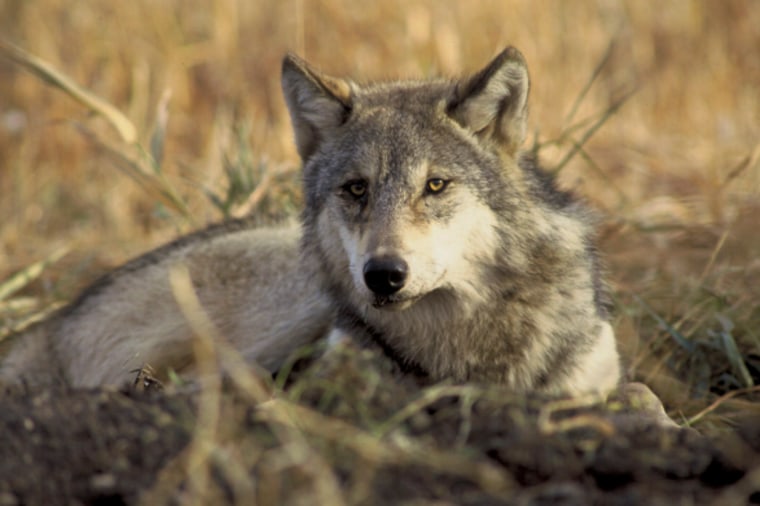 Concern spiked in early July when dead calves began showing up in the area that's home to the pack — six adults and five cubs who mainly roam the northern half of the Colville Confederated Tribe reservation in Ferry County — according to a Fish and Wildlife document (PDF) obtained by NBC News.
Deliberations on what's called a "lethal removal action" began after seven more calves were found dead or injured from July 12 to Aug. 3, according to the document.
State Fish and Wildlife Director Jim Unsworth officially approved the order after two more calf carcasses and an injured calf were discovered in a grazing area last Friday, said Donny Martorello, who directs wolf policy for the department.
"The department is committed to wolf recovery, but we also have a shared responsibility to protect livestock from repeated depredation by wolves," Martorello said.
Democratic state Sen. Kevin Ranker, a senior partner at a Seattle environmental consulting firm, called the order "extreme."
Ranker, who noted that the wolves are listed as endangered under state law, told NBC station KING of Seattle that he believed the state's original intention had been to kill only half of the pack and then wait to see whether the cow killings stopped.
"I was told that removal of half the pack would make a difference, and now we're being told they are going to remove the entire pack," said Ranker, a former chairman of the state Senate Natural Resources Committee. "They haven't implemented their first plan."
But Shawn Cantrell, Northwest program director for the nonprofit environmental group Defenders of Wildlife, credited state wildlife officials for trying their best to preserve the wolf pack while balancing the safety of livestock and other wildlife.
"It's a disappointing day when the state has to move forward with the last resort of lethal control, but we have come to that day," Cantrell said in a statement.
"Removing members of the Profanity Peak wolf pack is a loss to wolf recovery efforts in the region," he said. "The best thing to do is to learn from this sad outcome and redouble our collective efforts to proactively prevent future livestock-wolf conflicts."