Police and ambulances swarmed the Washington Navy Yard on Thursday after a worker said she might have heard gunshots. Authorities swept the campus, the site of a massacre two years ago, and found nothing.
Authorities said they were not sure what the sound might have been. They said there was no evidence that the report was a hoax.
The report of possible gunshots came just before 7:30 a.m. The response included the FBI, federal marshals, paramedics and the Department of Homeland Security. Nearby roads were closed and nearby buildings evacuated, and security was stepped up at the White House.
Workers on the Navy Yard campus were ordered to stay in place, and those who had not reported to work were told to stay home.
"It was pretty much like the first time, a lot of people running for the exits," Navy Lt. Cmdr. Scott Williams said.
On Sept. 16, 2013, Aaron Alexis, a former Navy reservist with a troubled mental health history, opened fire in an office building at the Navy Yard, paralyzing the capital before he was taken out in a gunfight with authorities.
Alexis was in the building for more than an hour before he was stopped. It was the second-deadliest rampage on an American military base, after the Fort Hood shootings in Texas in 2009. The building where Alexis opened fire reopened in February after renovations.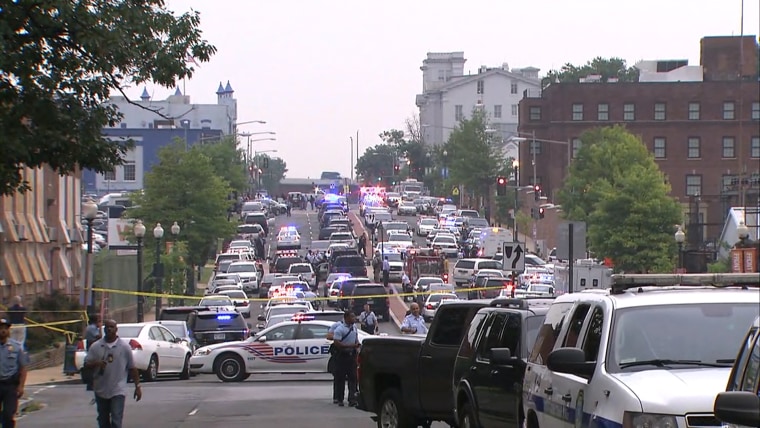 Chief Cathy Lanier of the Washington police declined to say whether the worker who reported the possible gunshots was at the Navy Yard on the day of the rampage two years ago.
Federal authorities have warned law enforcement agencies across the country about a heightened threat of attacks over the July Fourth holiday, but Lanier of the Washington police said that had nothing to do with the response.
"We never lower our threat level," she said.
The Navy Yard is in southeast Washington, near the headquarters of the Transportation Department and the ballpark of the Washington Nationals. It is about two miles from the Capitol.