/ Source: Associated Press
FREDERICKSON, Wash. — Authorities in Washington state have arrested a man believed to have been involved in the fatal shooting of a sheriff's deputy.
Pierce County Deputy Daniel McCartney, a 34-year-old Navy veteran and married father to three young boys, was shot during a foot chase late Sunday as he responded to a home invasion near the small community of Frederickson, 15 miles southeast of Tacoma, said sheriff's spokesman Ed Troyer.
One suspect in his mid-30s was found dead at the scene, and another got away, authorities said. On Monday, Troyer said 32-year-old Frank William Pawul had been taken into custody in the Shelton area on unrelated felony warrants.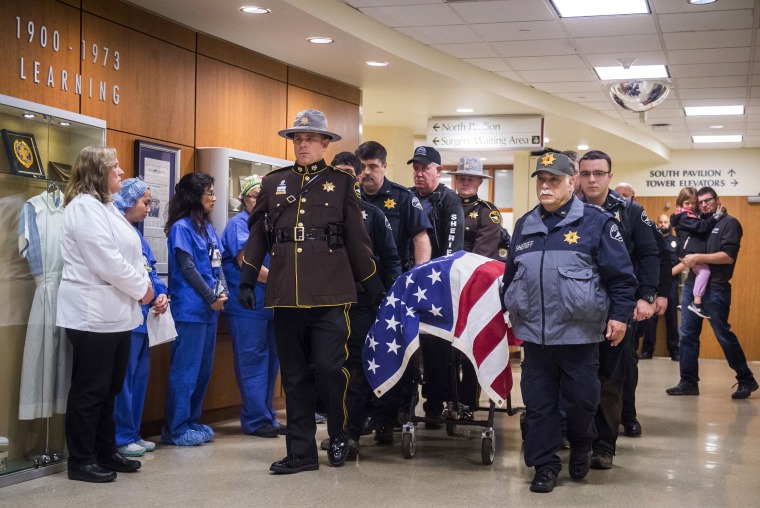 A state trooper in the area spotted Pawul, who gave a false name when approached, Troyer said. Once authorities learned his real name, Troyer said he was taken to jail on the warrants and further investigation tied him to the shooting. Two weapons also were found at the scene, Troyer said.
Police had closed off roads in the area and conducted a manhunt among industrial sites as well as wooded areas.
The suspect was expected to appear in court Tuesday on a first-degree murder charge, Troyer said.
Pierce County Jail officials said Monday night that Pawul did not yet have an attorney.
The deceased suspect's name hasn't been released.
"There's a sadness that will be felt and should be felt in the community," said Pierce County Sheriff Paul Pastor. "He is a young deputy who signed up to watch over other people. He had an ethic in his heart for doing something for other people."
McCartney was hired at the sheriff's department in 2014 after stints with police departments in the small Washington state cities of Aberdeen and Hoquiam.
After the shooting, McCartney was taken to a Tacoma hospital, where he was pronounced dead. His family members and dozens of law enforcement officers gathered at the hospital to say goodbye, The News Tribune newspaper reported.
More than a dozen officers and deputies saluted as McCartney's body was carried from the hospital in a flag-draped coffin and loaded into a van.
A memorial fund was set up to benefit his wife and children.