Law enforcement agencies in Tennessee and Georgia are looking for an anonymous man who sent ominous, eerie letters signed "The Waster" to dozens of churches.
The photocopied, handwritten letter — which criticizes "you preachers, ministers, and chaplains" for not teaching all of the commandments of the Bible — has been sent to at least 50 churches in the last two weeks in McMinn and Monroe counties in Tennessee and in Murray County, Georgia — and likely elsewhere, authorities said.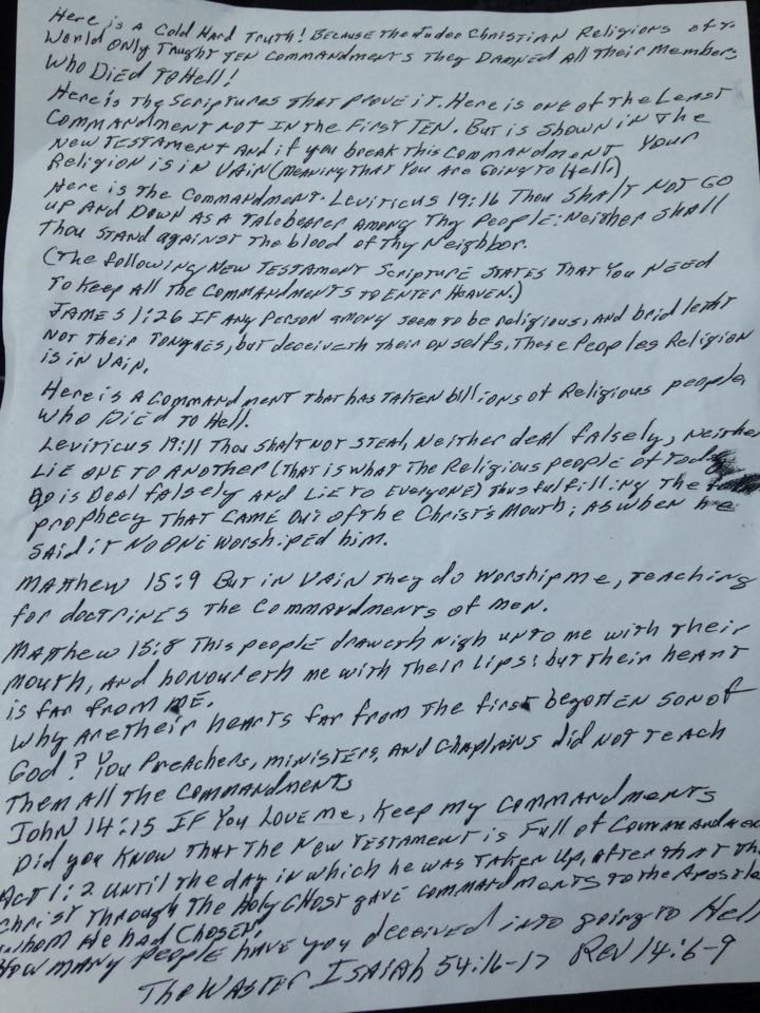 It doesn't include an explicit threat, meaning no crime has technically been committed, but "it's better to be safe than sorry," Blake Witt, a detective with the McMinn County, Tennessee, Sheriff's Office, told NBC station WRCB of Chattanooga.
The Murray County, Georgia, Sheriff's Office said a copy of the letter was slid under the door of Tennga Baptist Church in Tennga last week.
"The intent is unknown," the agency said. "There doesn't appear to be any specific threats involved, but they [the letters] are very suspicious in nature."
The letter, which is addressed to the churches' congregations at large, is signed "The Waster" and cites Isaiah 54:16-17:
Behold, I have created the smith that bloweth the coals in the fire, and that bringeth forth an instrument for his work; and I have created the waster to destroy. I have formed every man who is engaged in spreading desolation by wars, and I have every such man under my control.
Many biblical scholars interpret the passage to suggest that the Old Testament God is reassuring Israel that it need not fear any human military structures — because if he made them, he can defeat them.
The verses are also sometimes believed to play a role in the movie "The Matrix Reloaded" — the vanity license plate on the car driven by the nihilistic Agent Smith, played by Hugo Weaving, reads IS 5416.
The Rev. Vic King, pastor of Short Creek Baptist Church in Athens, Tennessee, said his church got the letter last Thursday.
King said he wasn't sure "what to think of it," but he added: "There is a concern about the agenda of the writer."
Investigators in McMinn County are reviewing surveillance camera video and have recovered fingerprints from several of the letters, Witt said. The Murray County, Georgia, Sheriff's Office said it has assigned extra patrols to local churches.
"It's sad that it's come to that," Witt said.