FARMINGTON, N.M. — A yellow sludge spilling from a shuttered gold mine into a southwestern Colorado river has reached northern New Mexico, a state official said Saturday.
The plume arrived in the city of Aztec on Friday night and Farmington on Saturday morning, San Juan County Emergency Management Director Don Cooper said.
Officials in both cities shut down the river's access to water treatment plants and say the communities have a 90-day supply of water and other water sources to draw from.
"There's not a lot we can do. We can keep people away (from the river) and keep testing," Cooper said. "We still don't know how bad it is."
About 1 million gallons of wastewater from Colorado's Gold King Mine began spilling into the Animas River on Wednesday when a cleanup crew supervised by the Environmental Protection Agency accidentally breached a debris dam that had formed inside the mine.
The mine has been inactive since 1923.
No health hazard has been detected, but tests were being analyzed. Federal officials say the spill contains heavy metals including lead and arsenic.
The EPA planned to release additional information Saturday afternoon.
In addition to New Mexico, wastewater from the mine was also inching toward Utah.
The Animas flows into the San Juan River in New Mexico, and the San Juan flows into Utah, where it joins the Colorado River in Lake Powell.
The spilled water also contained cadmium, aluminum, copper and calcium, but the concentrations were not yet known.
While awaiting further results on the concentration levels of the metals in the water, the EPA released results Saturday showing how acidic the water became after the spill.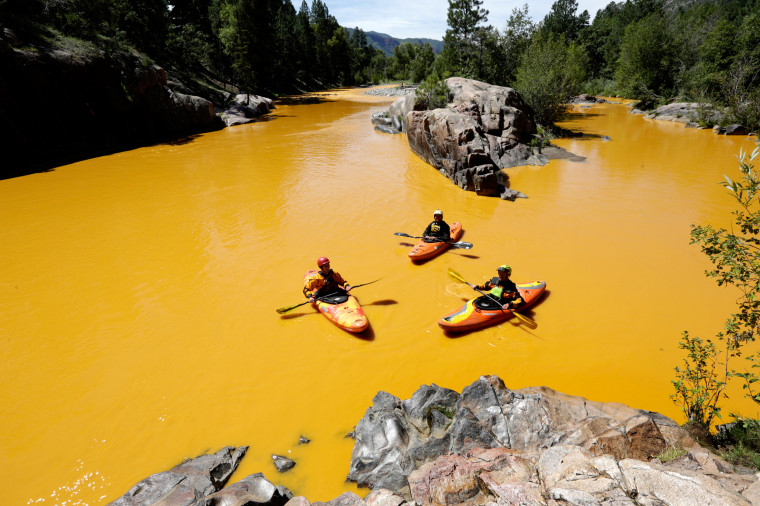 In Cement Creek, near the spill, the water registered a pH level of 3.74, which the EPA said is similar to the acidity of tomato juice and apples. Further downstream, in Silverton, pH levels were found to be about 4.8, which is similar to liquid black coffee.
Related: River turns white from pollution in China
The EPA warned people to stay out of the river and to keep domestic animals from drinking from it. Local officials declared stretches of the river off-limits in Colorado and New Mexico.
At least two of the heavy metals found in the waste water can be lethal for humans with long-term exposure. Arsenic at high levels can cause blindness, paralysis and cancer. Lead poisoning can create muscle and vision problems for adults, harm development in fetuses and lead to kidney disease, developmental problems and sometimes death in children, the EPA said.
Water continues to spill from the mine at a rate of about 700 gallons per minute, Joan Card, an adviser to Environmental Protection Agency Regional Director Shaun McGrath, said Saturday. Crews were building containment ponds to catch and treat the water.
Water samples were also tested in New Mexico, but no results had been released.