At Columbia University, visitors can imagine what life would be like under 10 feet of water as humanity is confronted by the effects of climate change.
Waterlicht, a large-scale laser-projected light installation by Dutch artist and innovator Daan Roosegaarde, is guiding visitors through the "virtual flood."
Charlotte Munson, a junior at Columbia, recently experienced the lights by lying down and looking up.
"It feels like when you're a kid and go into the pool and hold your breath, and you look up and everything feels so quiet and peaceful," she said.
But that serene feeling has a larger meaning. Dubbed by Roosegaarde as "the northern light of the Netherlands," the Waterlicht installation is designed to create the impression of being flooded and will debut Tuesday evening and remain for three nights at Columbia's campus in New York City. It is free and open to the public.
Roosegaarde admits it can be a bit scary, but said, "I hope it makes people curious about the future world in which we're not scared of the water, but actually trying to learn from it and trying to live with it in a new way."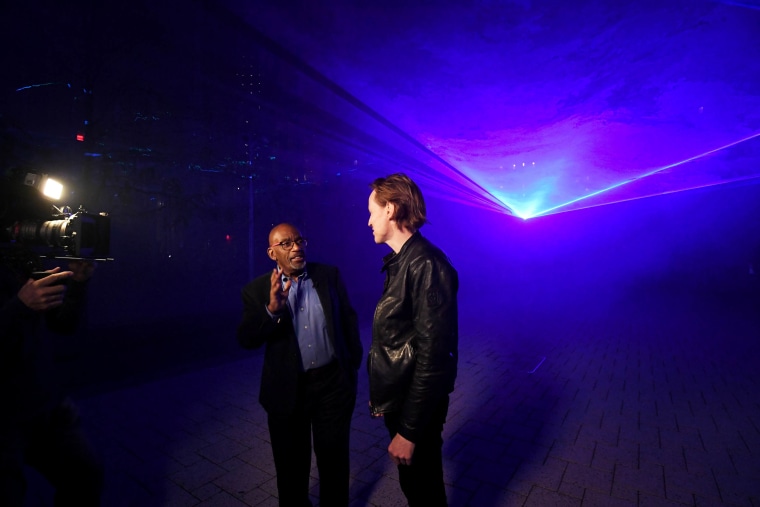 Waterlicht has been used in the past to reflect the water levels reached by Superstorm Sandy, which devastated parts of New York City and New Jersey in October 2012 and contributed to the deaths of 43 people.
"We already see the effects of climate change whether we like it or not," Roosegaarde said. "You will have mass migration because of rising sea level and it will create an elite world where some survive and others do not."
One-fourth of the Netherlands is below sea level and about 55 percent of the land is susceptible to flooding, so naturally the Dutch, by necessity, have become prominent architects and designers of water management.
Bringing Waterlicht to Columbia was the brainchild of Carol Becker, dean of the School of the Arts. The installation is part of the school's Year of Water, which is using art to draw a connection between people and water. Becker says she has seen a recent shift related to climate change as she thinks people appear to be taking its effects more seriously.
"I became really interested in somebody who creates beautiful things, but also uses technology to do them, understands that nature and humans have to interact constantly. So, in my mind, the piece is really a kind of magic, much more than it is a scientific piece," she said.
Roosegaarde has done other works using the intersection of art and light to create places where he says people will feel connected again. He has been influenced by artists Leonardo da Vinci and Rem Koolhaas and land artists Robert Smithson and Walter De Maria, who sought to break with the restrictions of traditional art museums that they felt neutralized art making.
Roosegaarde believes that good art, like good design, can be aesthetically entrancing and still address real-world problems.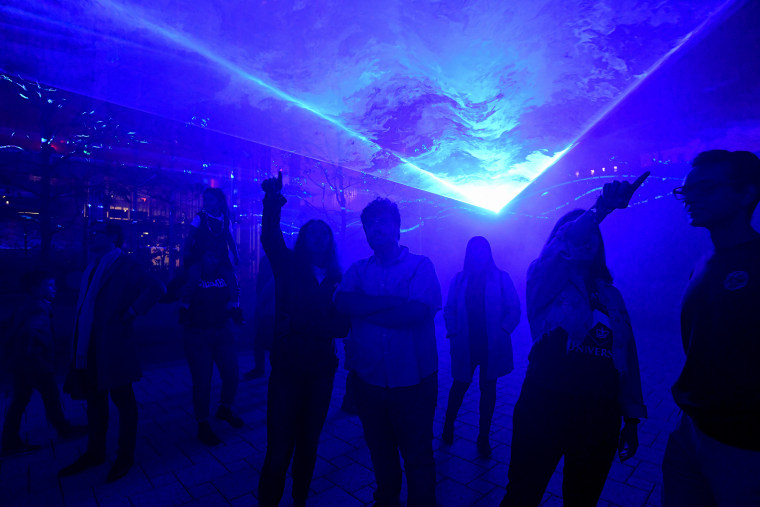 Roosegaarde has also used his innovations to improve urban areas and the quality of living.
Inspired to clean up polluted air and smog in places such as the Korean peninsula, China, the Netherlands and Poland, he built the first and largest smog vacuum cleaner in the world. It sucks up 30,000 cubic meters per hour of polluted air, filters it using very little electricity, then releases the cleaner air back out. Roosegaarde says smog in Beijing has the same effect as smoking 17 cigarettes a day.
He hopes Waterlicht gets people to ponder the future.
"I think that's the beauty of art, that it can show a future world, but hopefully inspire them to be more positive and more active in the solution instead of waiting," he added. "If we can't imagine a better future, we won't get there."