A Nevada man who was accused of murder after confronting two unarmed trespassers with a deadly barrage of gunfire at a vacant duplex he owns was found not guilty Friday of all charges in the latest case to test the boundaries of stand-your-ground self-defense laws.
Wayne Burgarello, 74, a retired Sparks school teacher, insisted he was acting in self-defense in February 2014 when he shot and killed Cody Devine and seriously wounded Janai Wilson.
A jury in Reno deliberated for six hours before finding him not guilty on a charge of attempted murder as well as four alternative charges of first-degree murder, second-degree murder, voluntary manslaughter and involuntary manslaughter.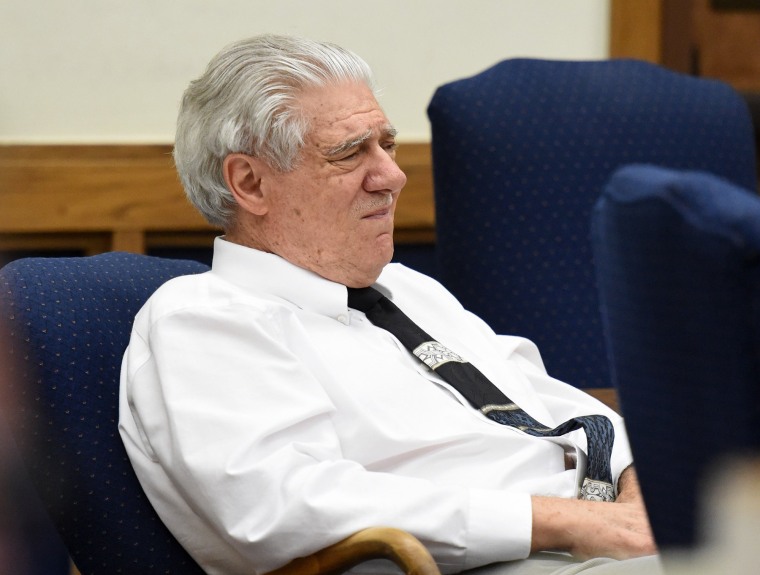 Burgarello would have faced up to life in prison without parole on the charge of first-degree murder.
Assistant District Attorney Bruce Hahn had argued first-degree murder was warranted because Burgarello acted with premeditation in the February 2014 shooting.
Hahn said Burgarello wanted to exact revenge for repeated burglaries and vandalism at the rental unit he largely abandoned nine years ago in a working-class neighborhood just east of Reno.
"There was going to be a deadly confrontation," Hahn said during Friday's closing arguments. "He was mad. Somebody was going to pay."
Neither trespasser had a firearm, but Burgarello told police Devine's arm "came up like a gun." Ristenpart said he might have mistaken a black flashlight found at the scene for a gun and had only a split second to respond.
Defense attorney Theresa Ristenpart told reporters Burgarello wanted to go home with his loved ones after a long day and had no further comment.
"We'd just like to say thank you to the jury for finally seeing what this case was about, which is justified self-defense," Ristenpart said. "He did what he had to do to protect his own life."
Burgarello did not take the stand, but jurors saw a video of his interrogation by detectives.
"I was trying to protect my own life," he said. "Since they were there in a threatening manner, I reacted."
Devine was shot five times, including once in the head. Wilson was shot in her leg, arm and stomach.
"It wasn't one or two (shots), then we'll talk. It was eight rounds," Hahn said. "It was open season."
Nevada's stand-your-ground law allows property owners to use deadly force against attackers who pose an imminent threat, regardless of whether they are armed. But it specifies the shooter cannot be the initial aggressor.
More than 30 states have adopted or strengthened stand-your-ground laws since Florida expanded its law in 2005 to allow deadly force outside the home. Interpretation of those laws has been controversial since a Florida jury acquitted George Zimmerman in Trayvon Martin's 2012 shooting death.
Earlier this year, a judge made it clear Montana's stand-your-ground law has limits when he sentenced Markus Kaarma to 70 years in the 2014 killing of a teenager. Prosecutors argued Kaarma couldn't claim self-defense because he was intent on setting a trap for a burglar in his garage.
In a similar Minnesota case, Byron Smith was convicted of premeditated murder last year for lying in wait in his basement and killing two teens who broke in.