The Virginia journalists who were shot to death during a live broadcast Wednesday morning were energetic employees who could "brighten up the room," friends and family said.
They were both about to begin exciting new chapters in their personal lives. Adam Ward was engaged to be married, Alison Parker had just started a serious relationship nine months ago — and both their partners were part of their WDBJ7 station family in rural Virginia.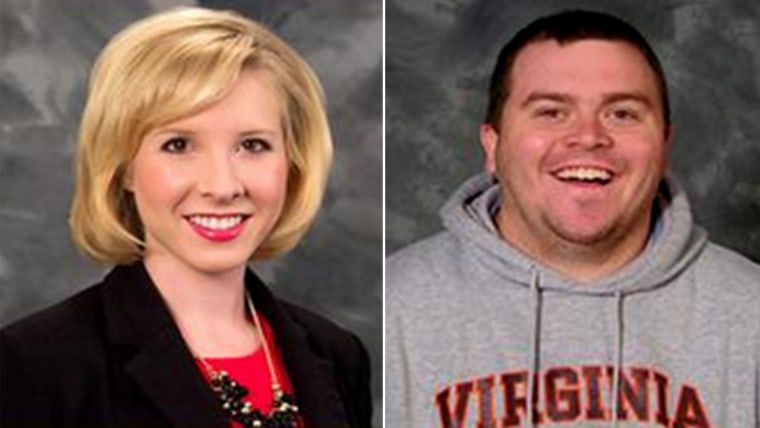 Parker, who just turned 24, and Ward, 27, were killed when a gunman stormed their live interview, firing several shots just before 7 a.m. at a shopping center in Moneta, Virginia.
Andy Parker, Alison's farther, said in a statement Wednesday evening that he and his family were "numb, devastated and I find my grief unbearable."
"Alison was our bright, shining light and it was cruelly extinguished by yet another crazy person with a gun," he said. "She excelled at everything she did and was loved by everyone she touched. She loved us dearly, and we talked to her every single day. Not hearing her voice again crushes my soul. Our family can only take solace in the fact that although her life was brief, she was so happy with it. She lived it to the fullest and her spirit will always be with us."
The suspect, identified by a sheriff's department spokesperson as Vester Lee Flanagan II, turned the gun on himself hours later, according to federal officials.
Related: 'Human Powder Keg': 'Suicide Note' Claims Discrimination Fueled Live TV Attack
In wall-to-wall coverage of the shooting, apparently shell-shocked WDBJ7 correspondents and general manager Jeffrey Marks remembered the two as dedicated journalists who always made their colleagues smile.
"They were special people," anchor Kimberly McBroom said. "They would brighten up the room every morning."
"Today was just like any other day, and they did great work every day and put their all into everything they did," McBroom added. Immediately after the shooting, the broadcast cut to McBroom in the studio as she first registered the shock.
Marks called the two "fine journalists."
"How can this individual have robbed these families, the families of Alison and Adam, of their lives and their happiness and their love for whatever reason?" he asked, choked up.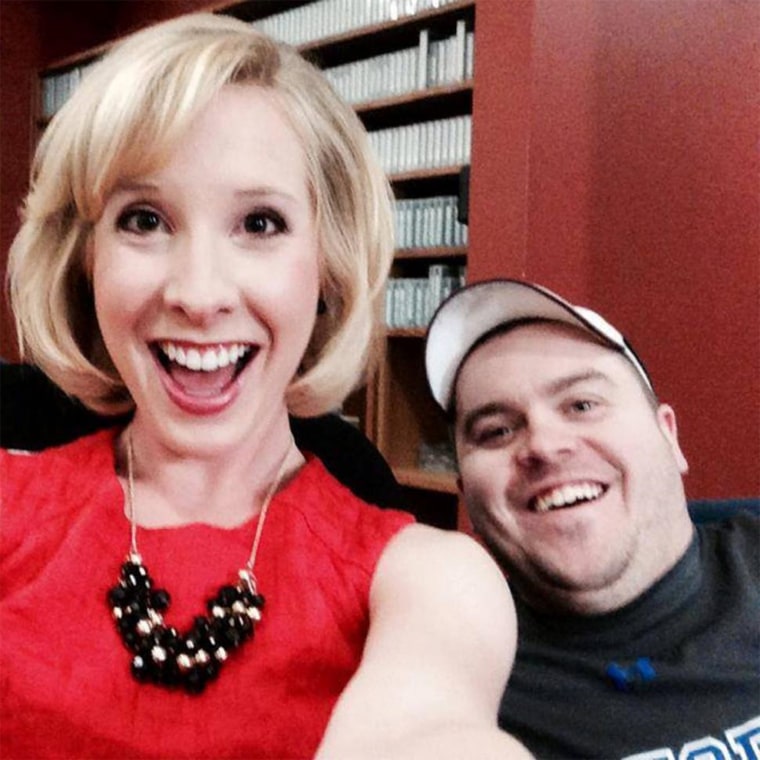 Parker, an on-air reporter, and Ward, a photographer, were both in romantic relationships with other people at WDBJ7, according to Mike Morgan, who works in the station's promotions department. Parker dated evening news anchor Chris Hurst, and Ward was engaged to producer Melissa Ott.
Hurst shared a photo of himself and Parker on Twitter, saying they were "very much in love. We just moved in together. I am numb."
He and Parker had started dating nearly nine months ago, he said, calling those "the best nine months of our lives. We wanted to get married."
"She was the most radiant woman I ever met. And for some reason she loved me back. She loved her family, her parents and her brother," he tweeted.
He later posted more photos on Facebook showing their courtship.
"This is unconscionable. But I WILL share her story because it is one full of life, dreams, love and amazing journalism," he wrote, adding that she just finished working on an "incredible special on child abuse."
Parker and Ward were locals. Parker grew up outside of Martinsville, Virginia, according to her biography on the station's site, and graduated from James Madison University's School of Media Arts and Design in 2012. She started at WDBJ7 as an intern.
"She was a serious journalist who truly loved the profession. She had tremendous potential to achieve her dreams of reporting on a national stage some day," said Marilou Johnson, vice provost for academic development at James Madison University, who taught Parker during a fall 2012 course. "It is such a tragedy."
Parker loved whitewater kayaking, community theater and Mexican food.
"The spicier, the better," Parker said of her food preferences in a video posted on WDBJ7's website.
Parker adored spending time with her family, and said in the video that the most thrilling thing she had ever done was go horseback riding down the Grand Canyon with her parents. It was supposed to be a guided tour, she said, but the guide never showed up.
"It was a very bumpy ride, very scary, and my parents were praying that I was holding on and I was OK. But we made it, and it was really fun, and I'll always remember it," she said.
Ward had been working for the station since July 2011, when he graduated from Virginia Tech with a degree in communication and media studies, according to his LinkedIn profile. The station said he went to nearby Salem High School.
Salem School Superintendent Alan Siebert told The Roanoke Times that Ward had a passion for football, which he played in high school, and had a strong work ethic.
"This was a boy with big dreams willing to put a lot of whole work behind it," Siebert said.
Parker had been interviewing Vicki Gardner, the executive director of the local chamber of commerce, when the shots rang out.
Gardner was shot and rushed to Carilion Roanoke Memorial Hospital, where she underwent emergency surgery. She is currently recovering and is in stable condition, the hospital said.