When Fasika Getahun, 48, finishes her shift as a custodian at Harborview Medical Center in Seattle each day, she goes home exhausted but excited to see her seven kids. She's a single mom who immigrated from East Africa, and it's gratifying to come home to see them healthy and happy.
But since the coronavirus outbreak has pummeled Washington and her adopted city, the anxiety of working on the front lines in a hospital — where she thoroughly disinfects bathrooms and infected patient areas without personal protective equipment — has begun to wear on her.
Returning home now doesn't bring the same comfort it once did.
Getahun said she and the 50 other members of the cleaning staff are asked to constantly work without masks or any protective gear, and their team meetings each morning begin in a small room where they are packed together tightly.
"I am worried. I have family, my children in my home," she said. "There's no masks or anything for us. How are we expected to clean?"
Full coverage of the coronavirus outbreak
The University of Washington School of Medicine, which operates Harborview Medical Center, didn't immediately respond to a request for comment, but it has put up a page on its website asking for personal protection equipment and other "in-kind" donations as supplies have fallen short.
One custodial worker at the hospital has already been sent home and is awaiting test results, the custodial workers' union, the American Federation of State, County and Municipal Employees, confirmed.
That's the concern of many custodial and sanitation workers who are now deemed essential across the country. Once ignored or taken for granted, custodial and sanitation workers — often members of the working poor — have become front-line soldiers in the battle to stop the spread of the coronavirus.
Although many of these important staff members are working tirelessly to keep essential businesses, as well as hospitals, schools, state and local governments, free of infection, some said they remain understaffed, get little praise and, like Getahun, don't have access to supplies.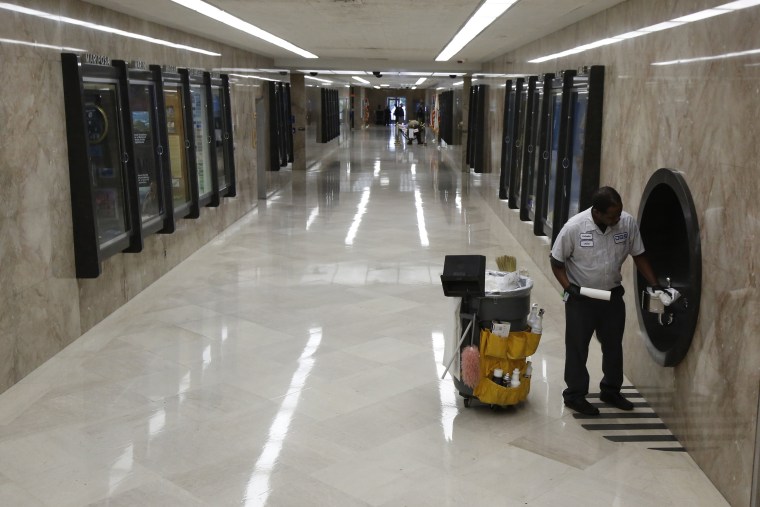 "We're important. We know it. I think after this dies down, the rest of the world will know, too," said Derrick Fields, 50, the head custodian at Medina Middle School in Columbus, Ohio.
On a call on Tuesday, AFSCME President Lee Saunders put some of the blame on President Donald Trump, who he said had waited much too long to use the Defense Production Act to accelerate manufacturing of protective gear that could help workers.
"They deserve support. They deserve respect. They deserve leadership from the White House that is as competent and compassionate as they are," Saunders said. "They deserve gloves and gowns, masks and swabs, respirators and ventilators so they can get the job done safely right now when we need that professionalism and expertise more than ever."
For people like Fields, while his school may have closed, the work hasn't concluded. He's disinfecting hundreds of Google Chromebooks for students who are homebound, as well as keeping the school building free of the disease for all who have to come through.
Other custodians in the district are helping to prepare meals for kids who qualify for free or reduced-price lunches, but they're doing it with a third of the workforce after the school district laid off a large chunk of the staff a few years ago.
"The needs didn't shrink. The size of the building didn't shrink," Fields said. "We're expected to do the same amount of work with less people in the same amount of hours. The physics don't work."
But it's not just the people who are keeping buildings clean who are putting themselves at risk.
Download the NBC News app for full coverage and alerts about the coronavirus outbreak
Tracey Thornhill, 54, is pre-diabetic but still drives a garbage truck each day through the streets of Atlanta. The difference now is that he's doing it with little to no protective gear.
Thornhill said that as efforts to address the pandemic ramped up, sanitation workers' typically easy access to hand sanitizers, masks and disinfectant wipes completely dried up. They're now handed two or three disinfectant wipes to last them an entire shift.
"We walk around and try to stay 6 feet away from each other," he said of himself and his co-workers. "But everything I come in contact with I bring home to my son and my fiancée. I have a child to raise, and I want to be here to raise him."
Fields said sanitation workers' nerves are increasingly fried. They want to be on the front lines, but they're scared when they don't have any way to protect themselves.
Fed-up sanitation workers in Pittsburgh went on strike last week to protest the limited gear being provided to them.
It's a real fear for custodial and sanitation workers, and it's increasingly getting personal for people like Getahun and Thornhill.
In Atlanta, one of Thornhill's colleagues is self-isolating after having experienced coronavirus symptoms. Days earlier, the colleague had moved a garbage can that bore a note warning that the owner had the virus.
He hopes the pandemic will change how people perceive sanitation workers in the future.
"We don't get the recognition, but we still want to be respected," Thornhill said. "We still want to be treated like human beings. We don't want to be treated like trash. We were told we are essential. We answered the call. We didn't cry about it, but we need the gear to help us."