President Barack Obama said Thursday that it "defies logic" that a $400 million U.S. payment to Iran in January could be considered a "ransom" for hostages."
The State Department announced the payment on Jan. 17, a day after the Tehran freed four Americans and on the same weekend that U.N. sanctions on Iran were lifted. The State Department has said the payment was part of a settlement of a decades-long legal dispute before an international tribunal in The Hague and that the timing was coincidental.
"We announced these payments in January, many months ago. They weren't a secret. This wasn't some nefarious deal," Obama said at a news conference after meeting at the Pentagon with Vice President Joe Biden, members of his Cabinet, military commanders and senior staffers on the National Security Council.
Related: Obama Calls Trump's Claims of Rigged Election 'Ridiculous'
In fact, he said, lawyers had advised him that "there was significant litigation risk, and we could end up losing billions of dollars."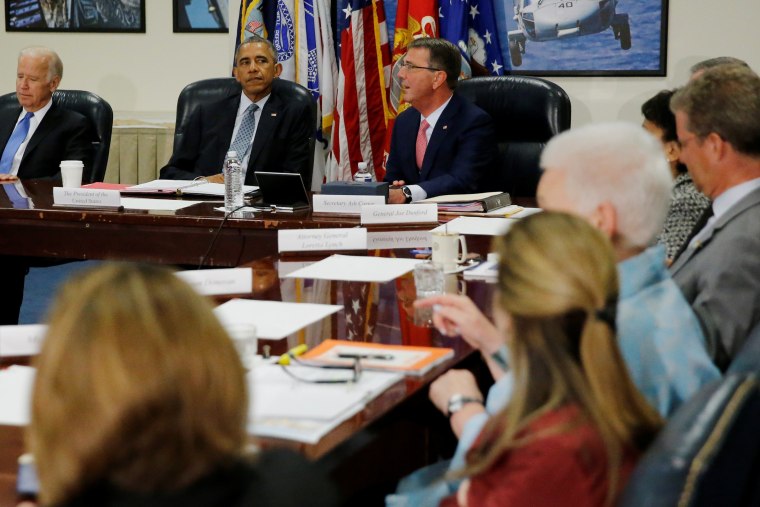 To drive home the point, Obama declared, "We do not pay ransom for hostages," saying Republican accusations otherwise made no sense.
"The notion that we would start now and announce it to the world — even as we're looking into the faces of other families whose loved ones are suffering — defies logic," he said, his voice dripping with incredulity.
Federal law bans the United States from conducting monetary transactions with Iran in U.S. dollars. But because the United States doesn't have banking relations with Iran, the only way to settle the case ws to pay in dollars, Obama said.
Obama started the news conference — the last one scheduled before he goes on vacation — by promising to keep up U.S. pressure on ISIS as U.S. forces expanded airstrikes into Libya this week.
"We're going to keep going after ISIL on every front across this campaign," he said. "ISIL" is the administration's preferred name for the so-called "Islamic State," or ISIS.
"Even ISIL's leaders know they are going to lose," Obama said. "ISIL turns out not to be invincible. They are inevitably going to be defeated."
The United States launched airstrikes this week against ISIS targets in Libya in an expansion of military operations beyond Iraq and Syria. U.S. officials have told NBC News that the strikes targeted ISIS military infrastructure like tanks, high-caliber weapons and command and control nodes.
The expanded attacks come as a secret National Counterterrorism Center report indicates that the number of places around the globe where ISIS is operating is rising at an alarming rate.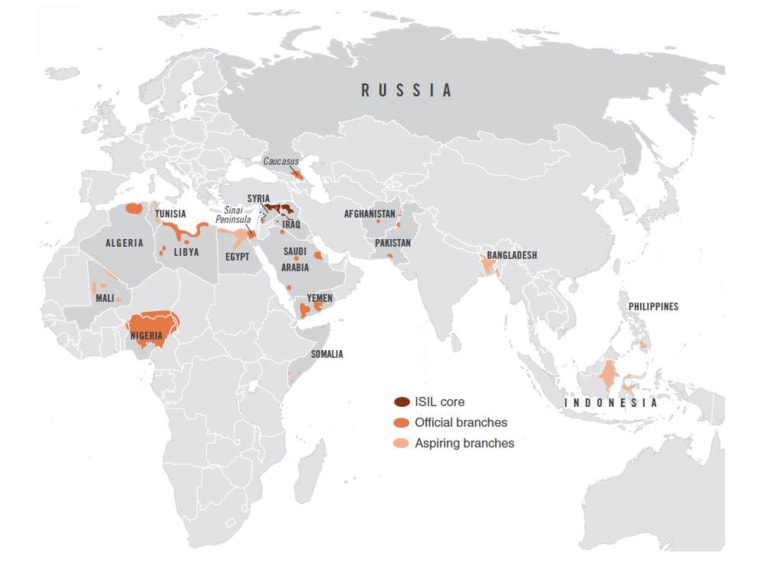 The document, dated August 2016 and obtained by NBC News, shows that ISIS has established "fully operational" bases in 18 countries — triple the number from just two years ago.
Exclusive: Counterterrorism 'Heat Map' Shows ISIS Branches Spreading Worldwide
Obama also challenged Russia to "show it is serious" about ending the violence in Syria.
"The United States remains prepared to work with Russia," he said. "But so far, Russia has failed to take the necessary steps."
The United States last week voiced its "deep concern" about Russia's announcement that corridors would be opened where Syrian opposition fighters could lay down their arms in exchange for amnesty and where civilians could leave the ravaged city of Aleppo.
Russia called the operation a "large-scale humanitarian operation," but the State Department said it appeared to be a surrender demand and a move to empty Aleppo of civilians.
"I'm not confident we can trust the Russians and Vladimir Putin," Obama acknowledged Thursday, "but we have to try, because the end result is perpetuation of civil war."
Shifting to what he called the "real threat" of the Zika virus, Obama called on Americans to pressure Congress to approve funding requested by health officials to fight the mosquito-borne virus.
Senate Democrats last month blocked a $1.1 billion take-it-or-leave-it Zika measure drafted by Republicans over a provision that would block Planned Parenthood clinics in Puerto Rico from receiving money to fight the virus.
Related: 'Striking' Results From Early Zika Vaccine Trial
"This is not the time for politics," Obama said. "The money we need to fight Zika is rapidly running out. The situation is getting critical."
For the first time, health officials reported last week that "home grown" cases of the virus have begun emerging in Miami-Dade County, Fla. — that is, native infections of people who haven't brought the virus in from outside the country.
Zika is known to cause a variety of birth defects in infected expectant mothers, most notably microcephaly in babies.