BREMERTON, Wash. — Fear seemed to keep people inside the Steele Creek mobile home park, as police on Friday struggled to turn up a suspect in the murder of 6-year-old Jenise Wright.
"We have nobody," Kitsap County sheriff's Deputy Scott Wilson told NBC News. "So we have to start with the family, the mother, the father, and work outwards from there, to the neighbors, the surrounding community, transients, or homeless people, sex offenders. It's a long and laborious process."
The first-grader, missing since Sunday, was discovered late Thursday among the area's untamed blackberry bushes and devil's club. The undergrowth and overhead trees were so thick that the sun had yet to dry out the ground, Wilson said. So police are asking for tips related to people caked in mud, most likely head-to-toe.
"We're also interested in people who may have a favorite pair of jeans or boots that they've suddenly discarded," Wilson said. "The place where the little girl was found was quite muddy."
Wilson's comments come a day after an FBI dog team found Wright's 3-foot-tall, 45-pound body. On Friday investigators were again checking IDs at the entrance of the community. They also went door-to-door, taking swabs of DNA evidence from anyone who would consent.
"You see it on the news and you never think it's going to happen to you and your family," Jenise's great uncle Herman Almojera said Friday, amid the work of arranging the little girl's funeral. "It's just devastating. Don't even try to imagine it."
Swing sets and basketball hoops don't usually sit idle on a summer day in this kid-friendly community. But a spooky calm settled over the area on Friday. The area's playgrounds were empty as parents decided to keep smaller children inside, reminding them of the rules about strangers. They're afraid a killer may be on the loose.
"This is definitely scary," said Christina Baqui, the mother of a 1-year-old and 4-year-old who lives next to Steele Creek and has stopped letting her older child walk alone, even on her own property. As mourners laid teddy bears and flowers at a makeshift memorial, the county medical examiner conducted an autopsy and ruled the girl's death a homicide. Police would not release a cause.
Jenise was last seen by her parents on Saturday night, and in the days after her disappearance they have faced intense scrutiny. Their home was searched and their statements vetted by a lie detector test. The police have not released the results of either of those efforts, but child welfare workers found "probable cause" to remove two other young children from the home. It isn't clear why the children were removed.
The case has sent many residents on a journey through sympathy, suspicion, and grief as new facts become known. Why did the Wrights wait 24 hours to call 911? Does it matter that James, the father, was charged with first degree child molestation in 2000? The molestation charge was dropped, and he was convicted of a lesser count of assault.
"We suspect she did not go off by herself and fall into the bushes and die," Kitsap County sheriff's Deputy Scott Wilson told reporters on Thursday. But he added that both parents had been extraordinarily cooperative. By Friday morning neither parent was home and the police said they had both been connected with grief counselors.
In an eerie coincidence, Jenise was found in the same wooded area where another girl, 12-year-old Cassie Holden, was found murdered in 1988. Her head had been smashed with rock, the coroner said. Her convicted killer, a transient named Jonathan Gentry, is currently on death row in the state, and some residents are wondering if something similar could have happened again.
"A little girl don't just go into the woods and lay down and die," said Herman Almojera, Jenise's uncle.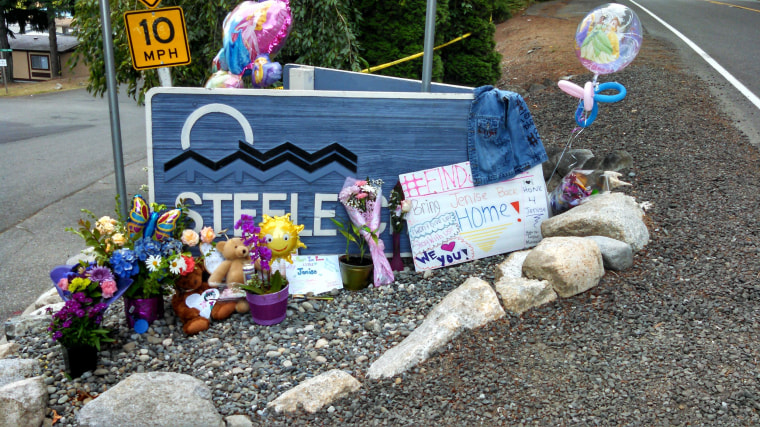 Late on Thursday he reached the girl's grandfather and grandmother by phone as they sped home from a foreshortened vacation in New Mexico. They had yet to hear the news about Jenise's body. On Friday they were expected to arrive home, about 90 minutes from Bremerton, where Jenise's four brothers and sisters are waiting for them.
"I'd sure like to find out who did this," Almojera said. "I figured it was criminal from the beginning."
Amanda Hurst, a nearby mother of four, is organizing a memorial prayer Friday at 6:30 pm at the Crossroads Neighborhood Church, a mile down the road from Steele Creek. Originally planned as a vigil for Jenise's safe return, it's been transformed into a celebration of Jenise's life, complete with a release of balloons.
But while Hurst said it's a chance to start healing, she also hoped it might spark an exchange of information that could lead to an arrest. "We're organizing this to help bring the community together — and bring the killer to justice," she said.
"This hits way too close to home," said Ron Sura, a seven year resident of Steele Creek. He was on his way to help prepare for the vigil. "Everyone is in shock right now."
More than 400 people have RSVP'd on Facebook. Attendees are being asked to wear purple, Jenise's favorite color.