The waiting is the hardest part as lava from Hawaii's Kilauea volcano creeps slowly through the community of Pahoa, where residents never know from hour to hour whether they should pack up and leave, even as they can hear the crackle and hiss of gases exploding from the 2,000-degree river of molten rock.
Lava has a mind of its own, Hawaii County Civil Defense Director Darryl Oliveira said Tuesday. It can change direction as the flow widens on either side and snake off in new rivulets that experts call "fingers." That means that even though the lava flow is generally heading in one direction, structures off to the side can come into harm's way.
"These are very difficult to forecast," Oliveira told NBC News. "We're watching it very closely today."
The lava moved 100 yards closer to occupied homes during Tuesday, and "entered a private residential property," officials said.
The slow movement of the lava — only about 30 feet an hour Tuesday — and the uncertainty of where it will go next are why authorities still haven't ordered a mandatory evacuation in Pahoa, a town of nearly 1,000 people. Residents told NBC News they understand, but they said the lack of clarity has been frustrating.
"A big question that's been going around for I don't know how long is which side of the lava flow are you going to be on?" said Sandy Andrade, who was packing up her family's home Tuesday. "Are you going to be locked in on one side, or are you going to be on the other side?
"You deal with so much different types of stress with this whole lava situation," she said. "It's like, 'Where do you go?' for a lot of people. They're still trying to find a place to go, trying to find some place to rent. You have the schools — what are we going to do with the children?
"We don't know what we're going to do, but we just take it day by day," Andrade said.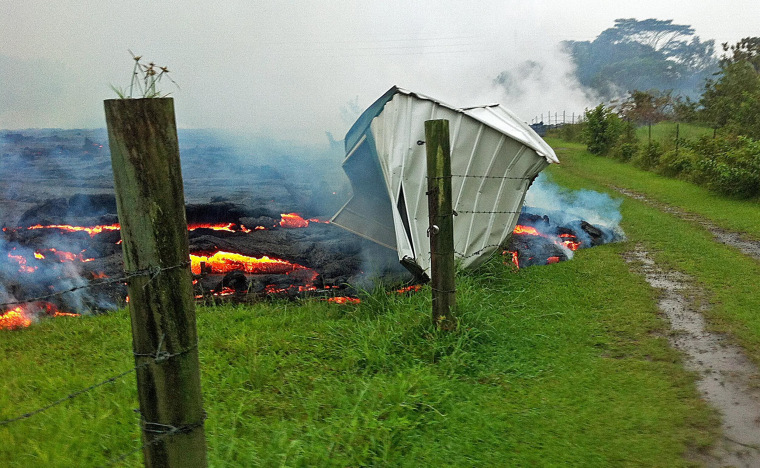 Bill Schmidt of Pahoa said he planned to wait until the last possible moment before abandoning his home. "When it's coming down the driveway, then I'll go," he said.
"I think most people are going to stay as long as they can, until the lava gets right there and it starts burning," Schmidt told the Hawaii Herald-Tribune of Hilo. While they're "moving their stuff so they don't have to lose it, they can always move it back in," he said.
RELATED: What's Going on With the Hawaiian Lava Menace?
Oliveira sympathizes, but there's not much more direction he can provide.
"This is where we're at today, and we'll be probably for the next 24 hours watching as it approaches the first home," he said.
The leading edge of the lava flow was only 70 yards from the closest occupied residence, he said Tuesday afternoon, with a number of other structures farther down slope. The people who are renting it have already left.
"They were very positive," Oliveira said. "They went so far as to invite us into their home and see the view from their second floor, showing the great view of the advancing lava. [But] it's very sad, because they love where they live. There's definitely some mixed emotions."
"Up until now, there's always been hope that it would stop, that it's going to change direction, it's going to miss the community," Oliveira said. "But the minute it affects the first structure or home, it's going to become 'This is real, it's happening today,' and that's where I think we're going to see a lot of anxiety, a lot of fear, a lot of disappointment, a lot of despair."
Oliveira said he was "preparing for the wide range of emotions" when his members of team join the residents of the first house to actually burn — whichever one that turns out to be. They'll be there to "going through the process with them, making sure they're safe ... as well as what we call going through the grieving process."
Watching the final destruction is "closure for them," he said. "This is their home, for many generations of their families, and this is going to be a very difficult time for them."
SOCIAL
Mark Barger of NBC News contributed to this report.