As the number of coronavirus cases climb in New York City, one emergency room doctor in Queens, the hardest hit of the city's five boroughs, urged other hospitals on Friday to step in and take on some of the more stable patients, saying "it could save thousands of lives."
"We need it now," said the doctor, who spoke on the condition of anonymity. "This is getting worse and worse and worse."
"Transporting patients to other facilities would save thousands of lives if we can get them to places that have staff to care for them, beds and ventilators," the doctor said. "Given the volume and severity of disease, there is no way any institution could deal with this alone."
Full coverage of the coronavirus outbreak
As of Saturday morning, the number of coronavirus cases in the city had soared to more than 29,000, with over 517 deaths. Queens has seen the most cases, with more than 9,000, and the highest number of deaths, too — more than 120 as of Friday. Brooklyn has the next highest number of cases, 7,700 as of Saturday and more than 80 deaths as of Friday.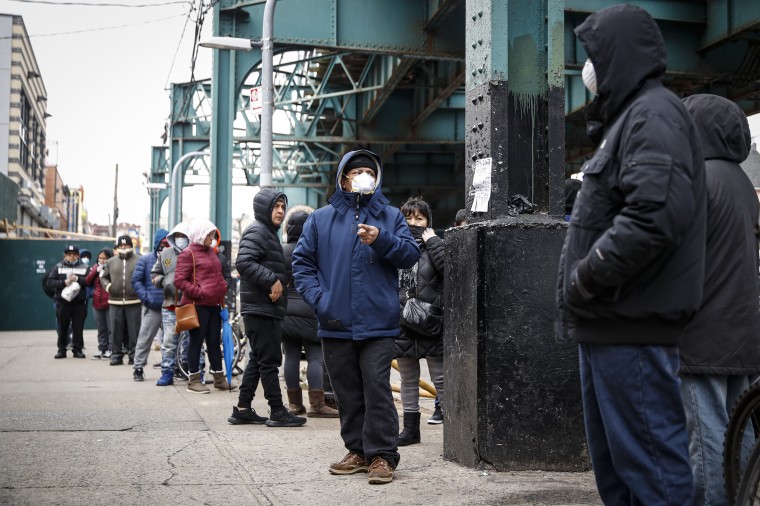 The U.S. Army Corps of Engineers was setting up a temporary field hospital at the Jacob K. Javits Convention Center in Manhattan.
On Friday morning, Gov. Andrew Cuomo asked the federal government to approve four additional field hospitals throughout the city.
"I want to have one for each borough," he said.
In the meantime, the Queens doctor said some patients who were more stable and did not need ventilators but still needed other forms of treatment should be transported to other hospitals.
"There's no staffing to care for so many people," the doctor said. "There's a window of time where we know they need to be admitted, they need oxygen, not ventilators so they're still stable to be transported."
Earlier this week, a high-ranking medical staffer at NewYork-Presbyterian Queens told The City, an online news outlet: "Our plan from a week ago is out the window. We need help."
"We're drowning here and it's getting worse by the day," the staffer said.
Outside Elmhurst Hospital Center, one of the most overwhelmed hospitals in Queens, some people on Thursday said they waited for hours in a line wearing masks to be tested for the virus.
Ignacio Ramirez told NBC News from a distance that he had waited five hours.
"I don't know what's going to happen," said Ramirez, who began feeling symptoms on Sunday.
"I have a fever, a terrible headache. It doesn't stop," he said. "I feel very weak. It's horrible."
Alicia Ramirez waited in line with her 15-year-old son so he could get tested.
"I'm really scared. I have a little boy at home, too, so I don't want none of them to get it," she said.
Inside Elmhurst, doctors have described overfilled waiting rooms, patients waiting six hours to be seen, others packed closely together on stretchers waiting 50 to 60 hours for a bed and doctors desperately trying to get more ventilators.
Doctors have said the facility has been overwhelmed for weeks as coronavirus cases continue to climb.
This week, 13 people died of the virus in one day.
Download the NBC News app for full coverage of the coronavirus outbreak
New York City Mayor Bill de Blasio asked President Donald Trump Friday afternoon to "keep Elmhurst hospital in mind" and that as the virus continues to spread "tomorrow it's going to be another hospital."
"The doctors and nurses at Elmhurst Hospital are giving it their all right now," the mayor said on Twitter earlier Friday. "We're laser-focused on keeping them supplied with what they need. Yesterday we sent more ventilators and staff. Today, we sent 8,000 N95 masks, 18,000 head covers and 2,000 booties. More is on the way."
NYC Health + Hospitals, the city's public hospital system, did not immediately respond to request for comment on transporting coronavirus patients to other hospitals.
The hospital system said in a previous statement to NBC News it was "working day and night to ensure that all our patients receive the care they need."
There were more than 1,000 ventilators across the system and NYC Health + Hospitals was receiving an additional 400 from the city's office of Emergency Management, it said.
The hospital system said it had "adequate supplies at the moment but are fully cognizant of the nationwide scarcity of resources" and that "reports of lack of personal protective equipment and ventilators in our system are false."
"The public health system is working with all local, state and federal agencies to ensure that resources are strategically allocated throughout to accommodate the surge caused by COVID-19," the hospital system said. "We are committed to our mission to care for all New Yorkers regardless of immigration status and ability to pay, and are focused on keeping all our patients and staff safe."
In a statement Wednesday, the hospital system said Elmhurst hospital was "at the center of this crisis, and it's the number one priority of our public hospital system right now."
"The front-line staff are going above and beyond in this crisis, and we continue surging supplies and personnel to this critical facility to keep pace with the crisis," it said.