ST. LOUIS — Kawanna Shannon walked into her staff meeting Friday morning not knowing if it would be the last day that the St. Louis Planned Parenthood she oversees would provide abortions.
Before the office opened that morning, she stood in front of her 15 employees huddled together in a tight nook of the clinic's waiting room and urged them to have faith that the facility would continue to serve patients amid an unsettled court battle with the state.
"Just try to keep hope up," she told the employees, who were anxious that the facility — the last abortion clinic in Missouri — would at midnight Friday lose its license to perform the procedure.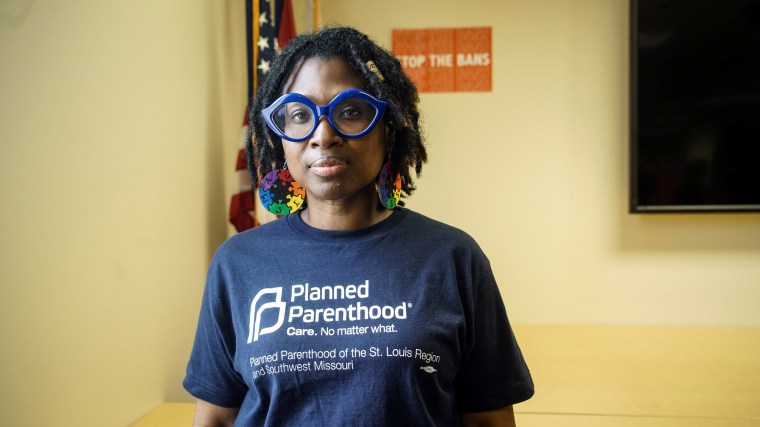 The facility's license to provide abortions was set to lapse because the Missouri health department has refused to renew it over what it says are a variety of patient safety concerns. Planned Parenthood sued, asking for a restraining order.
Shannon braced her nervous staff for either outcome.
"They're worried, but they're optimistic," she said. "But we're open today, and we're seeing patients today. We're not stopping what we're doing," she told NBC News inside the the Planned Parenthood center just hours before the judge handed down a decision. "I'm going to be waiting, hoping, praying."
The decision came down about 2 p.m. with the judge granting a restraining order that keeps the center open until at least Tuesday, when there is a court hearing.
Hope and prayer also sustained dozens of abortion-rights opponents who lined up outside the clinic in the hours before the court decision.
"We will keep praying abortion will end because God will win," said activist Rita Frances Ward, 67, as she squeezed a thin maroon rosary in one hand while holding a handmade sign in the other. "God chose today."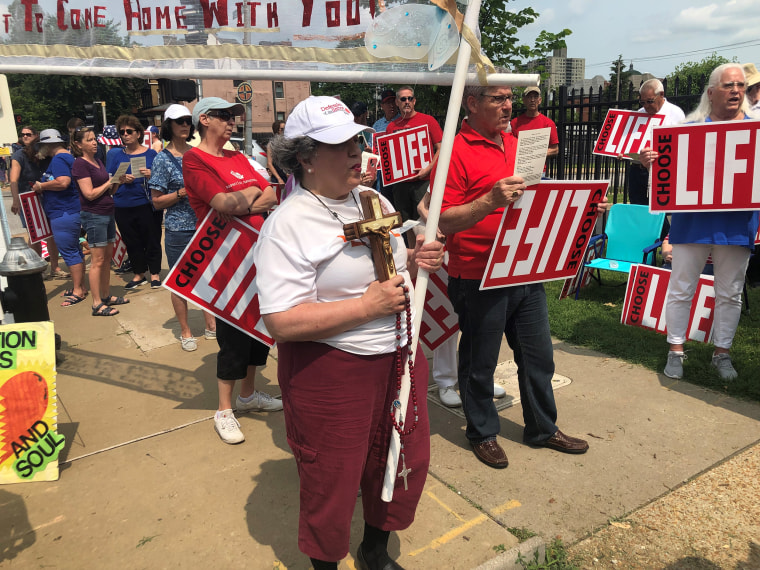 The anti-abortion activists sang gospel songs and paced outside the clinic for hours, waiving large banners with biblical passages.
"Missouri is the 'Show Me State,' and we will show the rest of the nation that we are pro-life and we will always do what is best for a mother and what is best for a baby," said Mary Maschmeier, 69, the founder of Missouri- based Defenders of the Unborn.
The protesters against abortion said they became emboldened last week after Missouri Gov. Mike Parson signed a bill that criminalizes abortions in the state after eight weeks of pregnancy.
Maschmeier said she "applauds" the governor's move, which she said "took a lot of courage."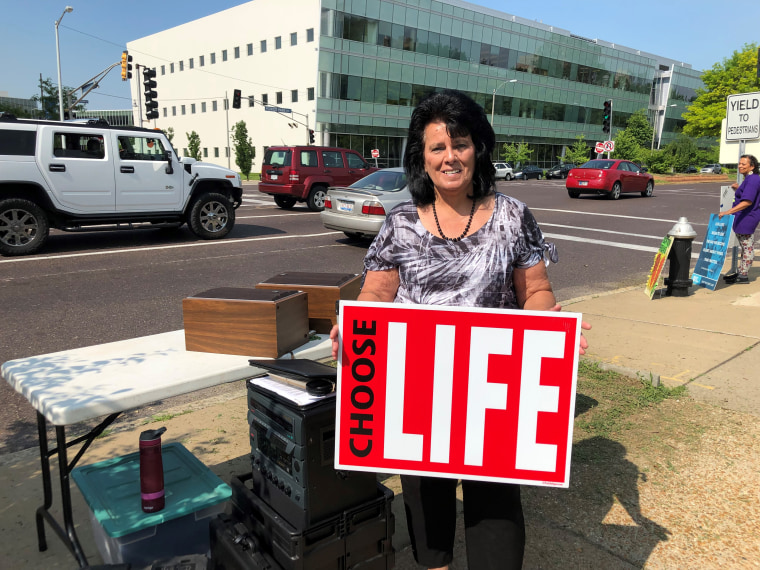 Mike Bosely, 64, a fellow anti-abortion protester agreed. "The governor has set the tone, and the courts will follow," he said, holding a bright red sign that read "CHOOSE LIFE."
But abortion rights advocates said the prospect of Missouri losing its only abortion clinic is frightening.
Mary Kuc, 64, a social worker, said that the time before the landmark Roe v. Wade decision "was scary for women."
"It's like we're going back in time, and that bothers me because if this happens in Missouri it can happen in other states," Kuc said.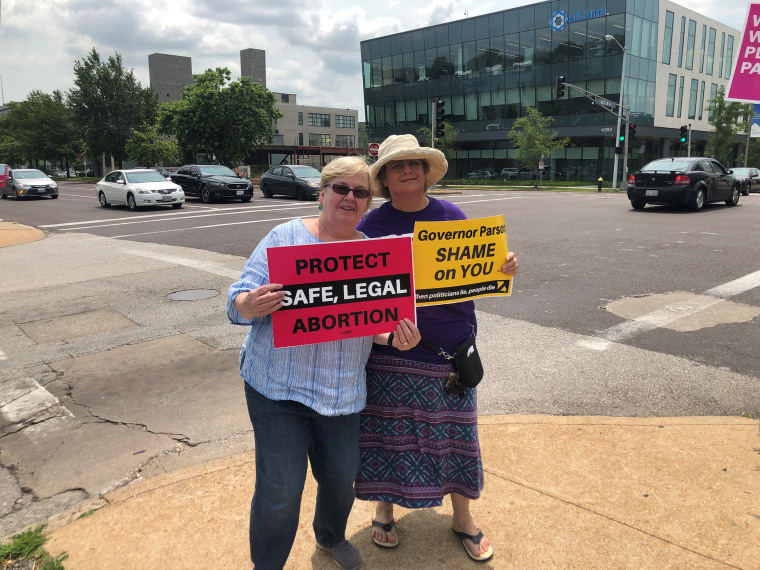 After the judge's ruling keeping the clinic open for now, abortion-rights advocates in the crowd outside celebrated with hugs and cheers, as did several clinic staff who stood on a balcony of the Planned Parenthood building wearing the organization's signature pink t-shirts.
The clinic dropped a billboard-sized banner across the side of the building that read "Still Here."
But the court's decision did not not settle any substantive issue or rule on the allegations made by the state's health department, which both sides seized on as reason to hope for the next round in court.
"It's a sad day for the state of Missouri today, but we will keep fighting," said Jim Ward, 70, who opposes abortion rights, calling Friday's ruling a temporary setback. "This is far from over."
M'Evie Mead, director of policy and organizing for Planned Parenthood Advocates in Missouri, said, "Today we celebrate, but tomorrow we go back to work fighting for our right to safe, legal abortion in this state. While the legal battle is not over yet, this ruling means that abortion services will continue in Missouri for the time being."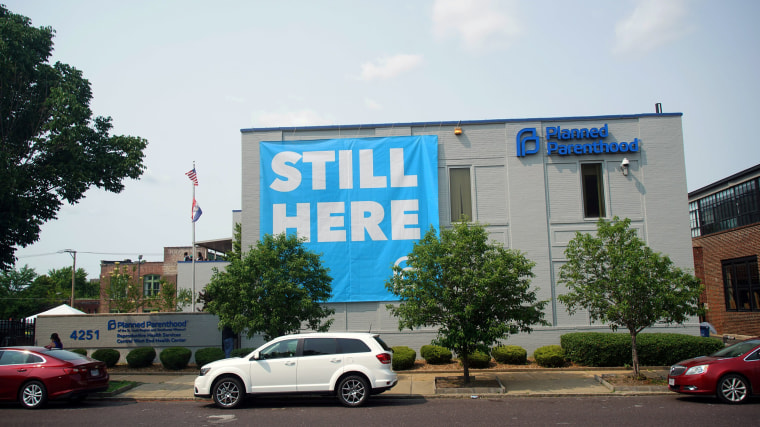 For now, Shannon can can provide some comfort to her staff who can at least until Tuesday operate as business as usual.
"We'll have to dust ourselves off and figure out what the fight will be next because it will definitely continue to be a fight," she said. "But for now, we are still open."