NEW YORK — The sight of Dion Cini set off a wave of boos, expletives and snarling. Strangers screamed at him. They called him a racist, a bigot and an idiot. One woman said he was a "threat to democracy" and another followed him for blocks yelling "Shame! Shame! Shame!"
"You're on the wrong side of history!" a voice bellowed from the crowd as a young, rakish man thrust his middle finger just inches from Cini's face.
"Loser!" Cini not only expected this response when he showed up at an anti-Donald Trump rally on Monday afternoon — he was courting it.
"I'm a one-man protest rally for my president, Donald Trump," Cini, 48, said from beneath a pair of dark shades and a "Make America Great Again" visor, a huge, billowing blue flag with the name TRUMP emblazoned on it in his hand.
"Most of the time, I don't have to say a word and this is what happens," he said.
Cini said he's an Iraq War veteran who lives just a couple blocks from Trump Tower and is a member of the Upper West Side Conservative Club.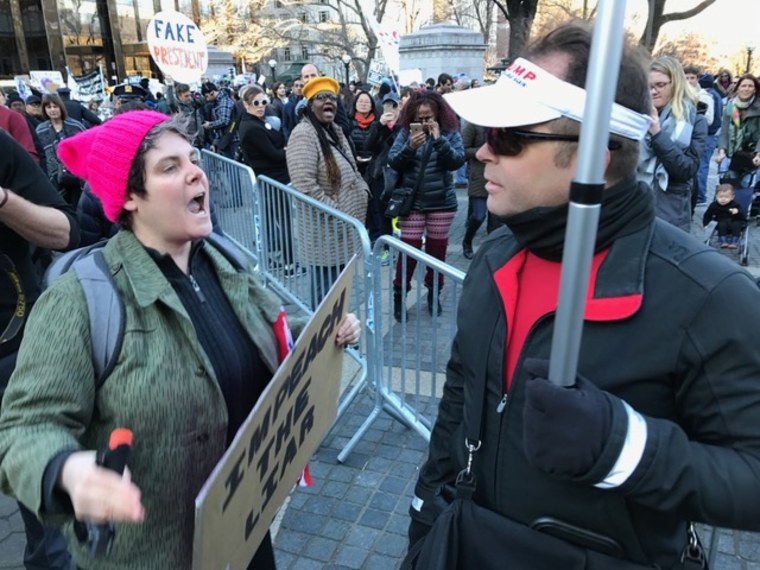 He said he's showed up at all of the major anti-Trump protests in New York, and each time it's the same: He shows up and makes a quiet, yet dramatic entrance with his big Trump flag and watches the crowd get whipped into a frenzy as his flag whips in the wind.
"They really gave it to me a couple times," Cini said. "A couple guys punched and kicked me in Union Square. I was chased up the block once. But you know what? Give me liberty or give me death."
The Presidents Day protest in New York was peaceful, despite the verbal hostility hurled at Cini, who seemed to enjoy the spectacle he created.
The rally, held on the lower west end of Central Park, drew thousands of people from a wide cross-section of progressives mostly, folks who see Trump's ascendance and his policies as threats to racial minorities, Muslims, the LGBTQ community and immigrants.
They carried signs that read "Love Not Hate Makes America Great" and "RESIST" and "Not My President." The protesters joined tens of thousands of other protesters across the country for a #NotMyPresidentsDay, the latest in an unrelenting series of national protests aimed at Trump and his turbulent, month-old presidency.
The past week alone, there was a well-coordinated "Day Without Immigrants," which saw rallies and marches nationwide. There was a "General Strike" in more than 100 cities. And on Saturday, protesters rallied outside a Trump rally in Florida, a day before thousands attended a Muslim solidarity rally Sunday in New York.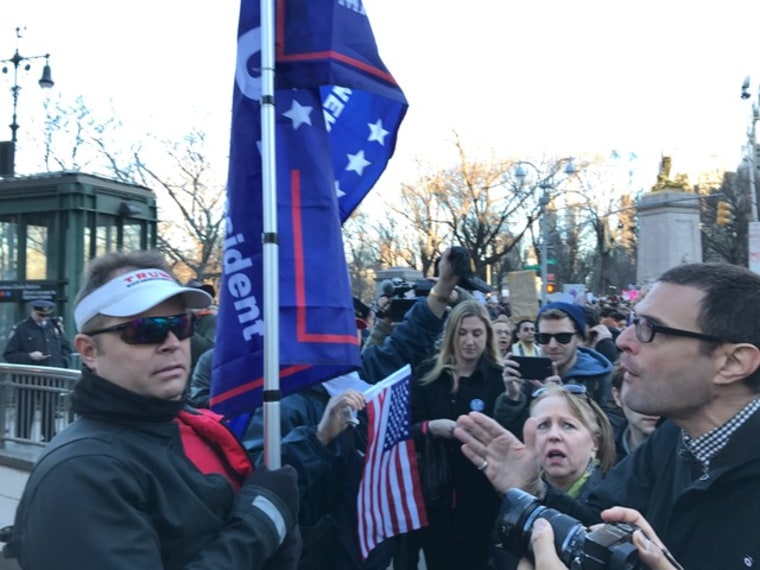 There hasn't been a weekend since Trump's inauguration that hasn't seen a protest somewhere in America, and more are being planned in the coming days and weeks.
Monday's rallies were held in more than two dozen cities, including Atlanta, Chicago and Los Angeles.
Back in New York, Cini, a self-described "ultra-conservative" and "constitutionalist," said he's not so much a fan of Trump's as he is a fan of what Trump he stands for.
Cini said he has supported Trump for president since the earliest days of the campaign — before, actually, when the idea of a presidential run was first floated around 2012. Even after most political pundits and polls predicted Trump would lose to Hillary Clinton, Cini saw the error in their thinking.
In a Facebook post the day before the election, Cini forecast victory:
Cini said he views the response he gets from anti-Trump protesters as proof that liberals are trying to "spark the end of civilization."
"It makes me feel like I'm back in Iraq," he said, "surrounded by enemies."
When pressed about the comparison of peaceful protesters to enemy combatants, Cini backed away, but he insisted that the hostility he gets from strangers simply for supporting the president is telling. And he said there are more people who think just like him, who see Trump as a political paradigm shift yanking the Republican Party and the country back to the far right.
He lamented that the Republican Party of today "is more liberal than Bill Clinton," which leaves the United States with "liberalism and nothing else." But he said he's heartened by the fact that there "are more people who think like me in New York City than you think."
Cini said most Trump supporters are just scared to out themselves, out of fear of judgment or of being physically assaulted. He said he's winced every time he's seen a pro-Trump supporter leave a rally and remove his or her "Make America Great Again" hat across the street.
"It's like they're hiding," Cini said.
In one heated discussion with a protester Monday, the anti-Trump protesters pointed to a black man, a Muslim woman and a group of Asians and asked Cini whether they all had a place in Trump's America.
Cini shrugged off the insinuation without blinking.
"You support a bigot, and you all are a dying breed!" a woman shouted out.
"But we won," Cini said, smiling at the angry crowd that had gathered around him. "We won."