A day after the testimony of a Harvey Weinstein accuser was cut short because of what she said was a panic attack, the woman, who has alleged that the disgraced film producer raped her twice, faced another line of high-stakes questioning Tuesday during his criminal trial.
Weinstein's defense attorneys picked up where they left off Monday, discussing a letter that Jessica Mann, a former aspiring actress, wrote in 2014 to her then-boyfriend, identified as Eddie, in which she described her relationship with Weinstein. She said that although he was controlling, he validated her in ways her parents never did.
Mann, 34, was mostly poised as defense attorney Donna Rotunno continued her cross-examination in Manhattan Criminal Court, asking her why she never told Eddie that Weinstein had sexually assaulted her.
Mann, who had entered the New York courtroom squeezing an orange stress ball in her hand, said she "couldn't talk to Eddie."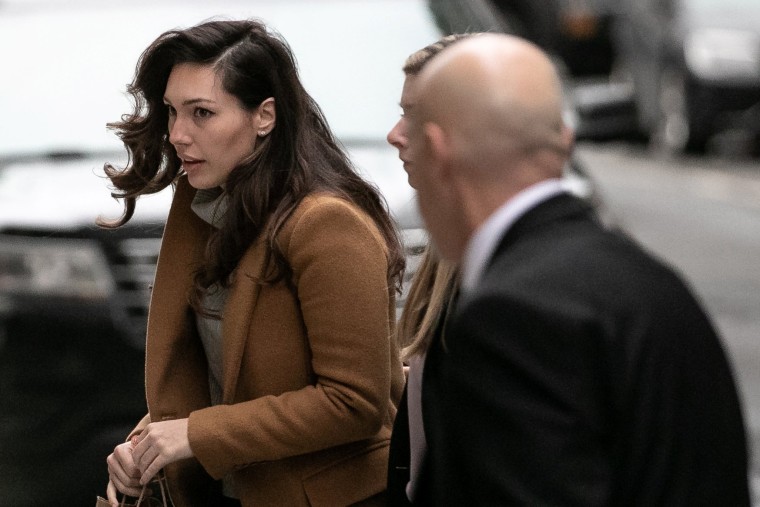 Rotunno also brought up emails Mann had written to Relationship Reinvented, a website that offers life coaching.
"You didn't tell Relationship Reinvented that Harvey Weinstein raped you?" Rotunno asked.
"All I said was it was in my community," Mann said, referring to Hollywood.
When Rotunno described a 2016 email in which, after meeting Weinstein at a Los Angeles hotel, Mann wrote to him, "THANK YOU SO MUCH! i feel so fabulous and beautiful thank you for everything," she asked Mann why she would take favors from "your rapist."
Mann was emphatic in her response: "I want this jury to know he's my rapist."
Mann's testimony, a pivotal point in the trial, has underscored the prosecution's attempts to show that Weinstein used his position to prey on women, forcing them into unwanted sexual encounters and threatening to ruin their careers if they didn't abide by his wishes.
Mann is one of two women whose sexual assault claims against Weinstein, 67, are at the heart of the indictment that prosecutors in New York have built their case on. The other woman, Mimi Haley, a former "Project Runway" production assistant, testified earlier that he performed forcible oral sex on her in 2006.
Weinstein, who faces life in prison, has pleaded not guilty and has denied all allegations of nonconsensual sex.
Download the NBC News app for breaking news
Other women have been called in to testify to help bolster the prosecution's allegations of a pattern of predatory behavior. They include "Sopranos" actress Annabella Sciorra, who claimed Weinstein raped her about 27 years ago, and model Tarale Wulff, who testified that he raped her at his Manhattan apartment in 2005 after having lured her there with talk of a movie audition.
Mann first testified Friday that she met Weinstein at a party in the Hollywood Hills neighborhood of Los Angeles in 2012 or 2013. She cried when she said he raped her in a New York hotel room in 2013 and alleged another rape at The Peninsula Beverly Hills hotel in Los Angeles, when, she said, he learned that she was dating someone, became enraged and then ripped her pants and got on top of her to force sex.
She said he also persuaded her to engage in threesomes, one of which she said left her emotionally shaken.
The trial began Tuesday with the Italian actress Emanuela Postacchini testifying to confirm the threesome with Weinstein and Mann at a Los Angeles hotel in February 2013. She said that while she never wanted to have sex with Weinstein, she relented because she felt pressured.
Postacchini said that as Weinstein initiated the encounter, "Jessica left the room crying."
"I ran after her," Postacchini said. "She was crying in the fetal position on the ground, crying, so I just tried to tell her ... tried to calm her down."
In cross-examination, defense attorney Damon Cheronis asked Postacchini whether she or Mann were forced into the situation. She responded, "No, no he didn't, he didn't force me."
Cheronis said that even after the incident, Postacchini went on to ask Weinstein in an email whether he could help her get cast in a Netflix series he was producing, "Marco Polo."
Postacchini testified that she was also subject to Weinstein's harassment and that when she was supposed to meet him for a brunch meeting, he showed up in a bathrobe.
"He was naked and asked for a massage," she said.
The defense later questioned Mann for a third day. Rotunno laid out through emails how Mann continued to keep in contact with Weinstein, getting herself invited to Academy Award parties and other events, and asking for his help to join the members-only club Soho House in Los Angeles.
"You traded on that friendship and you used him?" Rotunno asked.
"Knowing him can open doors," Mann said, "and people want to get to him through you, so yes."
Mann said she would meet with Weinstein at a Los Angeles hotel over the years. At one point, she testified, she caught him trying to record video of the two of them on his cellphone.
"I freaked out," she said.
Mann finished her testimony describing her mental health, saying she engaged in self-harm and contemplated suicide.
"Have you had anger issues?" Rotunno asked.
"Yes, I'm angry," Mann said. "Are you my psychiatrist?"
At times during Mann's testimony Monday, Weinstein appeared to be sleeping, closing his eyes and drooping his head. On Tuesday, he appeared more attentive, speaking to one of his attorneys, but he then began dozing off.
Weinstein, known for producing hits such as "Good Will Hunting" and "Shakespeare in Love," also faces a sex crimes case in Los Angeles, where he is charged with raping a woman and sexually assaulting another in separate incidents on two consecutive days in 2013. He has not formally entered a plea in California.