LOS ANGELES — The Weinstein Company would struggle to move forward even if its only problem was the trail of ill will left by its founder, Harvey Weinstein, who was fired this week after multiple accusations of sexual harassment.
But the once-towering entertainment company has other huge challenges. Even before the scandal, it was viewed in Hollywood as short on financial firepower and clout, in an industry tilting toward new media competitors.
The company that gained renown and, occasionally, handsome financial returns with films like "Silver Linings Playbook," "Inglourious Basterds" and "The Imitation Game" has not been a serious competitor at Sundance and other film festivals where it once bagged the most sought-after projects.
Founded by Weinstein and his brother, Bob, the company in recent years has found more success in its television unit. But, even there, it has suffered. Its marquee series, "Marco Polo," was promoted by Harvey Weinstein as "one of the most expensive shows ever done for pay TV," only to be canceled by Netflix after less than two years. And Netflix is known for how seldom it kills its original programs.
When the Weinsteins went hunting 19 months ago for a new infusion of cash by seeking a major new investor in its TV business, they couldn't land a new partner. The industry viewed the TV operation — with an asking price reportedly as high as $900 million — as grossly overpriced.
Related: Lauren Sivan Says Harvey Weinstein Ordered Her to 'Be Quiet' as He Exposed Himself
People close to the company said they believe that Bob Weinstein and David Glasser, the company's chief operating officer, can find a way to stabilize the operation. Already on Tuesday, the company moved to take Harvey Weinstein's name off of its television programs. And there was talk that the company itself would move quickly to change its name.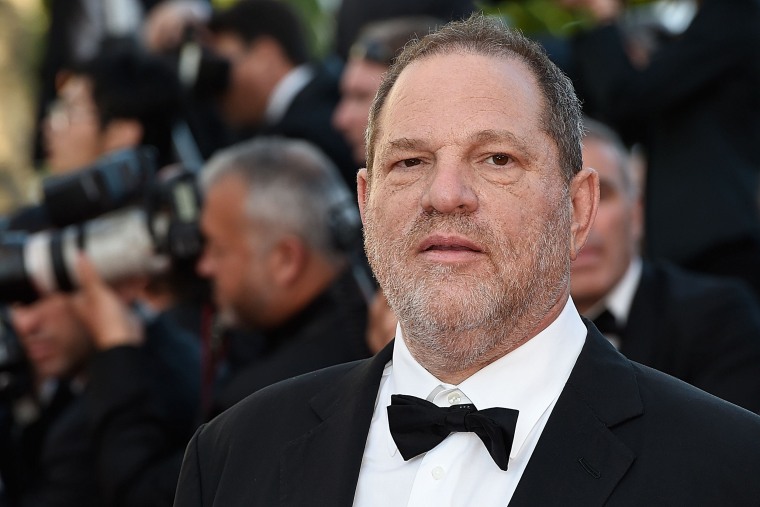 "You hope that David Glasser and Bob Weinstein have the skills and that this company is deeper than Harvey," said one public relations executive, who has worked with the company and asked to remain anonymous because of his relationships there. "This is when you will find out if the company is built on just one man."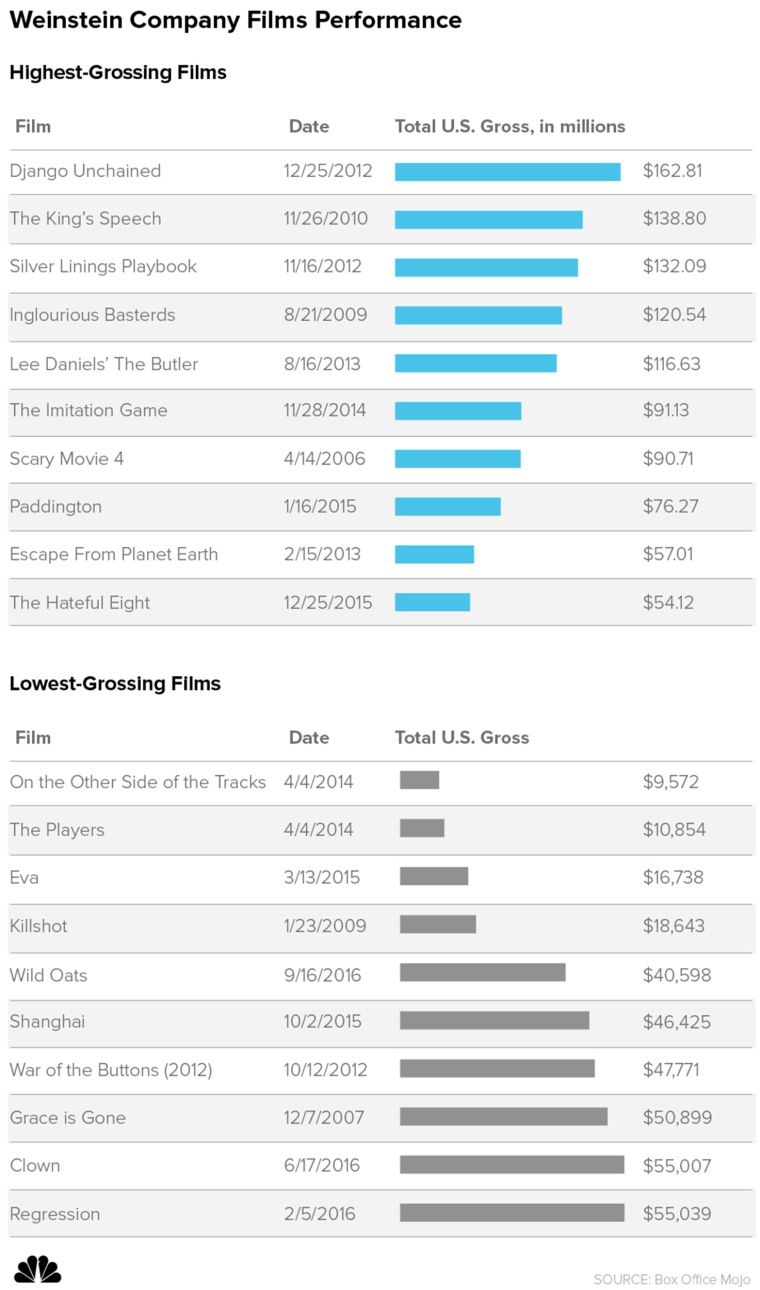 The challenges became considerably steeper after The New York Times reported last Thursday that Harvey Weinstein, the entertainment company's most visible figure, had been accused of sexually harassing women, both inside and outside of his company, over nearly three decades. At least eight of the cases ended in legal settlements with the women, according to the Times.
The report threw the company into tumult, with Weinstein first announcing he would take a leave of absence, as he alternately appeared to be fighting and contesting the allegations. Before the company board fired the founder on Sunday, three of its directors resigned.
Related: Hollywood Mogul Harvey Weinstein Fired Amid Sexual Harassment Allegations
Weinstein and his reputation appeared to still be under siege this week. A television newswoman told NBC News that he had once cornered her in a closed New York restaurant and masturbated in front of her. And The New Yorker magazine reportedly is on the verge of publishing its own story, with accounts of more sexually charged misbehavior.
The wall of silence that once greeted claims of bad acts by Weinstein appeared to be cracking, at least a little. Meryl Streep deemed herself "appalled" at the "disgraceful" news. Kevin Smith, producer of "Clerks," tweeted: "He financed the first 14 years of my career — and now I know while I was profiting, others were in terrible pain. It makes me feel ashamed." Actor-director Seth Rogen praised the bravery of the women who broke the silence surrounding Weinstein's behavior.
Others close to the company acknowledged its challenges to move beyond the sex scandal, but said its assets should not be underestimated. The Weinstein Co. has six films "in the can" — completed and ready for theatrical distribution this year, including a sequel to its earlier hit, "Paddington," the 2015 animated take on the beloved stuffed bear, which brought in $268 million worldwide.
There have been internal discussions about how to reorganize the Weinstein Co. "There is still a viable company there, without Harvey," said one person close to the company, who asked not to be named, discussing information that had been conveyed in confidence.
The Hollywood Reporter published an article Tuesday saying that as the board moved to fire him, Weinstein pleaded with executives in the industry to rally to his cause. "I am desperate for your help," Weinstein said in an email, according to the report, as he pleaded for the power brokers to write letters to the Weinstein board.
Even before the earthquake caused by The New York Times report — which detailed harassment targeting actresses Ashley Judd, Rose McGowan and others — the Weinstein organization was badly in need of a victory.
In 2016, the company brought in a total box-office amount of just $64 million, dragged down by the poor showing of the western "Jane Got a Gun," the British musical "Sing Street," and the fight flick "Hands of Stone." Its best hope for a financial win — director Quentin Tarantino's "The Hateful Eight" — made $155 million worldwide. But that was not enough to realize a significant profit, given the film's $44 million cost and sizable marketing budget.
Unlike the big studios, which rely on steady cash flow from older films that are replayed on television, the internet and other media, the Weinstein Co. can't fall back on a film library. It sold those rights, with one chunk ending up with AMC Networks in 2015 and another share held by the insurance company Assured Guaranty Ltd.
In an earlier incarnation, the Weinsteins' Miramax Co. cut a wide enough swath that it was bought out by the Disney Co. in 1993 for $60 million. But Disney sold Miramax in 2010, saying it wanted to focus on its core brand. The brothers began again in 2005 with their eponymous venture, but it has strained to pay off for investors, like the giant British advertising agency WPP, according to Hollywood investment experts.
The company cannot match the financial heft of Netflix, Amazon, Hulu or other digital competitors that have been investing heavily in film and other video content for their online services.
Related: Democrats Rushing to Give Weinstein Donations to Charity
The Weinstein Co. moved to slash its slate of films in 2015 and also laid off about 40 of its 200 staffers. And it felt increasingly crowded by director-friendly independent companies that no longer saw Weinstein as the only backer of artistically minded films. Among the new competitors are A24, maker of acclaimed movies like "Room" and "Ex Machina," and Megan Ellison's Annapurna Pictures, the company behind award-winning films like "Foxcatcher," "American Hustle" and "Zero Dark Thirty."
Jonathan Taplin, a professor emeritus at the University of Southern California's Annenberg School for Communication and Journalism, has followed Weinstein's career closely. (Their acquaintance became particularly memorable after Weinstein physically accosted Taplin, a some-time film producer, at the 1996 Sundance Film Festival, according to multiple reports.)
"The life of any of the independents today is very tough, given the amount of cash that Amazon and Netflix and the others have to throw around," said Taplin, author of "Move Fast and Break Things," about the growing power of the internet giants. "It's a real tough road, with Harvey or without him."
James Rainey reported from Los Angeles, and Claire Atkinson from New York.