A juror in the Harvey Weinstein rape case said she hoped the women who testified can "move forward" with their lives after the landmark #MeToo-era trial that saw the once-powerful Hollywood mogul convicted of third-degree rape and criminal sexual act in the first degree.
"Every last woman that took the stand, I wish them the best," the woman, who was identified only as juror No. 2, told Inside Edition. "I hope this is now a chapter that they can close and move forward with their lives now."
NBC News is not aware of the terms of the juror's interview with Inside Edition.
Weinstein, 67, whose alleged pattern of sexual abuse fueled the #MeToo movement, was convicted Monday of third-degree rape of Jessica Mann, a former aspiring actress, as well as a count of criminal sexual act in the first degree against Mimi Haley, a former "Project Runway" production assistant.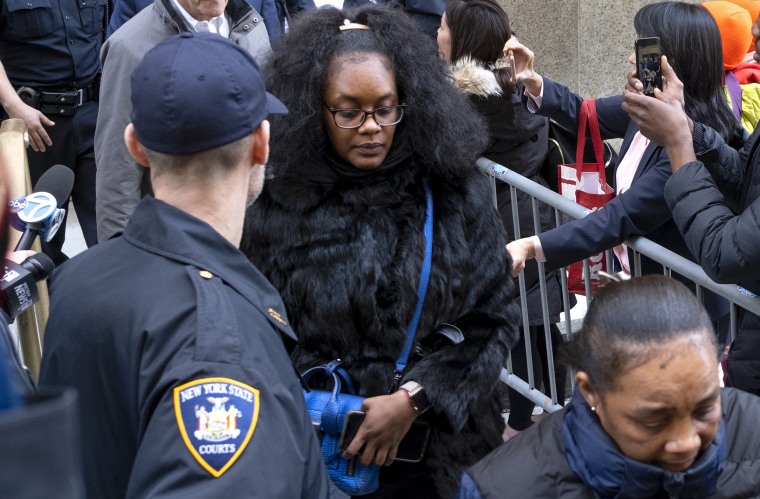 But the jury found him not guilty on two counts of predatory sexual assault, which each carried a sentence of up to life in prison. For those charges, jurors had to consider the testimony of the actress Annabella Sciorra, who has accused Weinstein of raping her in the early 1990s. He was also acquitted on a count of first-degree rape of Mann.
Although Weinstein was ultimately acquitted of those charges, the juror said she hoped the "Sopranos" actress would find closure.
She added that "a lot of the jurors" found Sciorra's testimony convincing.
"I feel like the way things went for her, it was wrong," she said. "I just feel like, hopefully with the verdict that we gave, she feels and she has some type of closure."
Weinstein has denied all allegations of nonconsensual sex and pleaded not guilty at the trial. His attorneys have said they would file an appeal.
The woman was one of a 12-person jury made up of seven men and five women. It delivered its verdict after deliberating for five days and indicating last week that it was deadlocked on the two most serious counts against Weinstein. The judge asked the jurors to continue deliberations and said if it couldn't reach a unanimous decision, then it couldn't return a verdict on the two counts of predatory sexual assault.
The juror described the moment they all came to a decision.
"My hands were sweating. I felt like my heart was literally going to pop out of my chest," she said. "It was just, I wouldn't say nerve-wracking, but it was just, like this is it, this is the moment."
Weinstein faces up to 29 years in prison and is set to be sentenced March 11. He faces another rape and sexual assault trial in Los Angeles. He has not yet entered a plea in that case but he has denied all accusations of nonconsensual sexual activity.
CORRECTION (Feb. 26, 2020, 2:20 p.m.): An earlier version of this article misstated the charges on which Weinstein was convicted. He was convicted of rape and a criminal sexual act, not sexual assault.