WILLIAMSON, West Virginia — The deadly math in this struggling but proud West Virginia town breaks down like this: For over a decade, two pharmacies just four blocks apart dispensed some 20.8 million prescription painkillers in a town of just 3,191 residents.
That's more than 6,500 prescription painkillers per person in this coal-mining town that sits just across the Tug Fork River from Kentucky.
Those jarring figures were released this week by the congressional committee investigating the epidemic that has ravaged the Rust Belt — and the two regional drug wholesalers, Miami-Luken and H.D. Smith, that are accused of swamping Williamson with millions of highly addictive opioid pills.
The doctors and drug wholesalers are "making a fortune off of our downfall, you know," recovering addict Wes Thomasson told NBC News on Thursday at a Williamson treatment center.
"If you're trying to figure out how to get rid of the epidemic, trying to figure out how to resolve the problem, start with the prescription," he said.
That's exactly what the House Energy and Commerce Committee is doing.
"These numbers are outrageous, and we will get to the bottom of how this destruction was able to be unleashed across West Virginia," the committee chairman, Rep. Greg Walden, R-Ore., and ranking member, Rep. Frank Pallone, D-N.J., vowed in a joint statement.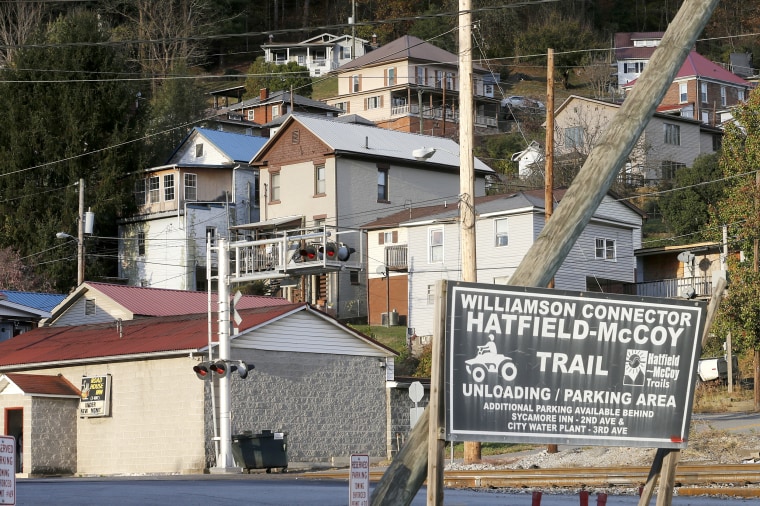 Last year there were 13 fatal drug overdoses in Mingo County, of which Williamson is the county seat, and 711 deaths from drugs in the 54 other counties that make up the state, according to the West Virginia Health Statistics Center.
Other recovering addicts, like Deiara Warrix and Mindy Leffe, said that Williamson feels awash with opioids.
"If you want it you can get it," Warrix said. "You go to the pharmacy and you get five prescriptions of it."
She added, "It's just not right, really."
Attorney Mike Troy, who represents Williamson and Mingo County in its legal battle with drug wholesalers, said even he was taken aback by the sheer number of painkillers in the town.
"You can't live and breathe and not be shocked by the numbers," Troy said. "But you also can't live in these communities and really be all that amazed when you see how it touches every family, you know? I mean, there's none of us that don't have a family member who's addicted, in treatment, and homeless. It's just all-consuming in these communities."
Lawmakers have sent letters to Miami-Luken and H.D. Smith demanding to know why millions of hydrocodone and oxycodone pills were sent from 2006 to 2016 to "five pharmacies in particular" in four tiny West Virginia towns that have a total population of about 22,000.
Two of those pharmacies are in Williamson — Tug Valley Pharmacy and the Hurley Drug Company.
During the decade in question, each was shipped more than 10 million hydrocodone and oxycodone pills, the letters to the drug wholesalers revealed.
Among other things, the lawmakers are seeking to find out whether the drug wholesalers used "any analytic tools" to determine whether the amount of pills they were shipping to the drug stores "was appropriate for a town of 3,191 in a rural region of West Virginia."
In the letter to Miami-Luken, they asked whether the company made any attempt "to understand why the number of pills that it sent to Tug Valley Pharmacy increased by over 350 percent over a single year period from 2008 to 2009."
In the letter to H.D. Smith president J. Christopher Smith, the lawmakers asked why the company supplied the two Williamson pharmacies with "39,000 hydrocodone pills over a two-day period in October 2007."
"If so, were any red flags raised about potentially suspicious orders, and were any suspicious order reports submitted to the DEA?" they wrote.
Both companies were given until Feb. 9 to answer their questions.
Richard Blake, a lawyer for Miami-Luken, said they are in the process of crafting a response.
"We're cooperating with the committee, we continue to cooperate with the committee," Blake said.
There was no immediate response from H.D. Smith to a request for comment.
Tug Valley Pharmacy declined to comment for this story but the Hurley Drug Company called the congressional letters "misleading." The owner said the family-run business served not just Williamson but also the large surrounding area and insisted that its employees only filled legal prescriptions.
In 2016, West Virginia had the nation's highest fatal drug overdose rate with 52 per 100,000 people, far out pacing Ohio, which had 39.1 fatalities per 100,000 people, according to the federal Centers for Disease Control and Prevention.
West Virginia was also one of the states with the highest rates of opioid prescriptions, according to the CDC.
Gutierrez and Reiss reported from Williamson, West Virginia. Siemaszko reported from New York City.