Elizabeth Warren and other senators on a banking committee will have the chance to drill the head of Wells Fargo next week over a million illegal accounts opened for customers without their knowledge, both sides said Tuesday.
Wells Fargo Chairman and CEO John G. Stumpf accepted an invitation to testify before the Senate Committee on Banking, Housing, and Urban Affairs at a Sept. 20 hearing.
The bank was fined a total of $185 million by California and federal regulators last week and around 5,300 employees were fired after it was discovered workers illegally opened unauthorized accounts in order to meet sales goals.
Related: What's Next for Wells Fargo Customers and Investors?
Warren in an interview Tuesday signaled that she wanted answers from Stumpf.
"If they knew then they need to be held accountable. And if they didn't know, then they also need to be held accountable," Warren, D-Mass., said.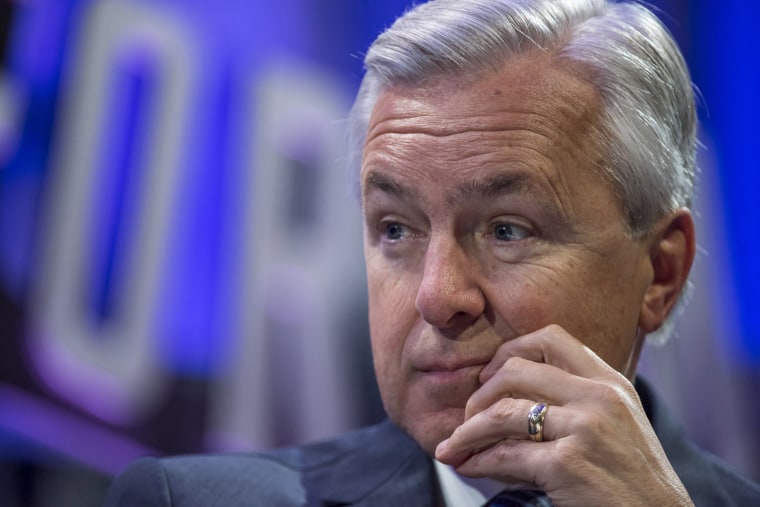 The Senate committee hearing is titled "An Examination of Wells Fargo's Unauthorized Accounts and the Regulatory Response."
U.S. Comptroller of the Currency Tom Curry and Richard Cordray, director of the U.S. Consumer Financial Protection Bureau, are also scheduled to testify.
Stumpf on CNBC Tuesday said he regretted the unauthorized accounts, and denied there was a problem with the culture at the bank.
"We deeply regret any situation where a customer got a product they did not request," Stumpf said. "There is nothing in our culture, nothing in our vision and values that would support that."
Related: Wells Fargo Hit With Record $185M Fine, Fires 5,300
Stumpf told CNBC he wasn't sure what kind of reception he'll get fro the committee, which is majority Republican.
"But I will show up there next Tuesday, and I'm looking forward — or I surely are gonna be prepared to answer their questions," he said.
"When we don't meet our goals with 100 percent right, I'm accountable," Stumpf added. "And I'm leading this company and leading it forward through this."