Residents of an Indiana housing complex are scrambling to find new homes after dangerously high levels of lead were found in the soil and the mayor proposed demolishing the 44-year-old development.
But as the 1,100 tenants of the condemned West Calumet Housing Complex were looking for an exit, an attorney representing some of the soon-to-be-displaced families said federal, state and city officials in East Chicago, Indiana, have known for years that residents were living atop a ticking environmental time bomb.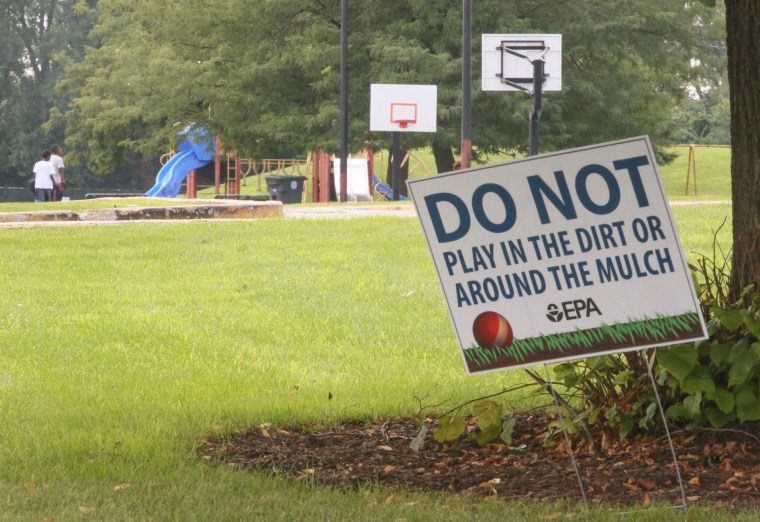 "The tragedy is that this could have all been avoided," attorney Barry Rooth told NBC News. He said 85 of the children he represents have been diagnosed with unsafe lead levels. "We've had at least seven years of lead exposure to a whole generation of children."
Two-thirds of the tenants in the complex, which was built in 1972 on the site of the defunct former Anaconda Lead Product smelting operation, are children, Rooth added.
Parents weren't told until last month that the soil their kids played on had up to 30 times more lead than is considered safe — not to mention hazardous levels of arsenic, too, he said.
Related: CDC Confirms Flint Lead Levels Shot Up After Water Switch
Rooth likened what is happening in East Chicago to the crisis in Flint, Michigan, where officials failed to inform the public there were unsafe levels of lead in the drinking water and thousands of children were exposed.
"Common sense morality tells you that you shouldn't be renting apartments to people in a complex where there are dangerously high levels of lead," said Rooth. "They were renting properties the whole time."
There was no immediate response from Mayor Anthony Copeland's office to an email sent by NBC with specific questions about how he and city officials have handled the crisis. But city attorney Carla Morgan released a June 16 letter the mayor sent to Robert Kaplan, the U.S. Environmental Protection Agency's acting regional administrator for the Great Lakes region.
In it, Copeland asked for the "immediate relocation of all residents currently living in the West Calumet Housing Complex" and said he would clear his schedule to meet with Kaplan.
"We are in dire need of EPA's swift and comprehensive response to this immediate and substantial threat to our residents health and safety," it said. "Absent an immediate plan on the part of the EPA to protect our residents and community, I have no choice but to immediately notify the residents of the danger and to relocate the residents for their own protection."
Related: Lead Rules Provide Only an Illusion of Safety
In a July 16 letter to EPA Administrator Gina McCarthy, Copeland referenced the Flint fiasco.
"I find it compelling that the American people, in their compassion can send Flint bottled water, but it's unfortunate that they can't send residents of West Calumet potted soil to protect them from the extremely high, unprecedented levels of lead contamination around their homes," he wrote.
President Obama was cc'd on that letter.
Rooth said Copeland ordered the demolition after the EPA announced in June that it would soon begin removing contaminated soil from the complex.
Tenants first got wind of Copeland's plans when the East Chicago Housing Authority posted on its website on July 27 its intention to demolish all 346 units.
Asked why Copeland decided to suddenly demolish the complex while the EPA was in the process of laying down mulch over bare soil as a barrier against the lead, Rooth said, "I don't know."
The tenants contend that Copeland failed to notify them of the contamination until July and made no mention of an EPA proposal back in July 2012 to clean up the complex.
Related: Flint Water Crisis Wasn't the First, Won't be the Last
Located just across the Indiana border from Chicago on the south end of Lake Michigan, East Chicago is a gritty industrial town. West Calumet is located in a 79-acre section that records show was declared an EPA Superfund site in 2009.
Kaplan insisted his agency has kept residents in the loop from the very start.
When they formulated a plan in 2012 to begin doing lead abatement this summer by replacing the top two feet of topsoil they notified the tenants and the city as well. "We got no comment on the consent decree from the city," Kaplan told NBC News.
Then in May, Kaplan said, they were surprised when their most recent samples detected elevated lead levels. He said he suspects it's because the samplers tapped slag piles that earlier sample-takers missed, including the federal Centers for Disease Control, which concluded in 2011 the lead levels were safe for small children.
"We sent letters to everyone" after the new findings came out, Kaplan said. "This time we did house-to-house canvassing."
Gov. Mike Pence, who is Republican presidential candidate Donald Trump's running mate, has dispatched some staffers to East Chicago to investigate the situation. But it was not immediately clear if Pence planned to visit the complex himself.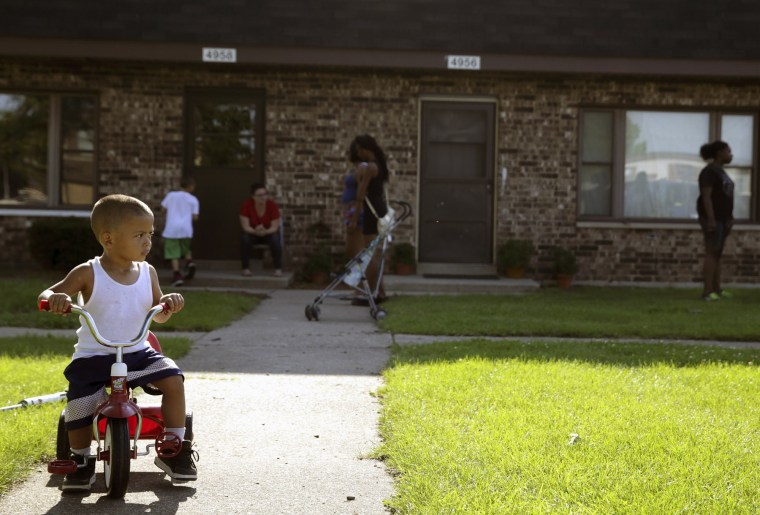 "Governor Pence directed his staff and cabinet to provide support to the federal government as they lead efforts in East Chicago," Pence spokeswoman Kara Brooks said. "This includes financial assistance for relocation of displaced families and additional staff to help the local health department and lead testing clinics for East Chicago residents."
The Indiana State Department of Health has also sent $100,000 to East Chicago to hire a public health nurse and health educator to help with the lead testing.
Meanwhile, frightened West Calumet residents, who are mostly African-American and who were notified by the mayor last week via mail that they should move, were fretting over their futures.
"I've been losing sleep over it," Shantel Allen, who lives in the complex with her husband and their five children, told the NBC affiliate in Chicago. " [I'm] just wondering if my children will struggle in school, you know, with attention deficit disorder and things like that, just hoping nothing like that develops."
Tikia King, whose son Andrew is wheelchair-bound, is also seeking answers.
"You wake up every morning not knowing what to do, where you're gonna go," she told the affiliate. "Can I get a house that is wheelchair accessible? Can I keep the same doctors? Speech therapists?"