Federal investigators opened a captivating new chapter in a deadly West, Texas fertilizer plant explosion when they announced that someone deliberately set the fire that sparked it.
But, as with many mysteries, the revelation raises more urgent questions.
Who did it? How? Why? And how do authorities know it was arson?
Anyone wanting answers to those questions immediately will have to wait. The Bureau of Alcohol, Tobacco, Firearms and Explosives says it is still investigating the April 17, 2013, blast at a West Fertilizer Co. plant, which killed 15 people — including a dozen emergency workers — injured 260 and leveled 120 houses, two schools and a nursing home.
The fire was reported about 20 minutes before the detonation, which was fueled by the plant's massive stockpile of ammonium nitrate.
Related: Deadly West, Texas, Fertilizer Plant Explosion Was 'Criminal Act': Feds
The partial destruction of the city of 2,800 people — marked by a crater 90 feet wide and 10 feet deep —was largely lost in the aftermath of the Boston Marathon bombing, which occurred two days earlier, as the nation remained gripped over the hunt for the killers.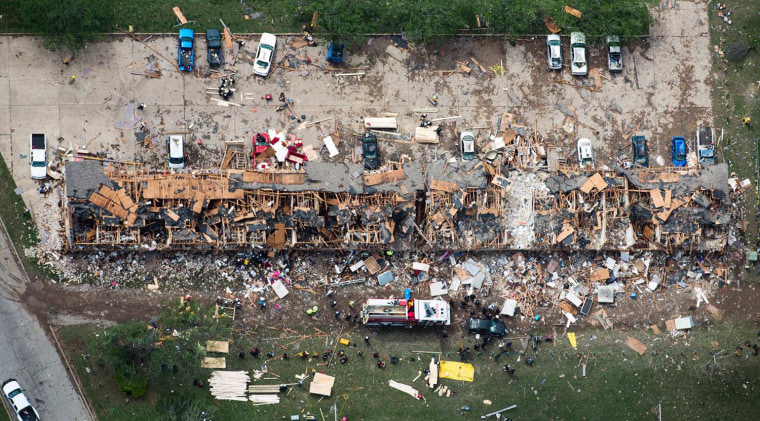 Now that it has ruled out accidental causes, the ATF is offering a $50,000 reward for help finding the person who set the West fire.
"We don't know what they were thinking," Special Agent Robert Elder told reporters Wednesday. But, he added, "I think we're on the right track."
That track apparently includes a sitting grand jury, which, according to Houston NBC affiliate KPRC, has issued subpoenas.
Related: West, Texas, Marks One Year Since Devastating Explosion
At the same time, many victims and their families are seeking civil judgments from an array of companies linked to the blast, with some due to head to trial soon (West Fertilizer Co. went out of business). Some companies have argued that they cannot defend themselves without knowing the results of the ATF's criminal investigation. The ATF has not given a timeline for the release of its final report, which could in turn prompt a new flurry of lawsuits.
Some answers were provided in a report issued in January by the U.S. Chemical Safety Board, which pointed out a variety of factors that contributed to the explosion, ranging from poor construction and storage to subpar fire-protection systems and weak effective government regulations.
The board said it could not determine the precise cause.
The town of West, meanwhile, continues to rebuild. A combined middle school and high school is under construction, according to the Waco Tribune-Herald. More than half the destroyed homes have been replaced. There's a new nursing home. Streets and utility lines are slowly being pieced back together.