A year after a fertilizer plant explosion rocked the tight-knit city of West, Texas, a lot of the physical damage is cleaned up, but the emotional scars still run deep.
"It's been the hardest thing that most of us will ever face in our lives," said John Crowder, senior pastor at First Baptist Church in West. Crowder was one of dozens of residents whose home was flattened by the April 17, 2013, blast.
"But we've made remarkable progress."
Fifteen people, mostly volunteer firefighters, were killed, and more than 200 people were injured. Schools and a nursing home in the small community north of Waco were leveled, with witnesses describing the horrific scene as looking like a war-zone bombing site.
A year later, about 70 homes that were wrecked have been rebuilt or are in the process of construction, the Associated Press reported. Students displaced from West's decimated high school and middle school are expected to be in their new schools by 2016, with rebuilding progress finally made after initially being stalled by unexpected paperwork and federal red tape.
"There's a lot of construction going on, and for us, that's good. We love the sound of hammers and saws and all that," Crowder said. He expects to move back home in a few months; in the meantime, he and his family have been living in a double-wide trailer for the past year that deacons of his church provided.
Crowder decided to put a plastic-wrapped Bible in the foundation of his rebuilt home before the cement was poured in.
"We put an electrical outlet in the floor four feet from where the Bible is, so I'll always be able to tell from the electrical outlet where that Bible is," he said. "The idea is that for us, scripture is the foundation of our lives and so that's a great way for us to symbolize that by making it the foundation of our home as well."
Thursday night, the community of 2,800 will hold a moment of silence at 7:51 p.m. local time — the exact moment the West Fertilizer Co. exploded amid a raging fire there — in an important journey in the healing process, Crowder said.
"Some version of post-traumatic stress disorder seems to be a part of our experience among quite a few of our citizens. Some report nightmares and difficulties sleeping and that kind of thing," he said. "But those cases are few. For the most part, our folks are healing well and making real good progress."
West Mayor Tommy Muska said in a press conference Thursday afternoon that staying positive has been the biggest challenge over the past year.
"I've tried to keep a positive outlook throughout this whole ordeal, and I think I've helped the citizens to have the same positive outlook," he said. "They definitely stayed positive and they moved forward."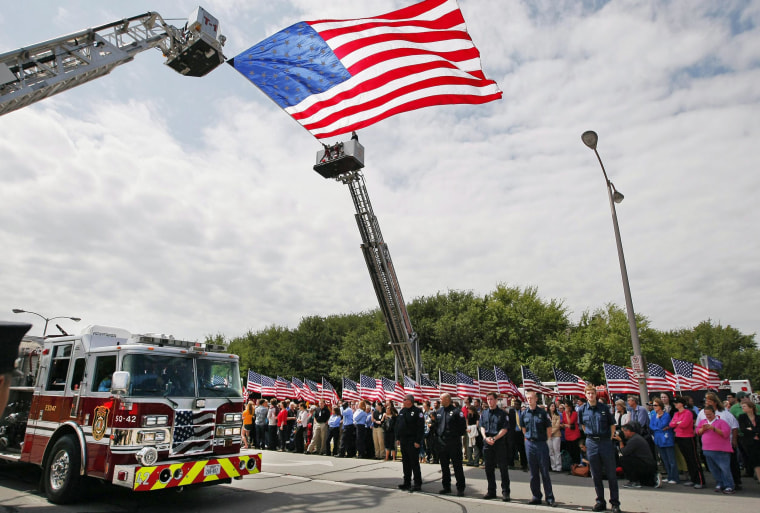 Mike Lednicky, who grew up in West, said his parents' house — which was only about 200 yards from the plant — was destroyed. Their home was rebuilt by Christmas. Lednicky and his mother plan on going to Thursday night's memorial service. His father won't be attending.
"He said, 'I lived through it last year. I don't want to re-live it," Lednicky said.
Holly Harris, whose husband, Dallas Fire-Rescue Capt. Kenneth Luckey Harris, died in the blast, told the Associated Press she no longer dwells on questions such as what caused the fire.
"It's just a choice that we've made that we're not going to be sad," she told the AP. "We are sad at times, but we're going to try to make everything a happy situation and try to get on with our lives."
Mayor Muska praised the city's rebuilding efforts on Thursday.
"Some of those families lost not only a loved one, but they lost their homes and everything else. But we do have a fantastic story: a story of rebuilding this town in remarkable time that I'm very, very proud of."
Residents still talk about the tragedy a year after it happened, Lednicky said, including his own young sons.
"The 6-year-old is in kindergarten, and one of his classmates lost his father. He talks about Parker's dad being a hero sometimes."
The Associated Press contributed to this report.