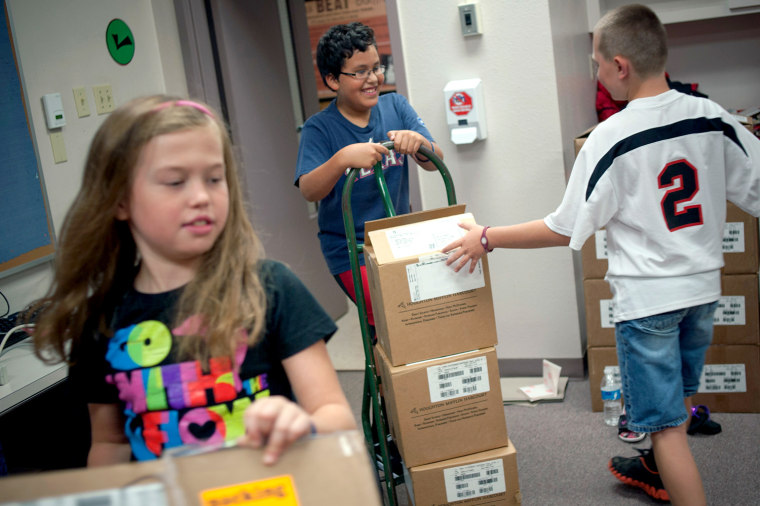 The children of West, Texas, who had their homes and schools torn apart by a massive fertilizer plant explosion in April, will start classes in two weeks in a cluster of temporary classrooms assembled in this small town ready to get back to the stuff of everyday life.
The town's middle, intermediate, and high schools were damaged beyond repair on April 17, when an explosion from the nearby West Fertilizer Company plant tore a 93-foot wide crater into the ground, destroyed scores of residences, and tore apart a nursing home. Fifteen people died and hundreds more were injured in the blast. 
On August 26, school resumes in the West Independent School District. For David Woodard, the district's athletic director, that means football. But nothing was further from his mind in April, as he drove home from a track meet. Two of his daughters were inside his house when the plant exploded, and his wife was in their front yard. Somehow they all escaped without any serious injuries, but their house was completely destroyed.
"Our main football field was the triage center," Woodard said. "They took all the injured there."
The town's school buildings will take longer to get back into shape. For about eighteen months to two years, most of the town's middle and high school students will attend classes in prefab temporary classrooms set up on the site around the old school buildings, said Mayor Tommy Muska.

"Yes, it is temporary, but I think they are very nice," said Muska. "The classrooms don't teach, the parents and the teachers teach the students. And I think they're going to be just fine."
One of those educators will be West Elementary School Principal Michele Scott, who also lost her home on the town's north side in the explosion. She has been living with her 9-year-old daughter at her parents' house across town ever since, she said.
Scott and her daughter were not home when the plant exploded, but they heard the boom and saw a mushroom cloud rise up over the side of town where their house stood.
"I will never forget that picture," Scott said of the immediate aftermath of the explosion, as she rushed toward the complex where the town's schools sat. "It was just crazy."
While every school year brings unexpected challenges, this year promises a surplus of surprises, Scott said.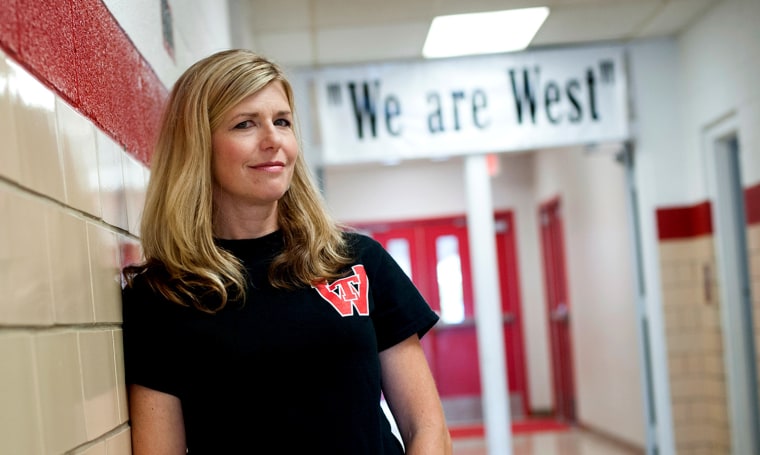 "Really, we don't know for sure yet until that first day of school what our enrollment is going to be," Scott said.
Her school, the only one that was left in a usable condition after the blast, usually houses pre-kindergarten classes through grade three. This year, she will also oversee the district's fourth and fifth graders, swelling their expected enrollment from about 400 students last year to close to 600 this year.
The town received an unexpected boon on August 2 when the White House reversed its earlier position and President Barack Obama declared West, Texas a major disaster area, making local governments eligible to receive federal funding.
"I'm sorry it took a month and a half, but I'm very pleased with the decision," Muska said. "It's going to go a long way with the school, rebuilding the facilities."
The announcement came a day after the Federal Emergency Management Agency said it would dedicate about $2.8 million to help the school district pay for temporary classrooms and other buildings.
Town school board president Larry Hykel said that kids are "excited" to get back to school in the temporary facilities being put up where the wrecked school buildings once stood.
"Logistics might cause a little bit of grief early on, but I think once the parents and the students and the administrators get into a routine and work out the bugs, I think everything will be fine," Hykel said.
It's a sentiment Muska said he's repeated frequently in town. One hundred and ten damaged houses have been demolished, and lots that months ago were full of debris have been cleared, he said. Seventy permits have been issued to build new structures or repair others. The town got through the initial shock, the mayor said. Now it has to restore the rhythms of everyday life.
"People have to realize now that they have to be patient and learn to enjoy this building thing," Muska said. "They've really got to think about not why they're rebuilding, but just that they are rebuilding."
Related: