The landscape in West, Texas, is slowly shifting after a fertilizer plant blast leveled the rural community two years ago. Roads are being rebuilt. Homes have gone up. And a playground — located in a park that was demolished in the disaster — will be dedicated this weekend.
Longtime residents like volunteer firefighter and chaplain Robby Payne, who lost 12 of his comrades the night the West Fertilizer Co. exploded, have searing memories.
"We think about it every day," said Payne, 53. "Of course, it has a lot of significance. It's never far from my thoughts."
The April 17, 2013, tragedy claimed 15 lives, injured 200 others and turned part of the city of 2,800 people into rubble.
While the nation's attention that week was widely focused on the Boston Marathon bombing, the residents of West were pulling together, sharing their grief and vowing to rebuild.
Survivors are expected to come together Friday night for a prayer vigil.
"There's been benchmarks of recovery all the way through," Payne said. "They're all important and they show that West is very, very blessed."
Payne had rushed to the scene of the initial fire at the fertilizer plant and was thrown backwards and knocked unconscious when the blast came without warning.
He spent two weeks in the hospital with broken bones, nerve damage to his right shoulder and a severe concussion, the effects of which still traumatize him.
As president of the city's only funeral home, Payne was still on the mend while his business had the difficult task of overseeing funerals for the fallen firefighters. A wall in the funeral home is inscribed with the words "Never Forget" and features pictures of those killed.
Since returning to work, Payne has also been involved with the building of a new nursing home after the city's other structure was destroyed. The new West Rest Haven will open in July and accommodate 120 residents who have had to move out of the city.
"The blast took a heavy toll on the elderly population," Payne said. "But many can't wait to come back."
The nursing home is being built on the other side of where the fertilizer plant once stood. Nearby, a new playground has been built in honor of volunteer firefighter and West City Secretary Joey Pustejovsky, and it will officially open Saturday.
One of Pustejovsky's four children, 4-year-old Parker, was the inspiration for family and supporters to collect funds for the playground, according to the Parker's Park Project website.
Tim Payne, a nephew of Robby Payne and a childhood friend of Pustejovsky, said they raised $200,000 in donations in the past two years. Pustejovsky was just 29 when he was killed in the explosion. The patch of green park will be a fitting legacy, Tim Payne said.
"I think he would be extremely proud of what his son has accomplished," he added. "It goes to show what an amazing community this is."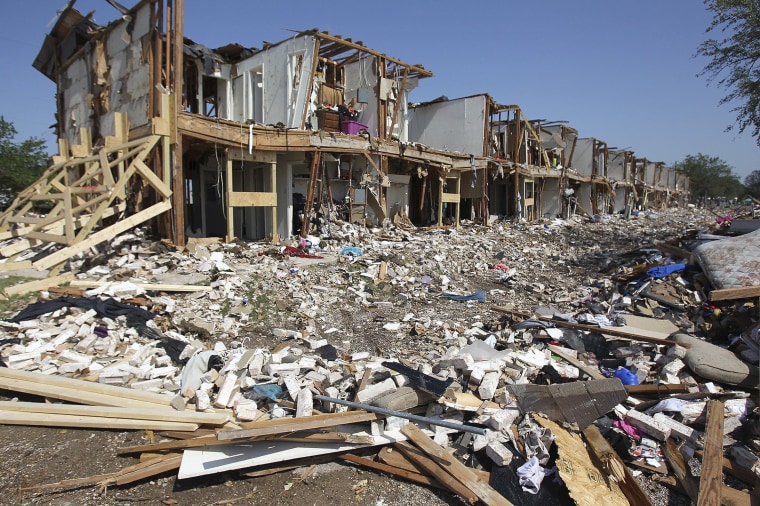 IN-DEPTH
— Erik Ortiz