State and federal investigators were in West Virginia on Tuesday investigating what caused a train carrying crude oil to derail, injuring one person and fueling concerns over transporting flammable materials on the nation's aging rail network.
The wreckage from the 109-car derailment on Monday in remote Fayette country was smoldering one day later. The accident sent a massive fireball into the sky, destroyed one home and one rail car fell into the nearby Kanawha River, but tests on that waterway and the drinking supply revealed the water hadn't been contaminated. Still, a boil water advisory remained in place.
"Two different labs have come back clean with no detection of any of the crude oil," said West Virginia Gov. Early Ray Tomblin, noting that "crude is starting to finish burning."
The cause of the derailment was still unclear, however. The accident comes one year after a derailed train spilled 30,000 gallons of oil into the James River in Lynchburg, Virginia. And in 2013, an oil train derailment in Canada's Quebec province killed 47 people.
The train, owned by CSX Corporation, had been carrying oil from the Bakken Oil Fields in North Dakota to Virginia when it went off the rails near Mount Carbon.
"You put 30,000 gallons of flammable oil per car onto 100-150 car train and try to drive it through a major population area ... anything goes wrong and it's a disaster," said Professor Albert Ratner, an associate professor of mechanical and industrial engineering at the University of Iowa.
Though many of the oil train cars are older models that government safety regulators want phased out, CSX said the ones involved in this accident were new, reinforced models.
Of the roughly 200 people evacuated after the derailment, more than 100 still weren't back home, Tomblin said.
But some residents of Boomer, a town of 615 people across the river from the derailment, were allowed to return home on Tuesday. And they watched in disbelief as flames continued to burn from the site. One of them, James Bowles, said people walking down their street on Monday afternoon told them they had to evacuate.
"And in the midst of that we heard explosions in the background, felt the force of the wind, felt the heat," he said. "People were walking, running, grabbing their pets, their children and trying to get out the best they could, not knowing what was going to happen."
West Virginia American Water, the company that maintains the local water supply, shut down its Montgomery plant, closest to the accident, on Monday afternoon, impacting some 2,000 customers. The plant has resumed operations and water pressure should increase the next few hours, Tomblin said. Some 800 people who lost power should have it restored soon, he added.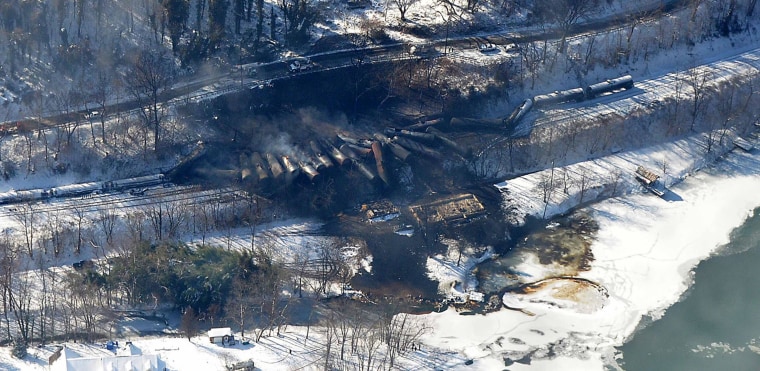 IN-DEPTH
SOCIAL
— With Katie Wall and Miranda Leitsinger