A forceful and deadly winter storm named Shirley wrapped its unloving arms around Texas in February, leaving millions without heat or electricity, before moving on to disrupt the Mid-Atlantic region.
The typically warm-weathered state, with its independent electrical grid, soon became the center of national controversy over its unpreparedness.
Little, however, has been made of the destruction some 1,300 miles away in the mountain state of West Virginia, where the widespread storm downed trees, poles and power lines before tapering off.
Two ice storms, the first of which was related to Shirley,nailed the same six counties in a five-day span starting Feb. 11. The result was the state's worst accumulated ice storm in almost a decade.
Nearly 100,000 residents were left without power as crews, who were warned and had prepared, struggled to clear roads of debris and navigate up and through the mountainous terrain to reach power poles and restore electricity to residents.
Recurrent power outages are a longstanding issue in West Virginia, where trees weighed down by ice frequently damage electric infrastructure.
Utilities in the state have spent nearly $1 billion since 2012 trying to reduce outages. Yet, interruptions have grown longer and more frequent.
Residents and utilities have seemingly been paying to fix an unsolvable problem.
"We have small cities and rural areas, and trees are our largest problem," said Phil Moye, spokesman for Appalachian Power, an electricity provider largely covering the southern half of the state.
"Put yourself in that condition, where you're climbing a mountain, climbing up a pole and bringing a line that's heavy with ice, cutting trees with wearing ice cleats," Moye said.
And there are a lot of trees. West Virginia is a heavily forested state, with 79 percent of its 15.5 million acres of land covered in forestry, according to a 2016 report by the U.S. Department of Agriculture.
After several severe storms over the preceding years, the Public Service Commission of West Virginia in 2011 forced several utilities — Appalachian Power and the Wheeling Power Co., which fall under American Electric Power, along with FirstEnergy, which includes the Monongahela Power Co. and Potomac Edison — to start producing annual power outage reports detailing their root causes and how long they lasted.
Officials say those utilities represent 96 percent of ratepayers statewide.
The following year saw a string of more unlikely weather events, including a derecho that left 1.6 million West Virginians without power and later Hurricane Sandy, which caused another wave of outages.
In response, the state commission again took action, this time mandating that the utilities install and fund a right-of-way vegetation control program that would clear power lines of the tree branches and vines that get entangled and sometimes knock off power during storms.
West Virginia utilities have spent more than $981 million clearing the vegetation and rights-of-ways since 2012, yet service interruptions remain.
Over the years, power outages have lasted longer, peaking two years ago.
In 2019, U.S. energy customers experienced an average of 3.2 hours of interruptions during major events and 1.5 hours of interruptions without major events, or nearly 5 hours total, according to the U.S. Energy Information Administration.
During that year, West Virginia led the nation in hours of interruptions without a major event with eight hours, the agency reported. It was second in interruptions tied to a major event, at 12.59 hours.
Many factors cause power interruptions, including weather, vegetation patterns and utility practices. However, "West Virginia is a heavily forested state where power interruptions resulting from falling tree branches are common," EIA said on its website.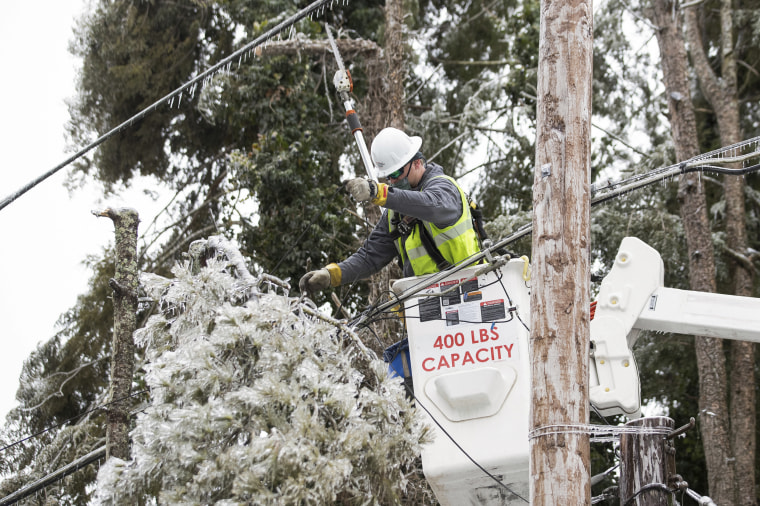 The financial burden of the recurring outages has fallen mostly on ratepayers — the same people who are spending more time, on average, in the dark.
Utilities have managed to recover $717 million by increasing ratepayers fees, according to the commission, which regulates the utilities.
From 2012 to 2020, the average bill for Appalachian Power and Wheeling Power Company ratepayers rose $31.82, records show.
The average bill for Monongahela Power Company and Potomac Edison customers increased $7.10, records show.
Even though FirstEnergy saw the bulk of its money returned, the company says it understands the need to dole out millions of dollars to clear power lines.
"Because we cannot prevent storms from occurring throughout our service area, these investments in reducing tree-related outages are an important way to maintain service reliability for our customers," said Will Boye, a FirstEnergy spokesman.
Cabell County Commissioner Jim Morgan said February's ice storms that severely hit his and five other counties were equivalent to a 100-year storm. He believes it's fair for residents and utilities to share the cost of vegetation removal.
"Customers feel they already pay the utilities to clear vegetation, and the utilities believe they didn't cause the storm that justifies the rate hikes," Morgan said. "It's the usual give and take. Having lived without electricity for 11 days, it's like anything else in this day and age. You don't miss it until you don't have it."
Sen. Rupie Phillips, vice chair of West Virginia's energy, industry and mining committee, said that utility bills should include maintenance and clearing of power lines but that residents shouldn't be responsible for cleanup and vegetation removal after storms.
"If a storm rolls through, I don't feel it should be up to the consumer to take in the additional costs," Phillips said, adding that utility rates in West Virginia are still among the lowest in the country.
Generally, customers wouldn't bear the cost of removing trees and restoring service after a storm since utilities would consider it part of its restoration costs. But for large storms, the companies do request to recoup the money, officials said.
"Each year you know you're going to have some amount of storm activity, but this would be considered exceptional or just very unusual," Moye said of the back-to-back ice storms. "At some point in the future, we will likely seek to recover some of those storm costs."
The last time Appalachian Power did was for the derecho and Hurricane Sandy storms, although the requests came a couple years later. The commission must approve the request.
Unlike Texas, West Virginia is part of the Eastern Interconnect grid, meaning it can draw power and energy from several nearby states if massive outages occur.
"Regional balancing authorities serve to manage grid operations to ensure that electricity supply constantly matches power demand in a balance that maintains the reliable service of the electric grid system," according to the U.S. Environmental Protection Agency.
"The redundant design of the grid helps prevent service interruptions to retail customers due to transmission line or power plant failures."
However, being connected to an electrical grid doesn't go far if electric crews in West Virginia can't reach the actual power lines.
"We have a lot of mountains," Phillips said. "Is it hard to maneuver in these hills? Yes it is."
Morgan said restoring power to homes and businesses presents a big hassle because large trees, and in lesser circumstances, the branches on them, often topple over, knocking power lines to the ground and up hillsides, blocking roads.
Returning power to secluded and rural homes is harder, he said.
"Once they fall, not only do the branches have to be removed, then you have to replace the poles," Morgan said. "It is a problem."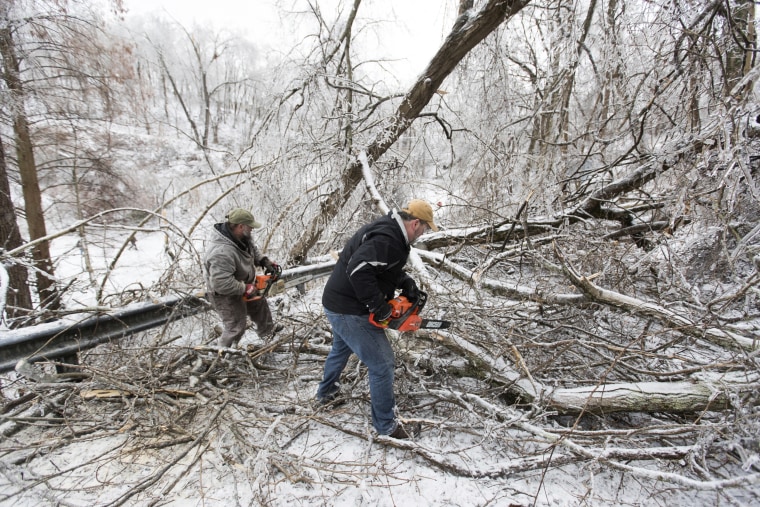 Winter ice storms and snow aren't the only threat to disrupting electricity in West Virginia.
Customers must worry about inconvenient windstorms, which also force trees and branches into the streets.
"Anything that can bring down trees is a problem for us," Moye, of Appalachian Power, said.
Some experts blame part of the extreme weather in West Virginia on climate change.
"It's very hard to say any one storm is caused by climate change, but they're getting more intense and unless we're prepared for them, they could knock out power," said David Hart, senior fellow at Information Technology and Innovation Foundation, a nonprofit and nonpartisan think tank. "The big challenge is, we don't really know what the climate is going to do in 10 or 20 years."
Thanu Yakupitiyage, spokeswoman for the climate change nonprofit 350.org, estimates that more extreme weather in West Virginia and elsewhere is more likely if the ever-evolving changes in global climate aren't reversed in the next decade.
"To be clear, extreme weather is climate change," she said. "The reason why there are stronger hurricanes, the reason why there was a freeze in Texas, where it doesn't get that cold, is because of climate change and ultimately a broader climate crisis."
The U.S. Department of Energy's Office of Electricity declined comment for this article. So did the U.S. Energy Information Administration.
President Joe Biden in March introduced a $1.9 trillion infrastructure proposal to reshape the U.S. economy and build clean energy infrastructure as part of a broader effort to curb climate change.
If signed into law, the proposal would rank as one of the largest federal efforts ever to curb the country's greenhouse gas emissions and advance the president's commitment to put the country on a path to net-zero carbon emissions by 2050.
The U.S. must plan to use far more electricity in the coming years than it does now. To achieve the intended emission reductions, that electricity must come from renewable sources like wind rather than from coal- or gas-fired power plants, creating yet more pressure for the U.S. to quickly ramp up production of offshore wind power, NBC News reported.
West Virginia also ranked fifth among states in total energy production in 2018, accounting for 5 percent of the nation's total, according to the U.S. Energy Information Administration.
Meanwhile, an Iowa professor contends that he has an answer to preventing massive outages in West Virginia and across the country.
"These kinds of events where you have widespread outages become much easier to deal with once you have them if you build an interstate highway of transmission around the country," said James McCalley, professor of electrical and computer engineering at Iowa State University.
In December, he co-wrote a report on macro grids and now advocates for the development of an interstate highway system for a transmission grid.
Similar to how President Dwight D. Eisenhower's administration proposed the $114 billion highway system in 1956, McCalley argues that an electrical interstate could be constructed overhead or underground.
Substations would be built in places like Minnesota and Western Montana and thus enable the connection of renewable energy, McCalley said.
If one isn't built, he believes the U.S. grid will continue to have flaws.
"Power grids are like any other machine. You can break them if you stress them enough. Large scale outages can happen anywhere if you have a severe enough (weather) event," McCalley said. "It only depends on which area is going to get that next highly unlikely event — the event that brings you down. Nobody can predict it."