Brock Turner, the now-expelled Stanford student convicted of sexually assaulting an unconscious woman by a dumpster, left jail Friday after serving half of his six month sentence.
Due in part to his victim's fierce and powerful statement on the case, published by Buzzfeed and the DA, , Turner became yet another a symbol of relative impunity even after his rape conviction — which in itself was rare.
"I want the judge to know that he ignited a tiny fire," the victim told Buzzfeed when the letter was published. "If anything, this is a reason for all of us to speak even louder."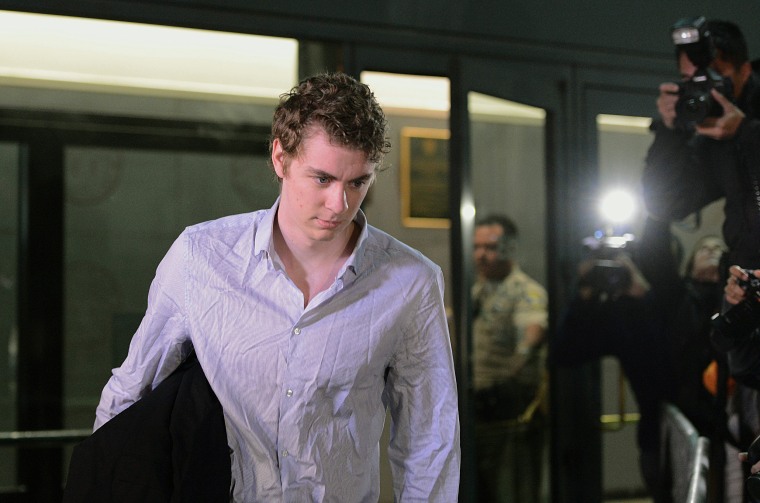 It can seem like every few months, the country rediscovers the problem of sexual assault on college campuses, whether it's through documentaries like The Hunting Ground, since-retracted articles in Rolling Stone, or Turner's case. The problem is much bigger than any one case: A poll conducted last year by the Kaiser Foundation and The Washington Post found that 25 percent of young women and 7 percent of young men say they experienced unwanted sexual contact in college.
Activists working on the ground to change policy say each headline helps build momentum, whether it's in campus systems or criminal ones.
"The awareness raising is an important piece," said Fatima Goss Graves, senior vice president at the National Women's Law Center. "It continues to hold schools and policymakers accountable."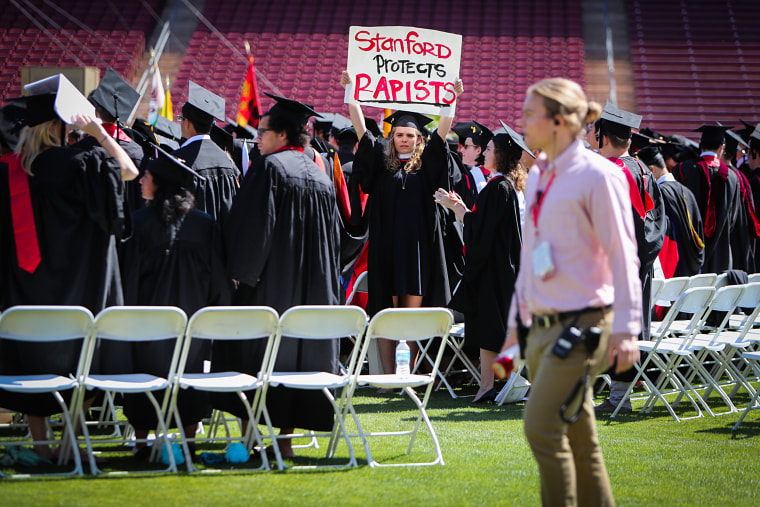 Annie Clark, executive director of End Rape on Campus and author of We Believe You, noted, "With the advent of social media, you have survivors and activists that are able to talk to each other."
Those conversations, she said, have helped bolster the notion that sexual assault on campus is "not an individual school or an individual person problem, it's systemic."
It also has pushed back at mainstream reporting that, in the case of Turner, initially focused more on his supposedly promising swimming career than his victim. Jessica Luther, author of the new book Unsportsmanlike Conduct: College Football and the Politics of Rape, said that's common when sports coverage and sexual assault reporting converge. "The fundamental wrong thing we do in sports reporting is center [on] the athlete," she said.
Related: Colleges Embrace Online Anonymous 'Snitching' to Fight Sexual Violence
Here are a few relatively new solutions activists and policymakers are pursuing in order to prevent, or better respond to, the next case of campus sexual assault.
Criminal penalties. Inspired by the Turner case, California legislators passed a bill, now before Gov. Jerry Brown, mandating prison time for convictions where the victim was unconscious, as Turner's was. "We can't go back and change the ridiculously light sentence, but we can make sure that the next Brock Turner is sent away for a much longer time," Assemblyman Evan Low told NBC News.
The American Civil Liberties Union opposed the bill, citing racial disparities in how mandatory minimums are already imposed and, in interviews, activists expressed mixed feelings. "I definitely think it's good to have laws in place that show societal values and norms," said Wagatwe Wanjuki, an anti-sexual violence activist who recently started the hashtag #JustSaySorry to confront Tufts University's response to her sexual assault case. "But at the end of the day, how are these laws being enforced? And how many people will fall through the cracks when these laws are enforced to protect the most privileged? I firmly believe now that you can't legislate your way to justice."
"A lot of times, the focus is on one incident of stopping and saying something around that one act, and it doesn't do much to combat rape culture."
Bystander intervention. The Turner case was actually an example of bystander intervention in action: Two Swedish bicyclists happen to come upon the assault and helped put a stop to it. The Obama administration's "It's on Us" campaign has focused heavily on the sexual assault version of "if you see something, say something." It's an approach grassroots activists favor, within limits. "A lot of times, the focus is on one incident of stopping and saying something around that one act, and it doesn't do much to combat rape culture," said Clark. "Bystander intervention is not this one-time thing, it's something you do every day, like pushing back when your friend makes a rape joke."
Related: Chessy Prout elicits online support via hashtag #IHaveTheRightTo
Yes Means Yes. "No Means No" used to be the watchword in sexual assault prevention, back when it was still prevalent to believe women only said no to be coy. These days, just not hearing a "no" won't pass muster — after all, an incapacitated person may not even be capable of saying no, and fear might prevent a victim from actively resisting.
In the past year, lawmakers in California and New York State have passed legislation making affirmative consent the standard on campuses and in public schools. There's also been a push to start consent education much earlier; Clark's group worked on local legislation in Virginia to start teaching consent before teens graduate from high school.
"There are patterns of rape going on in high school," said University of Arizona professor Mary Koss, who has been studying violence against women for decades, "and it's not a magical line that starts in freshman year of college. ... I have sensed movement in the public health community to say that we need to start earlier."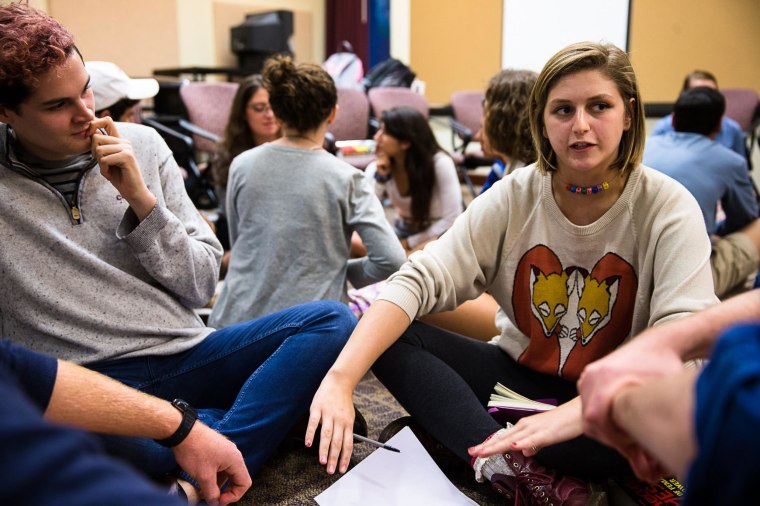 Title IX Investigations. Using a longstanding federal law mandating gender equality in education, the Obama administration has ramped up both prevention and enforcement efforts. It's even launched proactive Title IX compliance investigations, a move the Bush administration did not pursue. "They have signaled strongly to institutions that they are taking this seriously," said Goss Graves. Clark said that's a result of years of pressure from student activists.
"This administration has been more open to listening to survivors in trying to find solutions," said Wanjuki. Still, she added conversations with other activists suggest frustration at the focus on legislative solutions or Title IX enforcement, which can take years and trip on technicalities.
Banning Alcohol. In August, Stanford, Turner's alma mater, announced it would bar "high-volume distilled liquor containers" for all students living on campus and all parties held there. Ralph Castro, who directs Stanford's Office of Alcohol Policy and Education, called it "a targeted approach that limits high-risk behavior and has the backing of empirical studies on restricting the availability of and access to alcohol."
"Rapists cause rape, and they use alcohol as a tool to escape culpability."
Many activists recoiled. "By banning hard liquor, it sends the subliminal message that alcohol causes rape," said Wanjuki. "Rapists cause rape, and they use alcohol as a tool to escape culpability." Karp, a professor of sociology and director of the Project on Restorative Justice at Skidmore College, suggested that focusing on alcohol obscures how students are using it to avoid healthy communication about sex. "They're managing their sexual relationships through alcohol, which is a primary indicator that those relationships are anxiety provoking," he said. Koss is a bit less hard on the alcohol bans, comparing them to legislation that taxed cigarettes and banned where they could be smoked. "There's a whole body of research of prevention intervention," she said.
Restorative Justice. Karp and his colleagues recently collaborated on a report about campus sexual assault and restorative justice, an anti-violence approach in which both parties meet, sometimes in the company of community members, to acknowledge and discuss harm to the victim without explicit punishment to follow. It may appeal, Karp said, to students who already feel marginalized on campus and don't want to go forward with an "adversarial and punitive process," but rather "want to communicate to the accused student how they have been harmed and make sure they understand that and don't do it to someone else."
The approach hasn't actually been implemented on U.S. campuses because of fears it would violate the Obama administration's 2011 letter to university administrators saying mediation would violate federal guidelines. "That has had a chilling effect on campus use of restorative justice," said Karp. He and his colleagues recently met with the Office of Civil Rights at the Department of Education and the White House Task Force on Campus Sexual Assault to make a case for the potential for restorative justice.
Related: Six Questions Parents Need to Ask Before Their Daughter Starts College
Unlike mediation, restorative justice dictates that an offender must take responsibility before the dialogue. "It's not a process for deciding if they're guilty," said Karp. The approach may work best, he explained, for cases prosecutors would likely not take to trial because of lack of evidence or ambiguity, and where the parties may already have a relationship.
Many advocates are cautiously intrigued by the possibility of restorative justice, but are concerned about how it will work in practice. "I do think we have to worry about schools maybe going too far pressuring students to either go down a particular path, or do whatever's easiest for them to resolve and to minimize harm to someone who is accused," said Goss Graves.
The victim's own words suggest that under different circumstances — namely, if Turner had taken responsibility for the crime he was convicted of — restorative justice might have appealed to her. She wrote that she "told the probation officer that what I truly wanted was for Brock to get it, to understand and admit to his wrongdoing. Unfortunately, after reading the defendant's statement, I am severely disappointed and feel that he has failed to exhibit sincere remorse or responsibility for his conduct." As of this writing, Turner has made no additional statements.