The type of World War II plane that crashed and burst into flames in Connecticut on Wednesday was instrumental in the Allied bombing campaign against Nazi-occupied Europe, efficient enough to carry out daytime raids over Germany and muscular enough to withstand aerial poundings.
A Boeing B-17 went down at the end of a runway at the Bradley International Airport, just outside Hartford, Connecticut, on Wednesday morning, according to officials. There were 13 people on board: three crew and 10 passengers.
"There were fatalities," said James C. Rovella, commissioner of the Department of Emergency Services and Public Protection. He did not specify how many people were killed.
The B-17, one of more than 10,000 built, was once dubbed the "Flying Fortress," prized for its ruggedness and versatility. The crafts were most commonly used for bombing expeditions over Germany, but they were also occasionally used in the Pacific theater, where they targeted Japanese ships.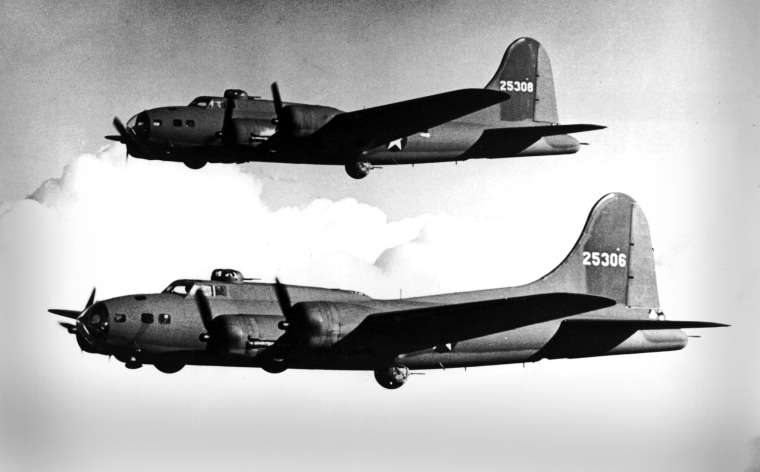 "The B-17 was extremely sturdy, extremely resilient, but it required significant skill to fly it," said Anthony Roman, a former corporate pilot and an aviation security expert with Roman & Associates.
"It developed a reputation for being able to take a significant amount of combat damage," Roman added.
Roman, who has flown as a guest on the B-17 involved in the Connecticut crash, said the aircraft was prized in the World War II-era for its technological might.
"It was one of the first modern strategic aircraft ever built by the U.S. Army," he said. "It's a tremendous loss because this aircraft symbolized the transition to modern America, modern technology."
It was also feared by foes, with its .50-caliber machine guns mounted in "blisters," ready to ward off enemies.
"Without the B-17, we may have lost the war," Gen. Carl Spaatz, the American air commander in Europe, has been widely quoted as saying.
The airport where the crash took place Wednesday — located in Windsor Locks, roughly 15 miles north of Hartford — was hosting a show of vintage World War II craft this week. The show, called "Wings of Freedom," featured many planes owned by the Collins Foundation.
"Our thoughts and prayers are with those who were on that flight and we will be forever grateful to the heroic efforts of the first responders at Bradley," the foundation said in a statement.