When Donald Trump called for a ban on Muslims entering the United States on Monday, he said he was doing so as a national security measure — because "our country cannot be the victims of horrendous attacks by people that believe only in Jihad, and have no sense of reason or respect for human life."
But American Muslims have a long, overwhelmingly peaceful history of roots in the United States — longer, in fact, than the Trump family lineage here. Here are seven by-the-numbers facts about Muslims in the U.S. that Trump didn't mention when he proposed his ban on them.
1300s
Some historians believe people of the Islamic faith first came to the land that would later become the United States as early as the 14th century from Africa, according to the PBS feature "Islam in America." Others say Muslims accompanied the Spanish as guides to the New World in the 16th century during their conquest of what became Arizona and New Mexico. The first significant influx of Muslims were African slaves, 10 to 15 percent of whom were Muslim, according to PBS. Then between 1878 and 1924, Muslim immigrants from the Middle East arrived en masse, looking for economic opportunities.
Related: Muslims Around the World Have Overwhelmingly Negative Views of ISIS
Trump's ancestors first came to the U.S. in 1885, when his grandfather emigrated from Germany as a 16-year-old looking to join the Klondike Gold Rush in the Yukon. Friedrich Trump — who changed his name to Frederick — arrived in Manhattan and later moved to Seattle, where he ran restaurants and hotels that flourished, according to Gwenda Blair, author of "The Trumps: Three Generations That Built an Empire."
0.9
Muslims make up just a tiny sliver of the population in the U.S.: According to a 2014 Pew study, 0.9 percent of U.S. adults identify as Muslim. A 2011 Pew survey estimated that there are 1.8 million Muslim adults (and 2.75 million Muslims total of all ages) in the U.S.
Based on demographic projections, Pew estimates that by 2050, Muslims will comprise 2.1 percent of the U.S. population, surpassing those who identify as Jewish as the second-largest faith group in the country (not including people who say they have no religion).
Globally, there were 1.6 billion Muslims as of 2010 — roughly 23 percent of the global population — according to Pew. It's currently the world's second largest religion after Christianity, but as the fastest-growing major religion, the number of Muslims is expected to exceed the number of Christians by the end of the century.
1,900
The 2010 U.S. Religious Census: Religious Congregations & Membership Study found American Muslims live in many places around the country, not just big cities. There are almost 1,900 mosques in the U.S., according to Pew; the first mosque in the U.S. was built in 1929 in the remote town of Ross, North Dakota.
30
About 30 of the nearly 3,000 victims who were killed in the Sept. 11 attacks were Muslim. Among them were a commodities trader, an insurance executive and a security guard.
40
American Muslims have the second-highest level of education among major religious groups in the U.S., according to a 2009 Gallup poll. Jews have the highest. Forty percent of Muslims have a college degree — which is a larger percentage than the general U.S. population.
70
Seventy percent of Muslims identify as Democrats or lean toward the Democratic Party, according to a Pew study from 2011. That's a huge shift from the 2000 presidential election, in which 78 percent of American Muslims voted Republican, according to the Council on American-Islamic Relations.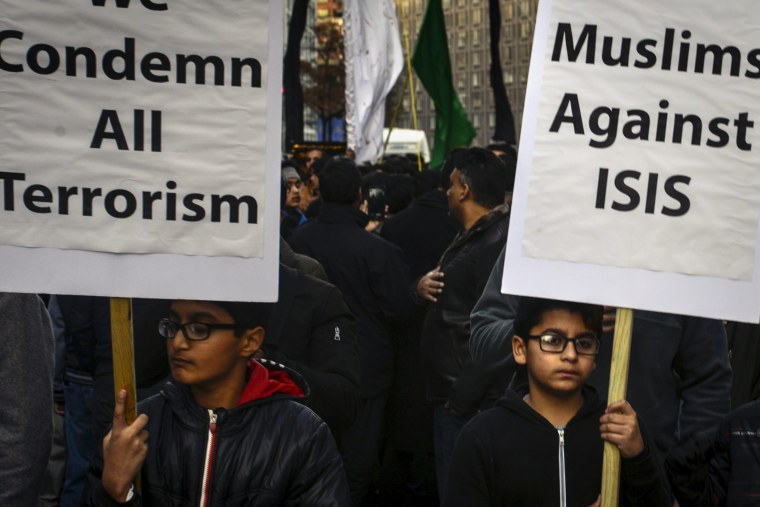 3,409
Thousands of Muslims have served in the U.S. military and fought in all major U.S. wars, including the Civil War. As of April 2008, there were 3,409 Muslims in the active-duty military, according to Pentagon statistics.
In President Obama's primetime address from the Oval Office on Sunday night, he reminded Americans not to stereotype Muslim Americans after the San Bernardino mass shooting.
"Muslim Americans are our friends and neighbors, our coworkers, our sports heroes, and yes, they are our men and women in uniform who are willing to die in defense of our country. We have to remember that," he said.