The following is an excerpt from "The Great Suppression: Voting Rights, Corporate Cash, and the Conservative Assault on Democracy," by NBCNews.com national reporter Zachary Roth. The book was published Aug. 2 by Crown.
By early 2014, a lot of people in Denton, Texas, had had enough.
Over the last decade, oil and gas companies had drilled more than 200 fracking wells in the city of around 115,000, which lies 40 miles north of Dallas. For a while most residents seemed fine with it. After all, this was Texas, where ever-expanding energy development is a way of life. And fracking, a technique for extracting natural gas from shale rock, didn't seem all that different from the traditional oil and gas drilling that had powered the state's economy for over a century. There were even wells across the street from Apogee Stadium, home of the Mean Green of the University of North Texas.
Gradually, though, attitudes shifted. More was becoming known about the potential health and environmental effects of fracking, which has been linked to dangerous levels of air and water pollution. Then, developers drilled three new wells in quick succession across the street from a playground, a hospital, and a row of homes. Not long after, a group of Denton residents — among them a nurse, a professor at the local university, and a Meals on Wheels volunteer — came together to launch a campaign to ban fracking in their city.
The activists would be vastly outspent by oil and gas interests, who implied as part of a high-profile PR campaign — and without evidence — that supporters of a ban were in Vladimir Putin's pocket and were trying to protect Russia's share of the global natural gas market. And they didn't have a lot of experience with the political process, to put it mildly. "We had no idea what we were doing," acknowledged Adam Briggle, a college professor who helped lead the effort.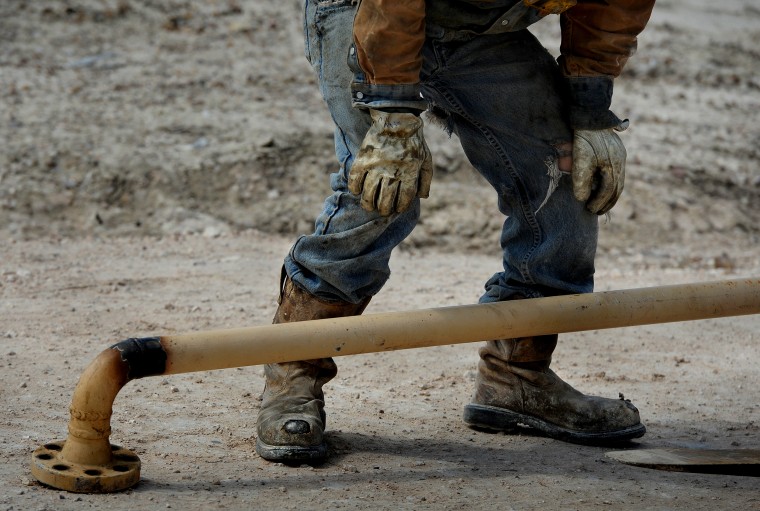 But they were committed — driven by the twin beliefs that fracking could pose a serious threat to their own and their families' health, and that Denton's future should be determined by its citizens, not by outside corporations. They got 200 people to pack a local bar for a campaign kickoff event. They gathered signatures to get a fracking ban on the ballot, then set about convincing their neighbors to vote for it in November. They met every Tuesday at a local restaurant to plot strategy. Musicians, artists, and puppeteers gave performances to help raise awareness. Briggle drew on his expertise as an environmental studies PhD to educate Dentonites about fracking's potential dangers. Everyone pitched in.
"The democratic process is alive and well in Denton."
In the end, it wasn't close: 59 percent of voters approved the measure, and Denton became the first Texas city to ban fracking. The intensity of the ban's supporters was off the charts: one man said he'd been hospitalized after suffering a heart attack but broke out to vote for it. "The democratic process is alive and well in Denton," the city's mayor declared.
It was an inspiring victory for grassroots organizing and local democracy. But it didn't last long.
At 9:08 a.m. the following morning, with Briggle still nursing a hangover from the previous night's celebrations, oil and gas industry lawyers sued to prevent the ban from going into effect. Then the industry tried another tactic: it pulled out all the stops to get state lawmakers to reverse Denton's law—the will of Denton's voters be damned.
Saying that the oil and gas industry has some sway in the Texas Legislature is sort of like saying LeBron James is a pretty good basketball player. By early 2015, Republican legislators were competing with one another to introduce bills that would undo the ban. Some opponents of the ban said Denton voters lacked the sophistication to address technical matters like fracking, which were best left to government and industry experts. "Local control's great in a lot of respects," said Christi Craddick, the chair of the Texas Railroad Commission, which regulates the energy industry in the state. "But I'm the expert on oil and gas. The city of Denton is not."
In the end, lawmakers overwhelmingly approved a bill that preempted the authority of local governments to regulate a wide range of energy development activities, including fracking. It was quickly signed into law by Governor Greg Abbott. A white paper sent by the city of Denton pleading its case was ignored.
The state law left Denton with little choice but to repeal its ban. By June 2015, fracking had already begun at a new site northwest of the city's downtown. To Denton's activists, the message was all too clear: when powerful interests are on the other side, the views of ordinary people don't count for much.
"I was worried about fracking to start with. But now I'm worried about democracy."
"I feel like they kind of just slammed the door and locked it, and I don't know how to break through that," Briggle told me. "I was worried about fracking to start with. But now I'm worried about democracy.
What happened in Denton wasn't just about oil and gas interests and their outsize influence in Texas's government. It was also a particularly ruthless example of a new kind of conservative power grab. In recent years, Republican-led states from Arizona to Florida have declared war on local democracy. Backed by deep-pocketed business interests, they've launched a coordinated campaign to push state laws that preempt those passed by cities and counties, undermining efforts to protect the environment and public health, help workers, and combat inequality. It's an assault that knowingly runs roughshod over the authority of local governments to determine the direction of their own communities, and over the principles of local control that conservatives have traditionally espoused. And it's happening at a time when cities are emerging as all-too-rare bastions of enlightened, people-centric governing. As such, it exemplifies how the right's game plan for fighting off progressive policy goals increasingly relies on trying to hold back the democratic tide.
"I think it is the time of greatest risk to local democracy that has probably ever existed."
"I think it is the time of greatest risk to local democracy that has probably ever existed," Mark Pertschuk of Grassroots Change, which supports local democracy efforts around the country, told me in reference to the push for preemption. "I see it as a fundamental threat."
Read more in The Great Suppression: Voting Rights, Corporate Cash, and the Conservative Assault on Democracy.
Reprinted from THE GREAT SUPPRESSION. Copyright © 2016 by Zachary Roth. Published by Crown, an imprint of the Crown Publishing Group, a division of Penguin Random House, LLC.