The Trump administration has decided to waive a nearly century-old shipping law that many argued was hampering relief efforts in hurricane-ravaged Puerto Rico.
The Jones Act, otherwise known as the Merchant Marine Act of 1920, requires goods shipped between American ports to be carried out exclusively by ships built primarily in the United States, and to have U.S. citizens as its owners and crews.
Acting Homeland Security Department Secretary Elaine Duke said Thursday that the temporary waiver will last for 10 days.
"It is intended to ensure we have enough fuel and commodities to support lifesaving efforts, respond to the storm, and restore critical services and critical infrastructure operations in the wake of these devastating storms," Duke said in a statement.
Signed into law by President Woodrow Wilson two years after World War I ended, the Jones Act was passed as a protective measure against foreign competition, particularly Germany. By restricting domestic trade to U.S.-flagged vessels with U.S. crews, America would always have a robust fleet of boats and sailors on hand in the event German submarines attacked the U.S.
The law has since found backers in the American maritime industry, which says it supports American jobs. Recent presidents from both parties, including George W. Bush and Barack Obama, have touted it as crucial to national security because it reduces America's dependency on foreign-owned vessels.
But opponents argue it's an anachronistic piece of legislation that unnecessarily raises the cost of imported goods for the island economy of Puerto Rico. They say Puerto Ricans, who depend on imports, absorb extra shipping costs for items that could be shipped directly from American ports to Puerto Rico with readily available foreign crews, but instead must be delivered by U.S. flagged vessels.
Related: Mayor Issues 'S.O.S.' as Puerto Ricans Scramble to Help Most Vulnerable
Opponents also say it reduces Puerto Rico's competitiveness in the exports market, causing delays in shipping that wouldn't otherwise exist.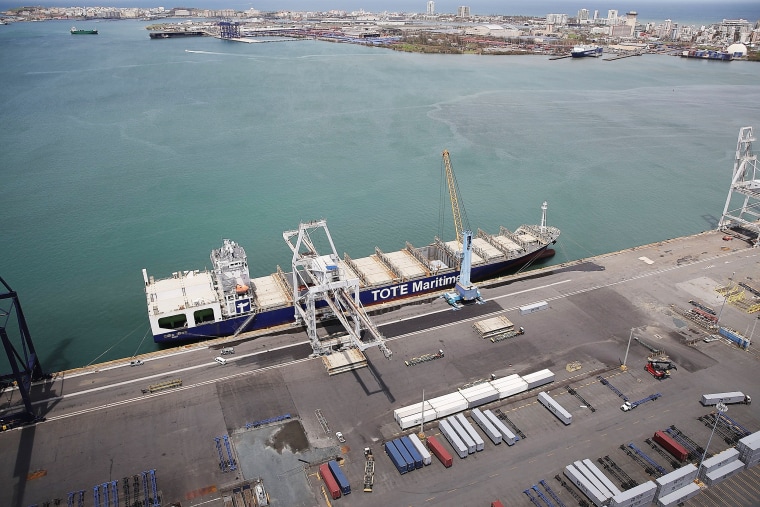 President Donald Trump had told reporters on Wednesday that a decision on whether to waive it had not yet been made.
"We're thinking about that, but we have a lot of shippers and a lot of people, a lot of people who work in the shipping industry, that don't want the Jones Act lifted," he said.
Maria was the worst hurricane to slam Puerto Rico in decades. Eight U.S. representatives sent the department a letter on Monday pleading that the act be waived for one year.
Duke said Wednesday that the request from the representatives was still under consideration and that no decision had been made yet — despite an earlier statement from U.S. Customs and Border Protection that indicated that it had concluded there was a "sufficient capacity" of U.S.-flagged ships to move commodities to Puerto Rico.
In explaining why DHS recently waived the Jones Act after Hurricanes Harvey and Irma, Gregory Moore, a spokesman for Customs and Border Protection, an office within DHS, said earlier Wednesday: "After Hurricanes Harvey and Irma, the rationale for a Jones Act waiver was to facilitate movement of petroleum to numerous places along the East Coast, and making up for the loss of very high capacity pipelines. The situation in Puerto Rico is much different."
Related: Mass Exodus From Puerto Rico Feared After Hurricane and Debt Crisis
Policymakers have voiced opposition to the Jones Act in the past. The Federal Reserve Bank in New York, in a 2012 report, called the high shipping costs Puerto Rico that faces a "substantial burden" on the island's productivity and recommended trying out a temporary exemption to the Jones Act.
Sen. John McCain, R-Ariz., who has long supported repealing the law, also urged DHS to waive it on Tuesday.
"It is unacceptable to force the people of Puerto Rico to pay at least twice as much for food, clean drinking water, supplies and infrastructure due to Jones Act requirements as they work to recover from this disaster," he wrote.