RICHMOND, Va. — As most Americans are celebrating Martin Luther King Jr. Day on Monday, residents here are bracing for a massive gun rights rally at the state Capitol. Here's what you need to know before the demonstration:
Who's going?
Every year on Martin Luther King Jr. Day, the Virginia Citizens Defense League holds a "Lobby Day" event at the Capitol to advocate for gun rights. The demonstration usually attracts a few hundred attendees. But this year's event is expected to swell because the Democratic-controlled Legislature is proposing several gun control measures, some of which would limit handgun purchases and require background checks.
The Defense League says it wants a "peaceful event," but law enforcement, the governor and residents fear that violence will erupt as white nationalists and far-right militias from throughout the country are expected to attend. Some saw President Donald Trump's tweet Friday, saying "Your 2nd Amendment is under very serious attack in the Great Commonwealth of Virginia," as a call to join Monday's rally.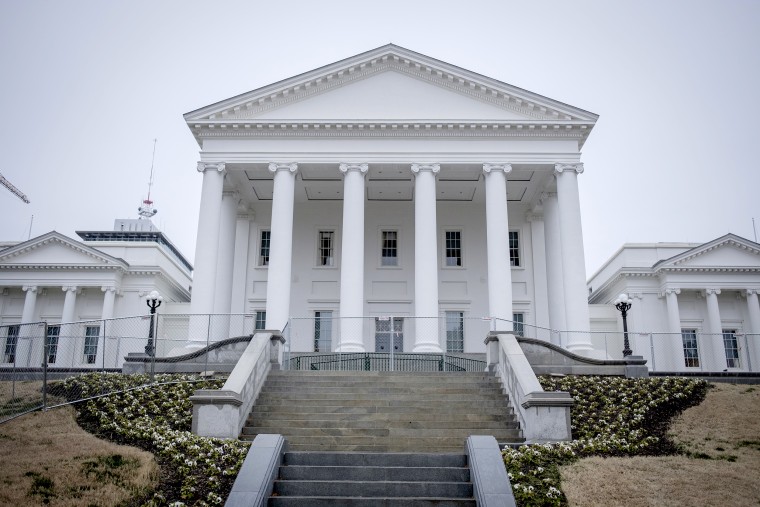 On Thursday, three members of a neo-Nazi group called The Base, which advocates for a white ethno-state, were arrested on the East Coast. Law enforcement officials said they had been planning to attend the rally. The next day, officials announced the arrests of three men from Georgia and one from Wisconsin, all alleged to be members of The Base.
The Base, which was formed about two years ago, says that it is neither a political organization nor a paramilitary group and that it has no clear formal leadership.
Defense League President Philip Van Cleave, a self-proclaimed "extremist," said he believes the Oath Keepers, a far-right group based in Nevada, will be in attendance, according to The Associated Press. On far-right corners of the internet, some have said the rally will accelerate a "race war."
Download the NBC News app for breaking news
Organizers and officials estimate that thousands will attend the rally. As of Sunday, no major counterprotest had been planned, and many anti-fascist groups were encouraging members to stay away from the rally at Capitol Square in downtown Richmond.
Gun safety groups also canceled their annual MLK Day vigil at the Capitol, citing "ongoing, credible threats to public safety that have been promoted and encouraged by gun extremists." The vigil, which had been held for the last 28 years, was supposed to begin after the gun rights rally.
How is the city preparing?
Gov. Ralph Northam, a Democrat, declared a state of emergency last week, citing "credible intelligence" predicting possible violence. In his executive order, Northam temporarily banned guns and other weapons from the Capitol grounds, where the rally will take place. The state Supreme Court struck down the organizers' challenge to the governor's order.
The Federal Aviation Administration restricted flights over the Capitol after Northam said weaponized drones could be deployed Monday. For added security, officials fenced off the Capitol, limited the number of entrances and exits and closed multiple roads.
State, Capitol and city police, which plan to be out in full force, will search everyone entering Capitol Square. Law enforcement officials said they are monitoring the internet to learn who may be attending and what is being planned.
How are residents feeling?
Residents who spoke to NBC News over the weekend expressed concern about the rally, many of them saying they were planning to avoid Capitol Square. Some feared a repeat of the violence that unfolded at the "Unite the Right" rally in August 2017 in Charlottesville, where one person was killed.
Many shops in the area will be closed, and Virginia Commonwealth University in Richmond sent an alert asking students to stay vigilant. Students said they will avoid downtown, and some professors spent class time Friday pleading with them not to attend the rally.
Over the weekend, local faith leaders called for a citywide day of prayer, asking people to pray for the city and to "speak words of peace from Rev. Dr. Martin Luther King, Jr."
Some prominent supporters of the Second Amendment right to bear arms have called for peace, including state House Republican leader Todd Gilbert.
"Any group that comes to Richmond to spread white supremacist garbage, or any other form of hate, violence, or civil unrest isn't welcome here," he said in a statement Saturday.
"Thousands of law-abiding Virginians simply want to have their voices heard at the seat of government."