Julia Cordover, president of the senior class at Marjory Stoneman Douglas High School, is planning a prom.
Cordover, 18, started working on the details last fall, overseeing the team of students that picked a date, booked a venue and found a DJ.
But she never could have imagined the challenge she faces now: figuring out how to memorialize four of her classmates, who died on Feb. 14 in the worst high school shooting in U.S. history. While the senior class prom will go on as planned in early May at The Westin Fort Lauderdale Beach Resort, the music and dancing will be punctuated by moments of silence that reflect just how much the Parkland, Florida high school has lost.
"It's definitely been a different new normal," Cordover said. "It takes a piece of our heart and it's not the same."
Following the March for Our Lives, the gun reform rally that drew hundreds of thousands of people to Washington last weekend, the Parkland teenagers are returning home to lives that have changed dramatically since the shooting. While many are riding the adrenaline of the march, others are struggling with trauma that still feels fresh. Some seniors are delaying college so they can focus on activism full-time. And many are trying to hold onto the moments that are supposed to be happiest: senior year, prom and graduation.
"My friends and I are trying to enjoy our life" said Cordover, "because now we know how important it is to cherish every moment."
While the march in Washington is over, the drive toward activism has not faded among Stoneman Douglas students. The teen activists have been focusing on registering students to vote and getting them to the polls once they're of age. They're also asking students and adults to demand town hall meetings with members of Congress on April 7 to raise questions of gun control, and they're planning another national student walkout on April 20 — the anniversary of the Columbine High School shooting. Cordover, who plans to attend the University of Florida this fall to study communications, wants to create her own gun reform organization one day.
David Hogg, 17, a leader of Parkland's #NeverAgain movement, hasn't slowed down in the six weeks since the shooting. Between the constant travel for interviews and planning for marches and rallies, it hasn't been easy for him to balance national activism with the ordinary demands of high school life.
"I'm not really balancing it right now because it's simply just — well, it's spring break right now, but I wasn't balancing everything very well running up to march, but I'm working on it," Hogg said this week.
Hogg is among the Stoneman Douglas seniors who have decided to postpone college in favor of activism.
"I was going to college to change the world," said Hogg, who plans to work on the 2018 midterm elections. "I'm doing that now."
Back in the classroom at Stoneman Douglas, students and teachers are learning together how to handle Parkland's new normal. Lauren Rosa, a visual arts teacher who has worked at the school for 18 years, said some of her students feel unsafe and have trouble focusing.
To help the teens, Rosa sometimes asks them to set a 10-minute timer on their phones and focus entirely on their art projects until it goes off. She encourages them to think about getting through the day 10 minutes at a time, taking the 90-minute class chunk by chunk.
"I feel like I'm not really a teacher anymore, or that's not my sole responsibility," Rosa said. "I'm trying to be a lot of students' counselor…. It's kind of an emotional struggle to keep it together for them."
When she's not busy teaching or taking care of her two young children, Rosa said she gets overwhelmed by emotions too.
Dr. Sheela Raja, a clinical psychologist and the author of "The PTSD Survival Guide for Teens," said downtime can be particularly difficult for trauma survivors.
"It's more when you're in those quiet moments where emotionally things hit you the most," Raja said. "It's not at all uncommon for people to have delayed reactions where they keep themselves busy but when it's slower or quieter, they have that emotional reaction."
For many of the Stoneman Douglas students, activism has become a way to channel their grief. Raquel Alvarado, 14, didn't initially join in the student anti-guns movement after the shooting. She was mourning her close friend, neighbor and fellow soccer team captain, Alyssa Alhadeff, who was among the 17 killed on Valentine's Day.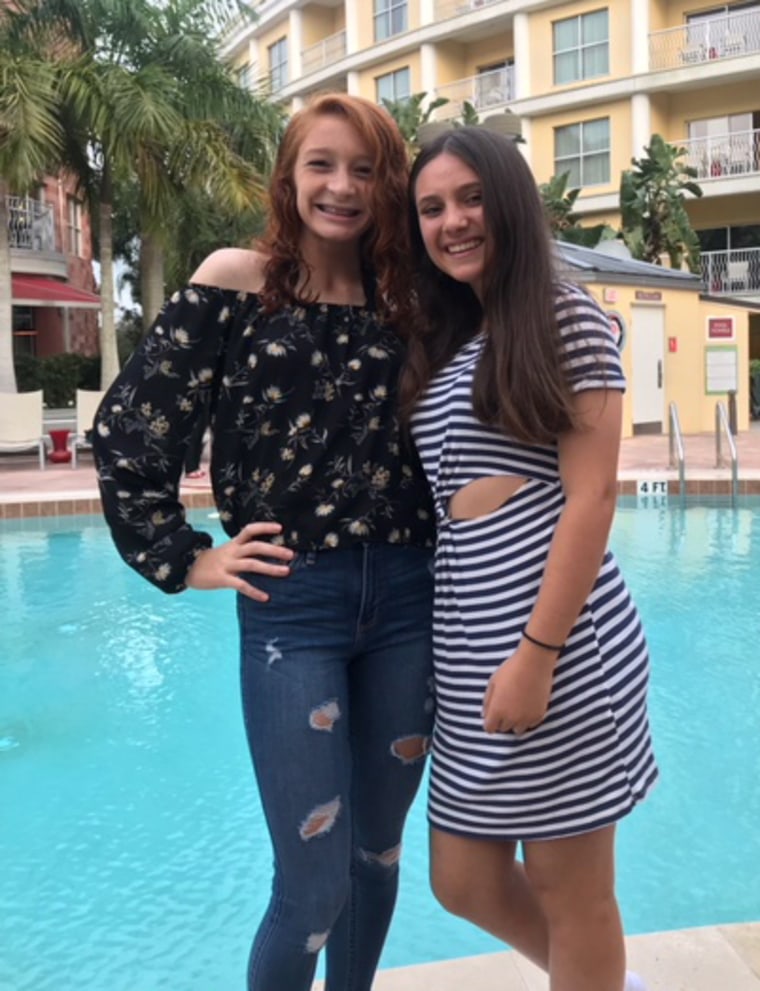 "I was totally proud of people who were doing [the activism], but I wanted to hear as little about situation as possible," Alvarado said of the first few days after the shooting.
But Alvarado soon decided she wanted to join the student activists, and she participated in March for Our Lives. She is also part of an organization started by Alhadeff's mother, Lori, called Make Schools Safe.
As seniors like Hogg and Cordover graduate, Alvarado and her classmates plans to continue the movement birthed in Parkland — even as they continue to grieve.
"Many of us, including myself, needed something to put our energy into," Alvarado said, "and these movements are things that can help us cope."