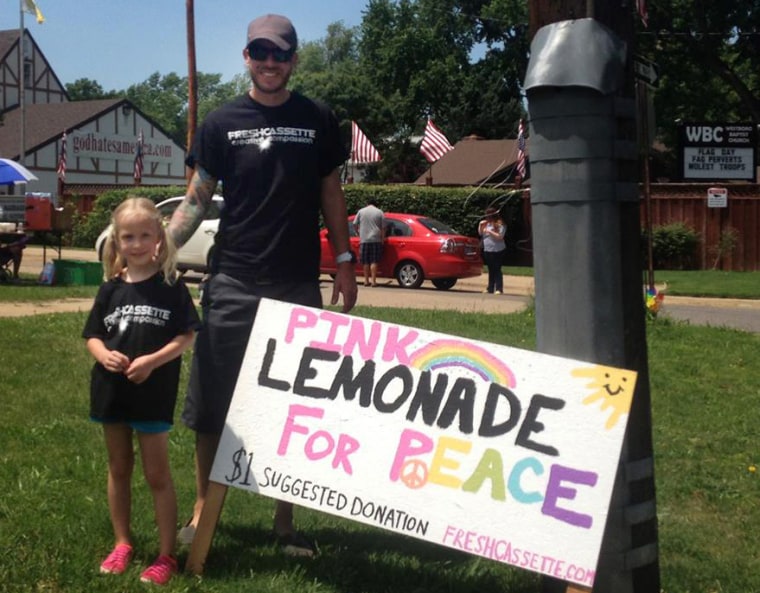 A five-year-old girl set up a lemonade stand "for peace" right across the street from a notorious church in Kansas which has been accused of spreading hate and homophobia wherever it goes.
The purpose behind young Jayden Sink's beverages is to raise money for a nonprofit organization called Planting Peace, which supports orphanages, works to conserve rainforests and provides medication to poverty-stricken children all over the world.
Sink's stand is in front of the group's "Equality House" —  a rainbow-colored headquarters intentionally set up just 20 feet away from the front door of Westboro Baptist Church, which has become famous for picketing soldiers' funerals, protesting in front of the Holocaust Memorial Museum and celebrating massacres like Sept. 11 and the Sandy Hook Elementary School shooting, all in the name of homophobia.
While each panel of siding on Equality House is painted a different color to act as a foil to the heavily anti-homosexual agenda across the street, Planting Peace's founder and president Aaron Jackson said the house is much more than a statement. Volunteers use the space to work on LGBTQ equality programs and anti-bullying initiatives.
It was Jayden's father, founder of a "creative compassion" project called Freshcassette, who inspired her to raise money for Planting Peace.
Jackson said that Sink could not fully explain to his daughter what Westboro Baptist stood for, but did explain to her the mission of Equality House and she immediately wanted to do something.
So far, Jayden's lemonade stand has only been in business since Friday and  has raised over $200, said Jackson. That doesn't count over $6,000 that people who can't make it to Kansas have donated to her crowdsourcing initiative on Crowdrise.com.
Jackson said that he's touched by the support, monetary and otherwise, that the house has received since it first opened three months ago. He said that while he gets the occasional, "you're going to rot in hell" hate mail, "Even people who don't believe in LGBTQ rights are supportive of our efforts because we stand against the church."

The Westboro Baptist Church — which is officially labeled a hate group by the Southern Poverty Law Center — did not respond to requests for comment, but they are clearly not happy with Jayden's presence. On Sunday, they tweeted, "*WHO* let nasty f--s get hands on this poor child? #danger."
Jackson said members of the church were standing in the front yard on Sunday and were visibly aggravated.