Early Monday morning, police in Aurora, Colorado, got a call from a woman saying a man had broken into her home. Inside, her husband, Richard Black Jr., a decorated Vietnam War veteran and retired accountant, was struggling with the intruder, who was naked and attacking their 11-year-old grandson, according to the family's lawyer.
After trying to pry the attacker away, Black, 73, fetched his 9mm handgun and shot the intruder dead, the lawyer, Qusair Mohamedbhai, said, citing the accounts of relatives who witnessed the attack.
The killing, under those circumstances, seem to fit within Colorado's "Make My Day" law, which protects gun owners who shoot a violent intruder in their homes from prosecution.
But that's not how the story ends.
Just as Black was shooting the intruder, Aurora officers were arriving at his house. Hearing gunfire and encountering an armed man — Black — one of the officers fatally shot him, according to police.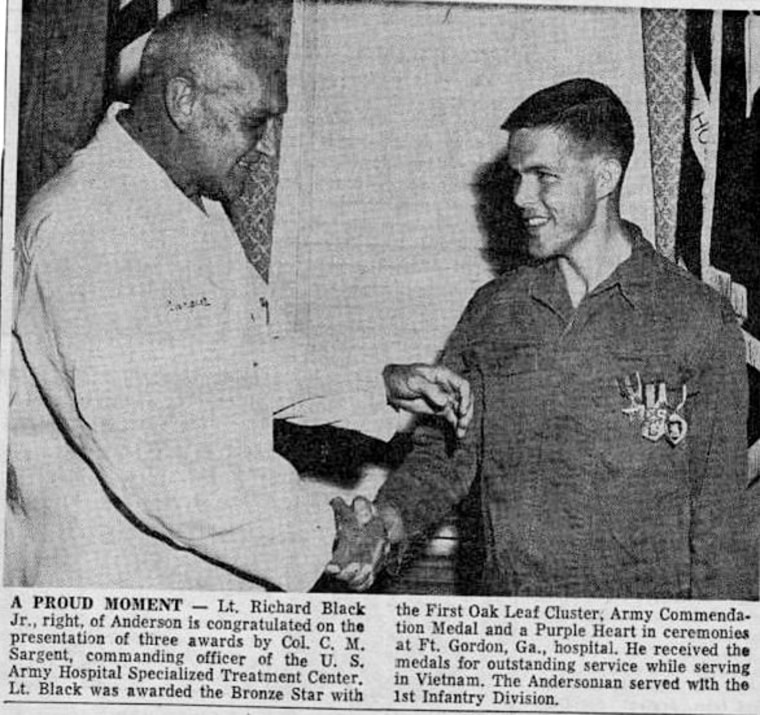 Aurora Police Chief Nick Metz told reporters on Thursday that body camera video of the incident appears to shows police responding to a scene where they were told a child was being drowned, that they heard shots fired inside the home shortly after arriving — apparently Black killing the intruder — and that they saw Black with a gun in one hand and a flashlight in the other.
Metz said the body camera video shows police repeatedly commanding Black to drop the weapon, he did not drop the gun, and that an officer fired after Black allegedly raised the flashlight at officers. The shooting is still under investigation. Investigators later learned from the family that Black had a significant hearing impairment from his military service, and it's unclear what he heard.
Black's death may not result in criminal charges. That's because the law generally gives officers broad discretion to use deadly force when they feel that their lives — or others — are in danger.
The case demonstrates the conflict between two American ideals: the right of civilians to arm themselves in self-defense, and the authority given to police to enforce laws, protect the public and, if need be, use deadly force to do so.
"It's fraught with peril if a homeowner is armed and protecting their family from danger and simultaneously injecting police into that situation," Mohamedbhai said. "The homeowner is at extraordinary risk and unfortunately what may happen may be a chilling effect on people calling police for assistance."
These types of incidents — officers mistakenly shooting armed citizens defending themselves from crime — happen from time to time, despite efforts by police and gun owners to prevent them. In 2008, Phoenix police shot and injured a homeowner who'd cornered an intruder in his home with his handgun. In 2015, an armed South Carolina man was shot and injured by police after he called 911 to report a break-in. In 2016, an Indianapolis man was shot and wounded by police after he reported a carjacking and left his house holding a gun.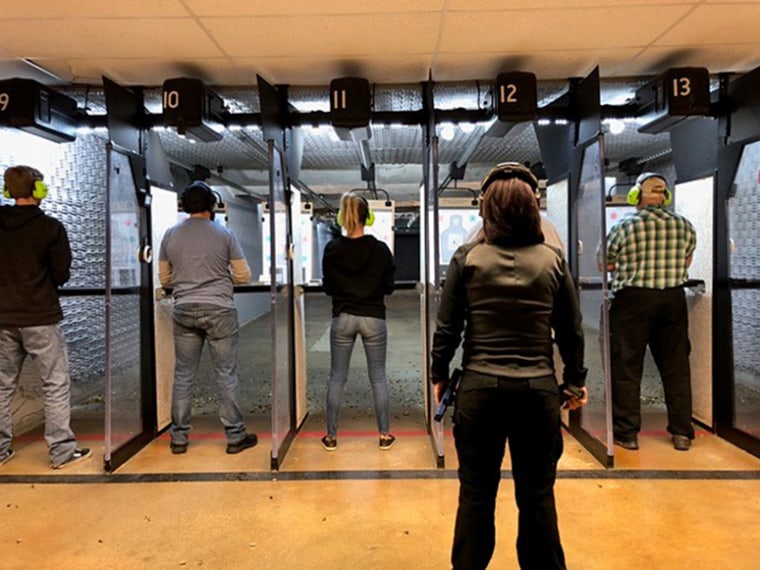 Firearms instructors who teach courses required for gun owners to receive concealed carry permits say they stress to students that when calling 911, they should make sure to say they're armed, where they are and what they're wearing. They also advise students to put the gun down before officers arrive — and if they don't feel safe putting it down, then to take their finger off the trigger and not to wave it around. And they tell students to identify themselves.
At the same time, situations involving armed citizens are often discussed in police training. While much of the "shoot/don't shoot" decision comes down to split-second assessments of what officers encounter at a scene, communication is key, experts say. If someone has called 911, a dispatcher should find out if any armed citizens are on the scene, and relay that information to the officers. Officers should, if possible, announce themselves, or give homeowners a chance to identify themselves.
But reality can be messy and confusing. The person calling 911 may not know if any law-abiding citizens on the scene are armed. A dispatcher may not ask, or relay, such information to officers. Someone using a gun to defend against an attack may not immediately want — or think — to drop their gun.
"So much of the training in a case like this is going to be framed around what an officer knows at the time he or she arrives at the scene," said Jim Bueermann, president of the Police Foundation, a research and training organization.
That is particularly important in parts of America where there is a high rate of gun ownership — and a strong belief in armed self-defense, Bueermann said.
"There the officers are going to receive a slightly different slant on training — like, remember that not everyone with guns are the bad guys, and make sure you know who, to the best of your ability, you are dealing with," Bueermann said. "The problem comes when before an officer can figure that out, the law-abiding citizen with a gun turns toward the officer or does something that the officer interprets to be a threatening gesture and shoots him."
Harvey Hedden, executive director of the International Law Enforcement Educators and Trainers Association, said that it was "unreasonable" for officers to assume that anyone they encounter with a gun is an armed citizen protecting themselves.
"It is a tragedy and it's something that concealed carry holders and armed homeowners have to consider — when the police respond, there's no label on anyone to tell them who's the bad guy and who's the good guy," Hedden said.
But Tony Fabian, president of the Colorado State Shooting Association, an affiliate of the National Rifle Association, said the onus belongs on the police.
Fabian declined to comment on the Aurora case when asked, prior to police releasing new details in the case, saying that facts were not clear enough at that time to determine whether anyone is at fault. "But it seems to me that if there are questions about this tragic incident regarding training, I would expect that they would be most appropriately directed at the law enforcement agency and not the civilian homeowner who was defending his premises and its occupants," Fabian said in an email.
Before Thursday's press conference, Aurora police had declined to provide details about the shootings beyond a statement posted on the department's blog.
The officer who shot Black, who has not been identified, has been placed on paid administrative duty. Metz said Thursday that the officer is a military veteran and "he is incredibly heartbroken over this situation" and is praying for the Black family.
Metz said in a video statement Wednesday that there had been inaccuracies in public reporting about the shooting. "This has been a very tragic situation and a very heartbreaking situation for everyone involved," Metz said.
The police chief said that he and other members of the police department met with Black's family Thursday morning.
Metz read a statement he said was from the family in which they asked that the body camera video not be released publicly yet, because they don't want violent moments of his distinguished life to be his public legacy.
"The investigation is in its early stages, and until it is complete there will remain many more questions than answers," the statement read by Metz said. They also said in the statement that threats and harassment of police over the shooting "must stop."
"Any disrespect to law enforcement carried out in Mr. Black's name would be contrary to his wishes," the family statement read by Metz said.
About 16 miles south of Aurora, in the town of Parker, firearms instructor Dave Heath has clipped a newspaper article about Monday's shooting. He plans to share it with his students as a lesson of how quickly things can go wrong for gun owners defending their homes.
"I'm not blaming either one of them, because we don't know what happened," Heath said. "There are too many factors. But the most important thing that's reinforced in my teaching is: Put the gun down when police arrive."