NEW YORK -- Billions in government aid have been pledged in the wake of Superstorm Sandy. But many New Jersey and New York homeowners struggling to rebuild are asking: Where is the money?
The Federal Emergency Management Agency provided more than $1.4 billion in assistance to more than 182,000 individuals and homeowners in five states after Sandy damaged or destroyed more than 650,000 structures across the region -- mostly in New York and New Jersey. Those funds, which have been disbursed, are intended to cover expenses incurred in the immediate aftermath of the storm, such as rent and transportation. For the costly effort of rebuilding their storm-damaged homes, many residents in the region are depending on another $1.7 billion in grants provided by the U.S. Department of Housing and Urban Development, ranging from $150,000 to $300,000 per household – but so far, little of that money has been distributed.
New Jersey has disbursed approximately $3 million out of $600 million in HUD funds, officials say, and had set aside an additional $17 million for households as of Monday. HUD approved the funds in late April as part of the state's application for Community Development Block Grants.
New York City and New York received similar funding. So far, officials say the city, which has pegged $648 million for its Build It Back program, has made one six-figure disbursement and expects more funds to begin flowing in the coming days. New York state, which has targeted $492 million for its effort, sent out initial award letters two weeks ago to nearly 4,300 homes, with an average grant of $112,000. (The state's storm recovery office could not say how much money has been disbursed).
On Monday, HUD announced it was providing another $5 billion through a second round of recovery funds to five states and New York City.
The delays in the distribution of the HUD grants have drawn ire, mostly in hard-hit New Jersey, which stopped accepting applications for the program on Aug. 1, a little more than two months after the program launched. Many residents, especially those who are fighting with insurance companies for payouts, say they need the grant money to rebuild.
Joann Peperoni of Union Beach, N.J., said she and her husband, Ron, were "throwing in the towel" on the grant and broke ground Monday on their new home with their own money, although they believe they won't have enough to finish the job.
The floodwaters blew through their two-story home, which had to be demolished after the storm. After applying for the grant in late May, they found out three weeks ago that they were wait-listed and would be eligible if the state got more funds for the program.
"How long do you wait? It's a year, I'm done," said Joann Peperoni, 57, a school bus driver.
"The big question," said her husband Ron, 57, is, "where is all the money?"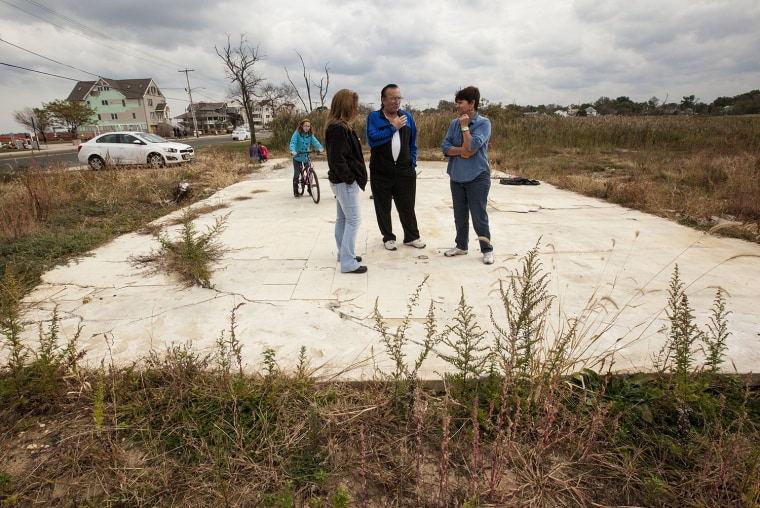 The New Jersey Department of Community Affairs, which is administering the state's HUD funds, said that more than 4,200 of the 15,100 families who applied for the grant money have received an award letter. The state expects to have $30 million obligated by the end of October.
According to the department, the monies began to arrive in mid-May but many federal requirements have to be met before the funds can be distributed. Those requirements include: ensuring no duplication of other monetary benefits provided (such as those given by other federal agencies like FEMA), conducting environmental and historic reviews of each property, and verifying all receipts submitted by homeowners to make sure the work complies with what HUD considers "reasonable and necessary."
The department said in an email that HUD "requires eligible homeowners to jump through numerous federally-mandated hoops – much of which we and the governor have felt is unnecessary and redundant given that these are existing homes that cannot be built bigger than what was there before … Each of these steps take time and may get complicated based on each homeowner's individual circumstance."
The rules are in place largely in response to concerns with abuse and fraud in the Hurricane Katrina recovery, the department said.
Congress also contributed to the delay by waiting three months to approve the $60 billion Sandy aid program, the department said. A separate New Jersey state scheme that does not have to meet such requirements, the $10,000 Resettlement Program, has sent out checks to more than 14,500 homes.
Senator Charles Schumer, D-N.Y., said Monday that officials had to be cautious distributing the HUD funds to avoid any "wasted money."
"You want to get the money out as quickly as possible, and the first year has been too slow for anybody's tastes, but you also want to make sure it goes to where it belongs," he said at a press conference in New York with HUD Secretary Shaun Donovan and Mayor Michael Bloomberg to announce the additional CDBG funding. "We tried to be as speedy as possible, and it'll be much speedier the second year because this is all set up."
Seth Diamond, New York state's director of storm recovery, said he knew that from the homeowner's perspective, waiting for aid money while these requirements are met was "frustrating." He added that the state conducted the lengthy environmental surveys in tandem with other parts of the process so award letters could go out once the surveys were complete.
"He (Gov. Andrew Cuomo) charged us in September with really doing this massive inspection program so that we were ready at the earliest point we could be," Diamond said in mid-October. "We finally delivered, and we've finally gotten to the point where people have authorizations. There's real money behind it, half a billion dollars authorized that will quickly turn into real dollars in people's pockets."
In New Jersey, the Fair Share Housing Center, a nonprofit that sued the state in September seeking clarity on the grant process and eligibility criteria, criticized what it deemed "a broadly mismanaged recovery." The group said documents it has begun to receive from the state as part of its lawsuit showed that of the resettlement funds distributed, only 37 percent had gone to low- and moderate-income households.
"The amount of confusion and the lack of transparency and the inconsistent answers coming from the administration and its contractors would suggest that to the extent there is blame to go around, much of it belongs to the state," said Kevin Walsh, a lawyer and an associate director at the center. "The delays have made people feel desperate, and some folks have given up."
Marc Roy, former chief of staff for FEMA's Louisiana operations in 2006-7 after Hurricanes Katrina and Rita, said there was some merit to New Jersey's assertions that the delay in handing out funds stemmed from having to deal with the anti-fraud requirements and regulations.
But he said the environmental surveys, for example, could be expedited by aggregating reviews of a community. He also said the state knew it would be receiving funding for such a program, and that it would have such requirements attached.
"If you haven't delivered any money out of $600 million, I think you can count that as a failure to date," said Roy, who was regional director of the federal Gulf Coast Rebuilding program in 2007-8.
"It's incumbent on the people with the money to get it delivered, and that doesn't forgive states for a lack of pre-planning," he added. "The fact remains the money still is not getting to where it needs to be, and that's the litmus test for the success of any aid program."
HUD did not provide comment on the state's claims. But on Monday, HUD's Donovan, who chaired President Obama's Hurricane Sandy Rebuilding Task Force, said in announcing the new CDBG funds, "One year later, it's clear these communities continue to be challenged by the sheer scale of this devastating storm, requiring further investment to make certain these needs are met."
Meanwhile, data show that mortgage defaults are up over the past year in many of the Sandy-hit areas in New Jersey, partly due to the impact of the storm, according to RealtyTrac. Some homeowners have opted to walk away from their homes because they can't afford the rebuild, which has been made even more costly by new federal construction guidelines in the area's flood zones.
Many New Jersey residents affected by Sandy say the state's rebuilding efforts have overlooked them, according to a recent survey by the Monmouth University Polling Institute. Among impacted residents, 75 percent say that people like them have largely been forgotten in the recovery effort.
Among those who feel forgotten are Lori and Joe Argentina, a couple struggling to finance the rebuilding of their home in Union Beach, N.J. Two small flags mark where workers with the state's grant program surveyed the empty plot in late September where the Argentinas' home once stood. The couple is depending on the HUD grant, for which they received preliminary approval in early July, although they don't know how much they will receive or when.
It's their only chance to rebuild, they said, since they used their insurance payout to pay off the mortgage on the home that was destroyed in the storm.
"There is no plan," said Lori, 50. "There's no next step discussed anymore until we see what they are going to help us with."
Share your Sandy recovery story with reporter Miranda Leitsinger at miranda.leitsinger@nbcuni.com
Related: