If the past week is any indication, gay marriage is coming to a state near you — and soon.
On Monday, Oregon became the 18th state to allow same-sex marriages. On Tuesday, Pennsylvania became the 19th. The next day, plaintiffs in Montana filed the first challenge to the ban on gay marriage there, and the day after that, the same thing happened in South Dakota — leaving North Dakota as the lone state with a ban that hasn't been challenged.
"There really is not another issue out there that has gained so much support so fast," said Charles Joughin, national press secretary for Human Rights Campaign, a civil rights organization that works for lesbian, gay, bisexual and transgender equal rights.
The gains in marriage equality have been a victory for not just gay couples, but for their families.
Ever since Ben West and Paul Rummell of Portland, Ore., started fostering an 8-year-old named Jay in 2012, the little boy who had been passed from foster home to foster home had one question: "When am I going to have a forever family?"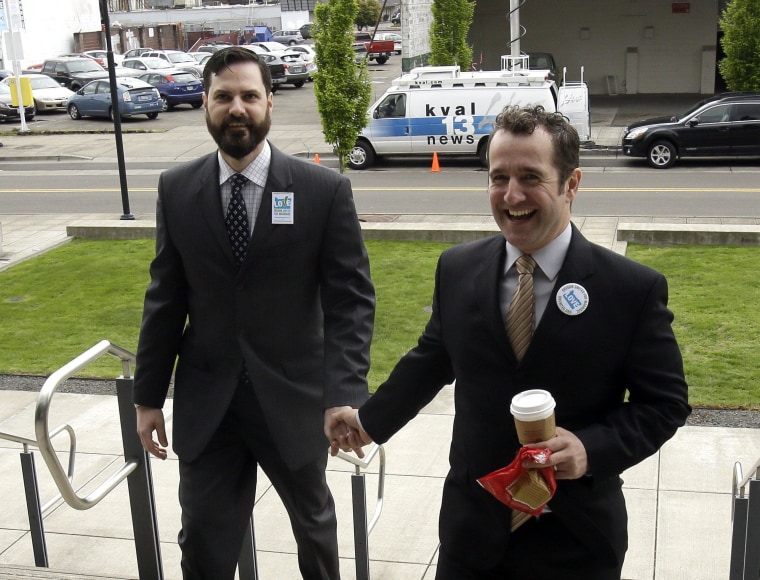 West and Rummell — two plaintiffs in Oregon's case to reverse the ban on same-sex marriage — formally adopted Jay in February. But it wasn't until Monday that the couple, who had held an informal commitment ceremony before friends and family in 2010, felt they could truly be a family.
"The ruling brought validity to [Jay's] forever family, that we as a society recognize his family is important and that we're taking on the responsibility to raise this child that didn't get the right start at life and we're making sure that he has every opportunity to grow and be a wonderful, healthy person," the 35-year-old West said, choking up.
Since West and Rummell met in 2006, they've seen a huge change in attitudes toward gay rights. The couple never considered leaving Oregon, where they have family going back for generations, to marry. Now they don't have to, and are planning a small ceremony shortly after West finishes nursing school in a couple of weeks.
"The mood in the nation has changed so dramatically," West said. "People's stereotypes and thoughts around this issue are starting to crumble because they're starting to see our families out more and visible. And younger people are beginning to speak up and say, 'This is such a non-issue for us.'"
Here is the status of gay marriage across the United States, now permitted in 19 states plus Washington, D.C.
Where gay marriage is allowed, and the public perception
Besides Oregon and Pennsylvania, these states allow gay marriage: California, Connecticut, Delaware, Hawaii, Iowa, Illinois, Maine, Maryland, Massachusetts, Minnesota, New Hampshire, New Jersey, New Mexico, New York, Rhode Island, Vermont, and Washington.
Three other states allow civil unions or domestic partnerships for same-sex couples: Colorado, Nevada and Wisconsin.
The trend toward gay marriage has picked up steam. Half of the states where same-sex couples can legally marry passed their laws in 2013.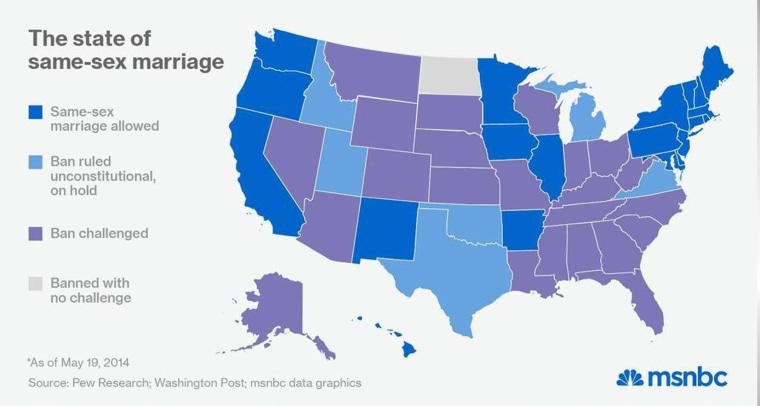 Forty-four percent of Americans now live in a state that allows gay marriage. A Washington Post-ABC News poll in March found that 59 percent of Americans support gay and lesbians being allowed to legally marry.
"Americans across the board are supporting marriage equality in recent numbers," said Joughin, of the Human Rights Campaign. "That number goes up virtually every single day."
Where are the current gay marriage battlefields?
Nationwide, there are currently more than 70 marriage equality cases that have been filed in 29 states, plus Puerto Rico, according to Human Rights Campaign.
Meanwhile, judges in 11 states have issued rulings in favor of same-sex marriage, but many of those rulings have been stayed as they proceed to appellate courts: Judges have struck down gay marriage bans in Arkansas, Idaho, Michigan, Oklahoma, Texas, Utah and Virginia. In Indiana, Kentucky, Ohio and Tennessee, judges have issued more limited pro-marriage rulings.
When federal judges ruled this week in Oregon and Pennsylvania that a ban on same-sex marriage was discriminatory, the attorneys general there decided not to appeal the rulings — a move experts think could become a trend.
"Since public opinion on the issue is changing so much, the politics of whether it makes sense to continue spending millions of dollars in taxpayer money on this issue is changing," said James Esseks, director of the ACLU Lesbian Gay Bisexual Transgender & AIDS Project.
In the coming months, five federal appeals courts will consider nine marriage equality cases from Utah, Oklahoma, Nevada, Texas, Virginia, Tennessee, Kentucky, Ohio and Michigan.
Since last summer's Supreme Court ruling on the Defense of Marriage Act and Prop 8, two historic marriage cases, not a single state marriage ban has survived a federal court challenge.
Challenges to gay marriage bans on the state level could become moot if the Supreme Court decides to take up the issue, predicted to happen as early as 2015, and strikes down the laws.
"There could be a Supreme Court decision saying the Constitution requires every state to recognize gay marriage," said Michael Klarman, a Harvard law school professor and author of "From the Closet to the Altar: Courts, Backlash, and the Struggle for Same-Sex Marriage."
Which states have been most resistant?
Historically, the state that polled the lowest in public support for gay marriage was Mississippi, which voted against gay marriage 86 percent to 14 percent 10 years ago, Klarman said. He said studies indicate the percentage of those opposed has gone down by about 1 to 2 percent per year since then. But gay marriage is still banned there.
Despite such bastions of support for the traditional heterosexual definition of marriage, most experts don't expect the bans to last for long.
"Opposition to same-sex marriage has collapsed with astonishing speed. Suddenly, no one believes the arguments anymore," said Andrew Koppelman, a Northwestern University School of Law professor and author of "Same Sex, Different Sates: When Same-Sex Marriages Cross State Lines."
"In an increasing number of states, same-sex marriage has been enacted by the legislature, with no prompting at all from the judiciary. This is how democratic politics work. Legislators tend not to vote for unpopular legislation," he said. "Obviously, there are going to be some Americans that are opposed to same-sex marriage, and that's not going to change any time soon, but their numbers are shrinking."
West, the adoptive father in Oregon, hopes more families will get to experience the joy he felt when Oregon reversed their ban on same-sex marriage.
"It was cheers and elation and relief," he said. "I think sometimes it might be hard for anybody who hasn't had to go through that struggle to totally comprehend what it's like to have that moment."