WASHINGTON — The Trump administration asked the U.S. Supreme Court on Thursday to let the government go ahead with its plan to end a program to help young immigrants brought to the United States illegally as children stay in the country, bypassing a federal appeals court.
Thursday's action is a legal long shot. The court rarely grants requests to skip over the lower courts.
Acting Homeland Security Secretary Elaine Duke issued an order in September to begin winding down the Deferred Action for Childhood Arrivals program, or DACA, after Attorney General Jeff Sessions concluded that the Obama administration had no legal authority to begin it nearly six years ago.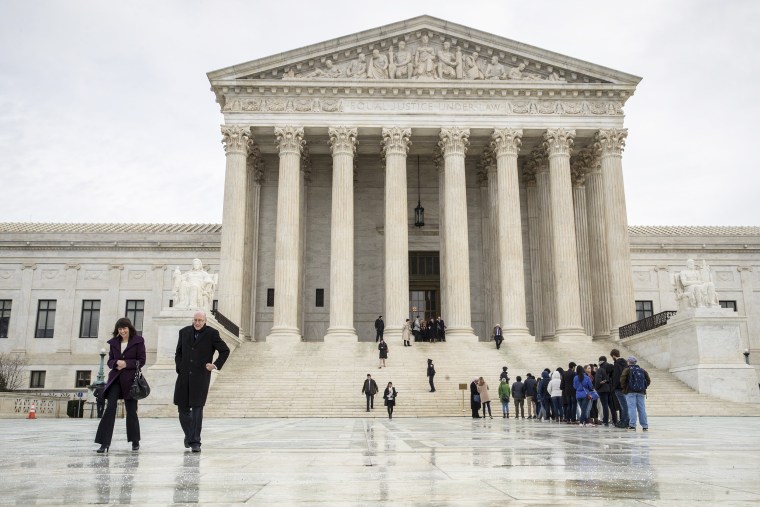 Duke's memo, which said DACA would end on March 5, ordered federal agencies to stop accepting applications to renew DACA statuses in early October. But on Jan. 9, a federal judge in San Francisco, William Alsup, entered a nationwide order forcing the government to revive the program and resume accepting renewal applications.
Related: U.S. to resume processing DACA renewals, citing judge's ruling
On Tuesday, the Trump administration asked the 9th U.S. Circuit Court of Appeals in San Francisco to review Alsup's order. But Justice Department lawyers on Thursday took the highly unusual step of asking the Supreme Court to review the case now, before the appeals court acts.
"The district court's unprecedented order requires the government to sanction indefinitely an ongoing violation of federal law being committed by nearly 700,000 aliens — and, indeed, to confer on them affirmative benefits (including work authorization) — pursuant to the DACA policy," Solicitor General Noel Francisco told the high court in the petition (italics in original).
The Supreme Court has granted similar requests only about a dozen times in the past century, most often involving national emergencies, such as strikes in the steel and coal industries, or in legal crises, such as the battle over access to President Richard Nixon's White House tapes during the Watergate scandal.
The high court more often reaches down to take matters away from appeals courts when it has already agreed to hear cases that raise similar issues. No such similar case involving DACA is pending before the court now.
If the Supreme Court turns the government down, the Justice Department could ask the 9th Circuit to put Alsup's order on hold so it can continue the process of shutting DACA down.
DACA allows children of illegal immigrants to remain in the United States if they were under 16 when their parents brought them here illegally and if they arrived by 2007. More than 700,000 young people are enrolled. Applicants must renew their DACA status every two years.
If the justices follow normal procedures, they will ask for a response from DACA's defenders — including the University of California, which partly won its case before Alsup — before acting on the government's request.