The White House doubled down on President Donald Trump's widely unsubstantiated claim that millions of people voted illegally in the 2016 presidential election, costing Trump the popular vote.
"The President does believe that," White House Press Secretary Sean Spicer told reporters on Tuesday, just one day after pledging to tell the public "the facts as I know them." "He's stated that before, I think he has stated his concerns of voter fraud and people voting illegally during the campaign and continues to maintain that belief based on studies and evidence people have presented to him."
When pressed for evidence, Spicer said "the president has believed that for a while based on studies and information he has." Spicer also cited a 2008 Pew study that he said showed 14 percent of people who voted were not citizens.
Those figures appear to come from two different studies.
A 2012 Pew report found millions of invalid voter registrations due to people moving or dying.
But the author of that report, David Becker, executive director of the Center for Election Innovation & Research, tweeted back in late November that this isn't voter fraud.
"We found millions of out of date registration records due to people moving or dying, but found no evidence that voter fraud resulted," he said. On Tuesday, Becker added, "As I've noted before, voting integrity better in this election than ever before. Zero evidence of fraud."
The second study was a highly criticized work by Old Dominion University professors who found 14 percent of non-citizens said saying they were registered to vote. The study was based on a sample of a few hundred respondents.
During the campaign season, one of the authors said the Trump campaign was exaggerating the study's findings.
"Both sides of the debate on non-citizen voting have exaggerated our findings concerning non-citizen representation," political scientist Jesse Richman wrote. "There are many on the left side of that debate who have relentlessly sought to discredit our results and want to push the level of estimated non-citizen participation to zero. On the right there has been a tendency to misread our results as proof of massive voter fraud, which we don't think they are. Our focus has been on the data, rather than the politics."
The National Association of Secretaries of State on Tuesday reiterated in a statement the organization's confidence in the lead-up to the 2016 election in the "systemic integrity of our election process as a bipartisan group."
"We are not aware of any evidence that supports the voter fraud claims made by President Trump, but we are open to learning more about the Administration's concerns," the statement read.
Spicer on Tuesday said Trump is "very comfortable" with his win and likely won't call for an investigation despite alleging widespread fraud.
However, the issue is clearly a sore spot for the White House.
Two sources told NBC News that Trump reportedly spent the first 10 minutes of his bipartisan meeting with congressional leaders at the White House on Monday night repeating relitigating claims that the millions of votes casts by "illegals" cost him the popular vote. The claim is unverified and is one that Trump initially made in November after it became clear that he lost the popular vote to Clinton. Clinton's popular vote margin eventually grew to 2.9 million votes.
Some clearly frustrated Republican lawmakers begged Trump to stop repeating the fiction.
"To continue to suggest that the 2016 election was conducted in a fashion that millions of people voted illegally undermines faith in our democracy," said Sen. Lindsey Graham, of South Carolina, told reporters in a hallway of the Dirksen Senate Office Building in D.C. "It's not coming from a candidate for the office, it's coming from the man who holds the office. So I am begging the president, share with us the information you have about this or please stop saying it."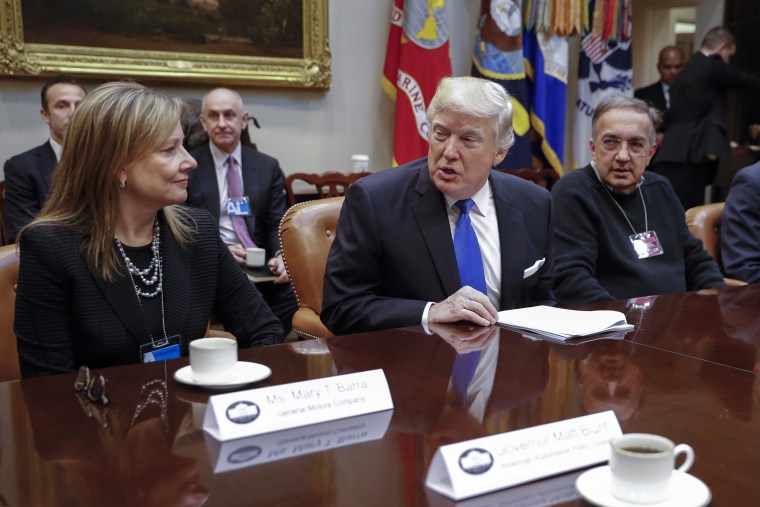 Republicans questioned about Trump's claim were careful not to weigh in on the president's specific comments.
Senate Majority Leader Mitch McConnell would not answer whether he agreed with Trump's claim that millions voted illegally, but said, "the notion that election fraud is a fiction is not true."
Others such as Senators John Thune, R-South Dakota and Cory Gardner, R-Colorado., both members of leadership also walked a very fine line, refusing to agree with the president but refusing to denounce him either.
"I don't know what that number is. You'll have to get that information for him. But like the leader said, there's always a certain amount of irregularity that goes on in elections - someplace perhaps more so than others. How you quantify that I'm not sure but he must have his methodology," Thune said.
Trump's remarks were denounced by Democratic elected officials in Washington and nationwide, with Senate Minority Leader Chuck Schumer, D-New York and Sen. Bernie Sanders, I-Vermont, laying into the White House for propagating the inaccurate voter fraud claims.
Sanders called the claims "nonsensical" and "delusional."
"When Trump talks about 3 to 5 million people voting illegally he is sending a message to every Republican governor in this country to go forward with voter suppression," Sanders warned.
Prior to Spicer's briefing, California Secretary of State Alex Padilla warned in a statement to NBC News that Trump "is dangerously attacking the legitimacy of free and fair elections and the foundation of our democracy" with his claim.
"These are not 'alternative facts.' They are corrosive lies without any evidence. Even leaders in the President's own party agree there is no evidence to support his claims since they were irresponsibly made back in November," Padilla said.
"Rather than continue to deliberately deceive the American people about his nearly 3 million vote loss, the President should focus on addressing the substantiated threats reported by our intelligence community."